"Minions" Had The Second Biggest Debut Ever For An Animated Film
The spin-off prequel to Despicable Me earned an estimated $115.2 million domestically in its opening weekend.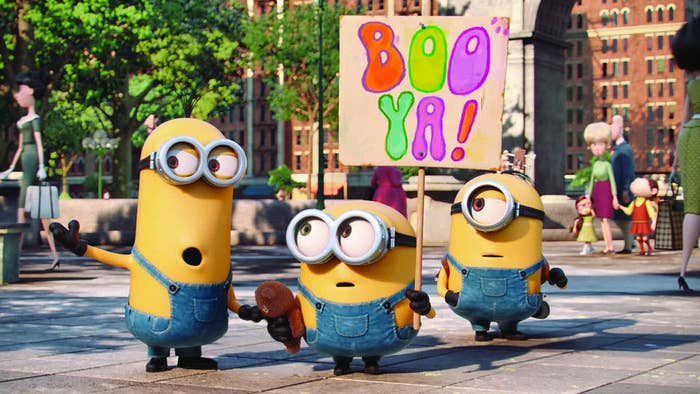 The much-adored begoggled yellow creatures that have captured the hearts of many since Despicable Me was released five years ago owned the box office this weekend.
With its $115.2 million domestic box office debut, Minions had a bigger opening weekend than its franchise predecessors — 2010's Despicable Me brought in $56 million in its first weekend and 2013's Despicable Me 2 boasted $83.5 million.
Though unable to edge out 2007's Shrek the Third to break the record for an animated movie's opening weekend stateside ($121.6 million), the minions and all of their attitude have scooted past 2010's Toy Story 3 to earn the second-place spot.
And with $395.7 million globally, it's clear the pill-shaped creatures have whipped the world into a frenzy.
Minions is also giving its production company, Illumination Entertainment, plenty to cheer about. It's only their fifth film since launching in 2007 — the other two Despicable Me movies, Hop, and Dr. Seuss' The Lorax round out their roster — but Minions is also the company's fifth film to open at No. 1, providing an impressive track record for the new endeavor.
While this latest entry in the Despicable Me universe does not feature Steve Carell's Gru in a starring role, Sandra Bullock fills the supervillain mastermind quotient, voicing the role of Scarlet Overkill, with Jon Hamm, Allison Janney, and Geoffrey Rush also lending their voices to the animated movie. Minions' massive opening weekend marks Bullock's best debut ever as well.
Given Minions' undeniable domination at the box office this weekend and its "A" grade from audience polling firm CinemaScore, Universal can be nothing but pleased about its performance. The studio was already enjoying its best year ever before the spin-off prequel's release, having just crossed $3 billion in international earnings last week (the fastest any studio has ever crossed that threshold in a single year). That's mostly thanks to Fifty Shades of Grey, Furious 7, Pitch Perfect 2, and the enormous success of Jurassic World, which is in its fifth week of release and still claiming the second place spot for the weekend.
Here are the estimated top 10 box office figures for Friday to Sunday, courtesy of Box Office Mojo:
1. Minions* — $115.2 million
2. Jurassic World — $18.1 million
3. Inside Out — $17.1 million
4. Terminator Genisys — $13.7 million
5. The Gallows*— $10 million
6. Magic Mike XXL — $9.6 million
7. Ted 2 — $5.6 million
8. Self/less* — $5.4 million
9. Baahubali: The Beginning*— $3.6 million
10. Max — $3.4 million
*Opening weekend