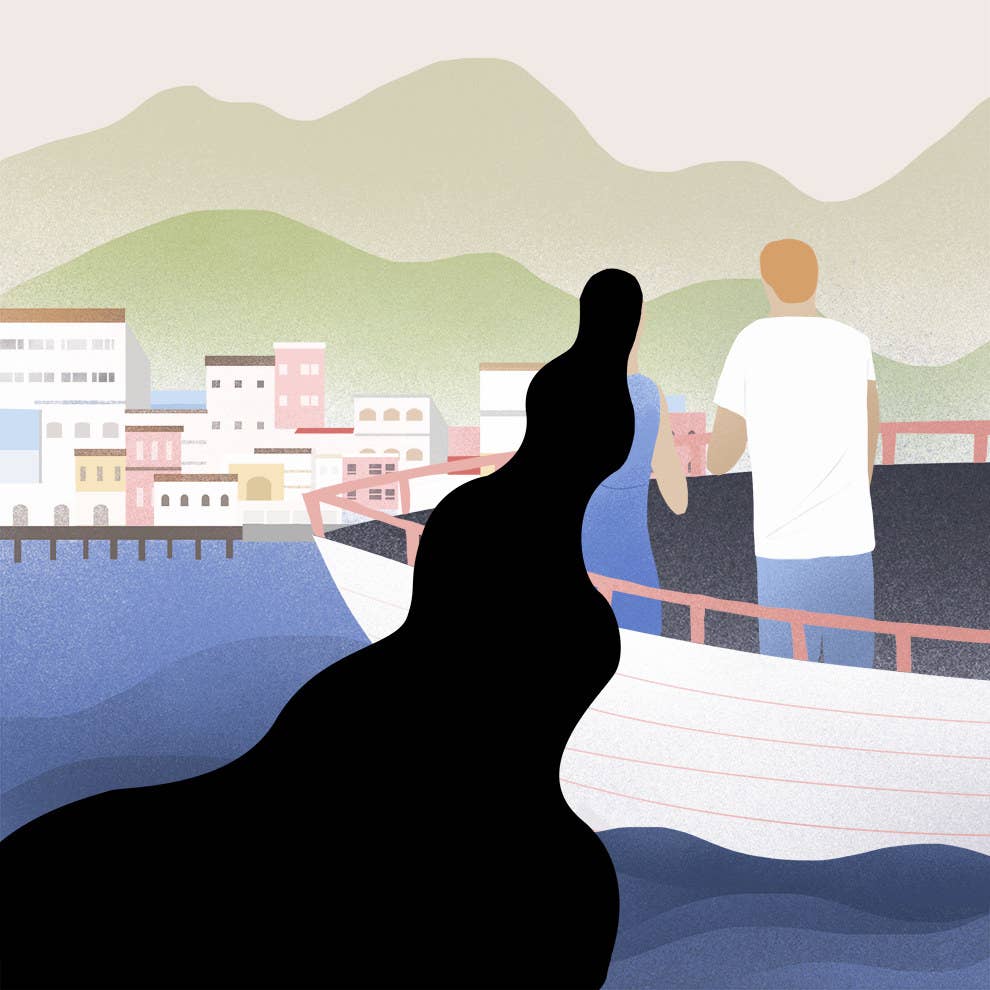 The past came up again on the patio of an almost-empty restaurant overlooking the harbor, where we were having a late lunch. I was angry at myself. I was in Ischia, an island off the coast of Italy. I had just spent an idyllic day with Mark, a person who had nothing to do with my past, and I wasn't sure would have anything to do with my future.

But I felt it growing in me like nausea. I tried to tamp the past back down, but somehow it came out, and the conversation turned back to children.
"I don't think I want to have children," Mark said. "I don't want to have them just for the sake of having them." We had met on Tinder while he was on vacation in San Francisco, where I lived. He lived in London. Two months later we were here, meeting up again to spend five days together in Europe. Technically, this was only our fourth date.
"I do want children," I heard the words come out of my mouth. "On a gut level. I wish I could interrogate it more, or analyze it more, but I just…" I just got out of a relationship where I was actively trying to get pregnant. I thought this, but didn't say it. I felt tears coming. I felt an urge to tell Mark everything about the last year, all at once. Everything he didn't know. Everything I was terrified to tell him. The ovulation testing kits: peeing in a plastic cup, dipping the strips of paper, straining to read results. Searching for the double line that would mean possibility. The determined conversations: realizing Drew and I both wanted children so much that we'd agree to be this miserable together, forever. The doctor's visits: my desperate belief there was something wrong with me, even though it was more likely the promise of children didn't magically fix the fact that I didn't want to sleep with Drew anymore. That I didn't even love him.
Two months before, when I met Mark in San Francisco, he spent the night at my apartment and left his navy blue jacket behind in the morning. I'd moved in the week before, and the place was still a sea of unopened cardboard boxes, bare walls, and the furniture I'd gotten to take when I left the house I'd shared with Drew behind. Mark had left his jacket on the shabby orange sofa that had been scarred by our cat's scratching.
I huddled on the sofa. The room was quiet, with a determined afternoon light spilling in around the half-closed curtains. The cat, who had become my cat, no longer ours, rubbed against my feet and meowed into the silence. I went through the jacket pockets. I didn't find anything interesting — some wadded up tissues, scraps of paper, and a pen. I took the pen, and used it to write about what had happened between us the night before in my notebook. Then I put the pen back, and never told Mark about it. I wrote the description hoping it would work like my possession of the jacket: some kind of guarantee that he'd eventually come back to me. At that moment, I felt like I needed a guarantee that someone would.
Mark and I saw each other a few more times in San Francisco, before his vacation ended. Then, after he went back to London, we talked on the phone — both of us at our offices, to accommodate the eight-hour time difference. After we hung up, I felt weirdly happy for hours. I invented reasons to call again. The phone calls started to last an hour. Then one stretched to two hours. In the month leading up to our trip, two-hour phone calls with Mark had become a fixture in my life.
Otherwise, I spent that time mostly numb. I wasn't aware of feeling sad about Drew, or about the abrupt death of the prospect of having children. No one else wanted to hear about it, and I was eager to push it out of my mind.
When I bought my ticket to Europe, Mark and I hadn't quite gotten to two-hour intimacy. I'd casually thrown out dates, cities, as if he were being allowed to join something I'd just as soon do on my own. So I spent two days alone in Rome, prior to meeting him in Berlin. Those days were dizzy with jet lag, and filled with an anticipation so intense it felt almost like dread. The leaves were changing along the Tiber, giving the glassy water a burnt tangerine crown. The past felt loose inside me. I was trying to get pregnant as recently as July, I practiced saying in my head.
I was trying to get pregnant as recently as July, I practiced saying in my head.
He joined me at the Schönefeld Airport in Berlin at 11:30 a.m. on the day before Thanksgiving. My American friend lived in Berlin and would host us for what she called "Danksgebing."
My plane had a long silver staircase to climb down. As I descended, I saw a crowd of people waiting across the tarmac, in the rain-thick, matte gray German morning. I wondered if he was among them, and my body went into panic mode. Muscles were shaking that I didn't know existed. Sweat was prickling, and my mouth went dry enough to prevent any words from slipping out at all.
I stood outside Arrivals in the icy drizzle and simultaneously looked for Mark and hoped I wouldn't see him yet, because maybe, given a few more minutes, I could get the upper hand over my reptile brain and quell this stupid panic. Maybe, given a few more minutes, the situation would make perfect sense to me.
My phone rang. His voice: "Amelia Granger?"
We figured out that we were at opposite ends of the terminal, and as I saw him walking toward me, he transformed from a swarming collage of fantasies back into a 32-year-old British man, 6-foot-2 with broad, muscular shoulders, sandy-colored hair, square jaw, and a slightly-uncomfortable-but-mostly-excited smile, wearing a white T-shirt and the same navy blue jacket. Carrying a small backpack.
Even though I'd been waiting for this moment, focusing on it intently, when it arrived I had no idea, no plan at all, as to whether or not I should kiss him.
We hugged, he went for a cheek kiss, and I blurted out, "You just brought a backpack?"
We stayed in a room in an artists workshop that had been turned into an exhibition space for the captive audience of Airbnb guests. German poetry scrolled by on an LCD screen. We stood before our host, Christof, shifting our feet while he talked about the local cafés. I wore Mark's red knit hat that he'd given me as we waited for the train into the city. In Berlin, unlike Northern California, November is winter.
Christof told us that he lived nearby, on Buttmanstrasse. "It's very funny for the English speakers, no?" he asked hopefully. "But I am not ze Buttman."
I laughed, while at the same time wondering how he could be so oblivious to the fact that, for us, his presence was the very last obstacle — after all these days and nights and international phone calls and airplanes and daydreams and fears and insecurities and jolts toward the future — to us ripping each other's clothes off.
But instead he stayed a while longer, just long enough to tell us that he and his wife were expecting their first child next month. "Jah, I'm one minute excited, another — terrified," he told us, smiling dazedly at the cement floor of the workshop. He looked up at Mark and me: "And what about you, do you have any children yet?"
On the low ceiling over the lofted bed there was a giant print of a human hand, palm extended. A few hours later, after we missed the Red Berlin walking tour that we'd planned to go on that afternoon, we both gave it high-fives.
But, eventually, we climbed down the ladder from our bed and went to Checkpoint Charlie. We went to the Spionagemuseum. On Thanksgiving, we arrived at the cryptically named Topography of Terror museum, which documented the rise of the Third Reich in a series of black-and-white photographs alongside slabs of text. The sky grew dark outside the museum windows. As we drifted between the images, I had to fend off Mark's hands, doing my best to stop him from offending the other museumgoers while they tried to learn about Nazis. When the museum was about to close, he ran around taking pictures of all the slabs of text, claiming he'd read them later when he had time. I called bullshit on this, but later I'm fascinated when I catch him actually doing it.
My friend Sarah's Thanksgiving dinner was scheduled for late that evening, and we arrived there even later than planned, after buying too much natural wine from a garrulous German with the worst English of anyone I spoke to in Berlin. Sarah lived in a neighborhood called Wedding, and the night air smelled like snow as we walked to her apartment from the U-Bahn. I'd mailed her some supplies from America: a box of Stove Top stuffing mix and a can of Libby's pumpkin pie filling, and there they were, in her kitchen halfway around the world.
The three of us made the can into a pie, boiled the stuffing mix with a stick of butter, and mixed red currants with sour cherry jam to create something that looked just like cranberry sauce. Sarah's boyfriend, Fedor, who was from Belarus, came home from work and we ate. The four of us sat on the couch, a double date, and after we stuffed ourselves we lounged there, making sleepy conversation.
Sarah started asking Mark about his family, and he told her a version of the story he had only told me recently, in our latest two-hour phone call. Up until then, I'd imagined the most prosaic, stable childhood for him. Not like mine. He seemed like someone whose parents were together, had always had a strong marriage. He'd mentioned a sister, and I imagined two kids, just him and her. He's an older brother. That made sense. But despite whatever qualities made me think that about him (his kindness, his lack of any discernible non-fun craziness), it wasn't the case.
In addition to the fact that he was in the middle of seven half-siblings and four stepsiblings, the fact that he grew up an only child, the fact that his parents had divorced before he turned 1, there was also the fact that his dad was dead. He died just three years ago.
I held Mark as he talked, and I felt sympathy for him on a visceral level. But also a twinge of discomfort: Why would he choose to talk about his dad's death now, in answer to my friend, rather than to me? It didn't occur to me then, but did much later, that perhaps this was his version of trying to find the words to capture the uncomfortable past, to find some way to let me in on it. To share with me the things that we think the people who know us should know. Maybe we both felt the simultaneous fear and desire to reveal ourselves to each other.
The next day we left Berlin and flew back to Italy together. In Naples we knew we wanted a ferry to Ischia, but we didn't know where to get one or when it might leave. Somehow, by driving toward the docks, we found signs. The last ferry of the day left in 20 minutes, and it felt like seconds until we were sitting on the top deck, underneath a gracious, open, gray sky with cracks of yellow at the edges, watching the ugly buildings along the coastline fade out into the background.
On the journey over, Mark first told me he didn't think he'd ever want to have children. He said it casually, in passing, but the information sank in me slowly, a rock falling in deep water. We disembarked in Ischia and he nosed our rented Fiat through the crowds at the dock. A light rain started to fall on the terraces of the island, which were covered in orange trees, heavy with fruit. I saw the arc of a rainbow forming, out over the ocean. A ring of mist hung around the peak of the island's dead volcano, Monte Epomeo. Maybe the experience we were having, coming ashore on this resort island, resplendent in the November offseason, gave me a plausible excuse for why I was suddenly trying to hold back tears.
Our hotel was empty except for a small package tour group of German retirees, so even though we'd booked an economy room, the clerk let us have the honeymoon suite. It had an out-of-tune piano, golden wicker-backed thrones, giant ceramic flowers on the ceiling that hid speakers, the option to have red light in the bathroom, and a view of an islet with a 15th-century castle. In the basement, there was a pool fed by a thermal spring, and mysterious, disused spa equipment, intended for procedures that are probably no longer considered healthy.
On the patio in Ischia, the possibility that I would tell Mark about the past seemed as likely, or as unlikely, as it ever would be. But how to start?
The possibility that I would tell Mark about the past seemed as likely, or as unlikely, as it ever would be. But how to start?
Every day that I was trying to get pregnant I took prenatal vitamins, in the form of grainy, sugar-free gummies. I was always careful to hide the container afterward. I put it in the back of the cabinet next to the oven, where Drew and I kept the blender and other small appliances. At first that was to stop people who came over to the house from asking questions. But eventually it was because neither of us could really face what we were doing. Drew was 10 years older than me. Years before, when we met, I realized: A man in his late thirties and a woman in her late twenties are maybe on the same page. While we were still in the first thralls of infatuation, when I was introduced to him through a friend and found in him an endless listener, companionship, humor, it all seemed so easy. We would have children together. I don't remember experiencing that as a choice I made, but it was. Of course it was.
But the ease didn't last. Being at the same stage in life didn't erase who we were. We fought, and the things he said lacerated my brain. I could have recited every one of them for Mark, if he'd wanted me to — if he'd wanted to hear that I'm a slob, that I'm selfish, that I'm fucked up, that I'm ungrateful, that I'm incapable of love.
Drew used to smoke cigars in the garage of the house we shared, a rented cottage perched on a bald-topped hill on the outskirts of San Francisco. I would join him sometimes, with a cigarette, and we'd sit there together in the dark, lit only by a strand of white Christmas tree lights half-covered in spider webs, wafting in the breeze from the open door.
My memory has done something incredible with these times. A magic trick. I know that they began as friendly, and I know that they led into twisted mazes of hurt feelings, resentment, disappointment, and fury. But I don't remember how. I only have flashes, glimpses of his face screwed up in pain, seen through my tears, washed in that weird, white light.
"If I'm so terrible, why do you want to have children with me?" I remember asking.
"I don't know," he answered. " I think you would be a terrible mother."
The past, and the dead possibilities of that past, were crashing into each other in my head like trains derailing, as I sat on the patio in Ischia. Mark tried to look me in the eye. Tried to take my hand.
"Seeing my dad have children with three different women," Mark said, "makes me think I don't want to have them. But I think you'd be a wonderful mother. If having children is something you want. If it is, I think you should pursue it." The with someone else didn't pass his lips, but I heard it.
The moment passed, and I didn't tell him that Drew used to say the exact opposite: that I'd be a terrible mother. Simply hearing Mark say otherwise gave me hope: that having children with Drew could be left in the past, but the possibility of me having children didn't need to be.
That night Mark and I sat on our honeymoon balcony, wearing only white terry cloth robes, smoking cigarettes. We named places where we might meet up next. Brazil. Hong Kong. Morocco. Neither of us had been to Africa.
We searched for a point that would be halfway between us — Tokyo? New York City? But somehow we couldn't seem to settle on where it would be.
On my connecting flight home I was exhausted, slipping down into blackness, and the voice over the plane's loudspeaker seemed to say, "…and prior to our arrival, we'll be serving a light root beer."
Then, as my eyelids settled closed and I sank back into the dark blue seat that was mine for the long ride, there was a man next to me with Mark's exact same accent, and I, hazy, assumed the phone call he made pre-takeoff pertained to our situation. In my defense, he said something about "the American." My thoughts were swimming as they inched toward the weird edge of sleep, and I heard the man next to me continue: "There wasn't any downside in it for him. Leaving London to meet this girl in Europe? But she's got a lot riding on it, though, doesn't she?" As I drifted more fully into sleep, I found myself taking his perspective into account.
Despite my seat mate's view of the situation, I felt certain that Mark and I were, at least somewhat, on the same page. We'd gotten this far together, and I hoped I could interpret that to mean we shared certain capacities. For example: self-indulgence. Lack of impulse control. Magical thinking.
Tucked inside the carry-on bag at my feet was my notebook, and in it was the page where I'd scrawled, with the pen I'd found in Mark's pocket: I met you at the Lone Palm on 22nd and Guerrero. You texted me when you were on your way to ask me what shirt I was wearing so you could recognize me, and then you said it sounded nice, could you borrow it? When we walked out of the bar, I said, where are we going now? And you said, literally anywhere. I would go anywhere you wanted to go. ●
Amelia Granger is a writer and former journalist whose short fiction was nominated for a 2018 Pushcart Prize. She now lives in London.