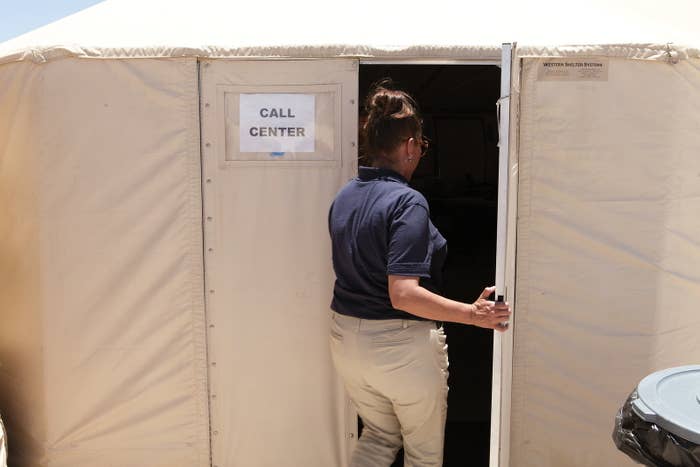 EL PASO, Texas — The Trump administration's policy separating parents from children at the border has become a massive national controversy that's sparked a conversation about treating people with civility — but for the contract workers at the Tornillo tent facility housing children, it's just another day at work.
"It's just a job," one worker at the Texas facility, 30 miles outside of El Paso, told BuzzFeed News. He was sent by his employer to work there. He asked to remain anonymous and requested his job and hometown not be published.
"I'm not here for the politics. I'm just here to provide for my family," said the father of one.
Furious public protest over footage of children kept in cages and separated from parents has greeted Trump administration staffers. A Virginia restaurant owner kicked press secretary Sarah Huckabee Sanders out, people protested outside the DC home of White House adviser Stephen Miller, Homeland Security Secretary Kirstjen Nielsen was shouted out of a Mexican restaurant, and more than two dozen people were arrested in Los Angeles protesting Attorney General Jeff Sessions.
One worker — a 17-year-old — works for a catering company that provides all the food for the children and staff at Tornillo. He's working during his summer break between junior and senior year of high school.
Two major protests at the camp, attended by politicians, celebrities, and human rights activists, "made us seem like we were the bad guys," he said. "We're not abusing children, we're not doing anything wrong to them, if anything we're trying to help them. We're trying to feed them and, I guess, distract them from the hard truth of the world."
The workers told BuzzFeed News the politics is irrelevant to them. It's a good paying job they said, and they're helping the children housed there.

BuzzFeed News spoke with six workers at the Tornillo tent facility, and all asked to remain anonymous. The workers mainly came from across Texas. Most did not know how long they would be there for, with one saying he was told until February 2019.
Many other contractors refused to speak to BuzzFeed News, saying they were under strict instructions not to talk to the press. One group denied they were working at Tornillo, saying instead they worked for "children's birthday party caterers."
The 17-year-old said he eats the same food as the children in the Tornillo facility, and he is being housed at a nearby budget hotel.

"In reality, the place is basically like a summer camp," he told BuzzFeed News, a line echoed from Fox News' anchor Laura Ingraham.
BuzzFeed News toured the facility Monday, where 326 teenagers — 23 of whom had been separated from their parents after crossing the border, the rest had crossed unaccompanied — sleep and eat in tents. All are between ages 13 and 17.
Does the teen worker see himself in the children or think about the fact that some are the same age as him? "Not really," he said, explaining that he's usually just worried about ensuring his hands don't get burned while he serves the hot meals.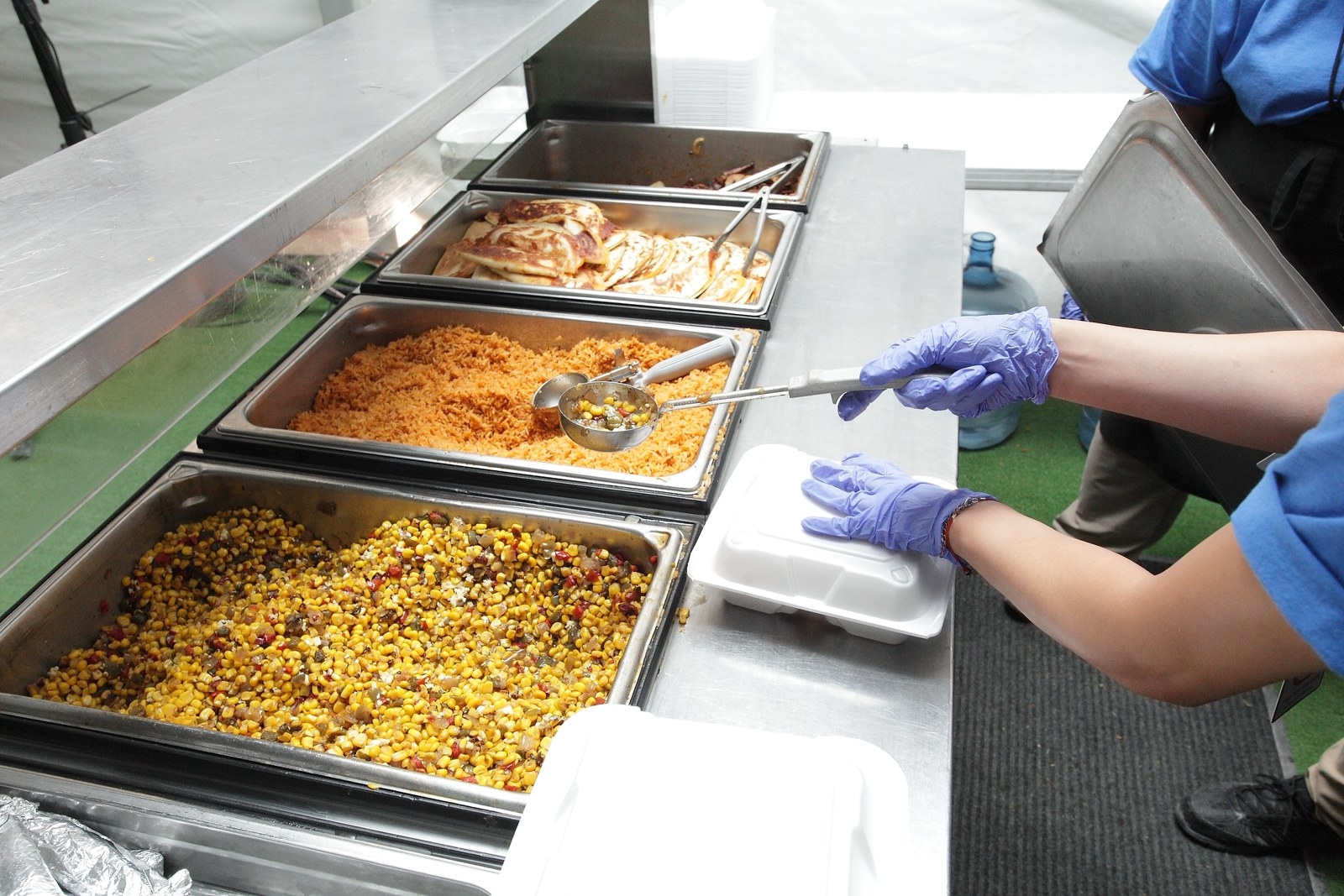 The company he works for, Rosemary's Catering, normally does high-end events — such as the king and queen of Spain's recent visit to San Antonio.
The teen worker, who helps unload supplies and serve food, receives $10 an hour for the first 40 hours per week and then $15 per hour in overtime. Currently, he's working around 10 hours per day, with only a half day off a week.
He usually works part-time for Rosemary's Catering, but took the full-time job for a few weeks — he's heading back home next week — in order to save up for a car and for college applications.
The teen said that he'd "never heard" of the family separation policy, except for a few whispers from colleagues about it. BuzzFeed News explained the Trump administration's separation policy.

"No one would want to be separated from parents however this was out of our hands," he responded. "This was the government that separated them. We don't really have the authority to bring them back in their parents but in due time they will be reunited with their parents."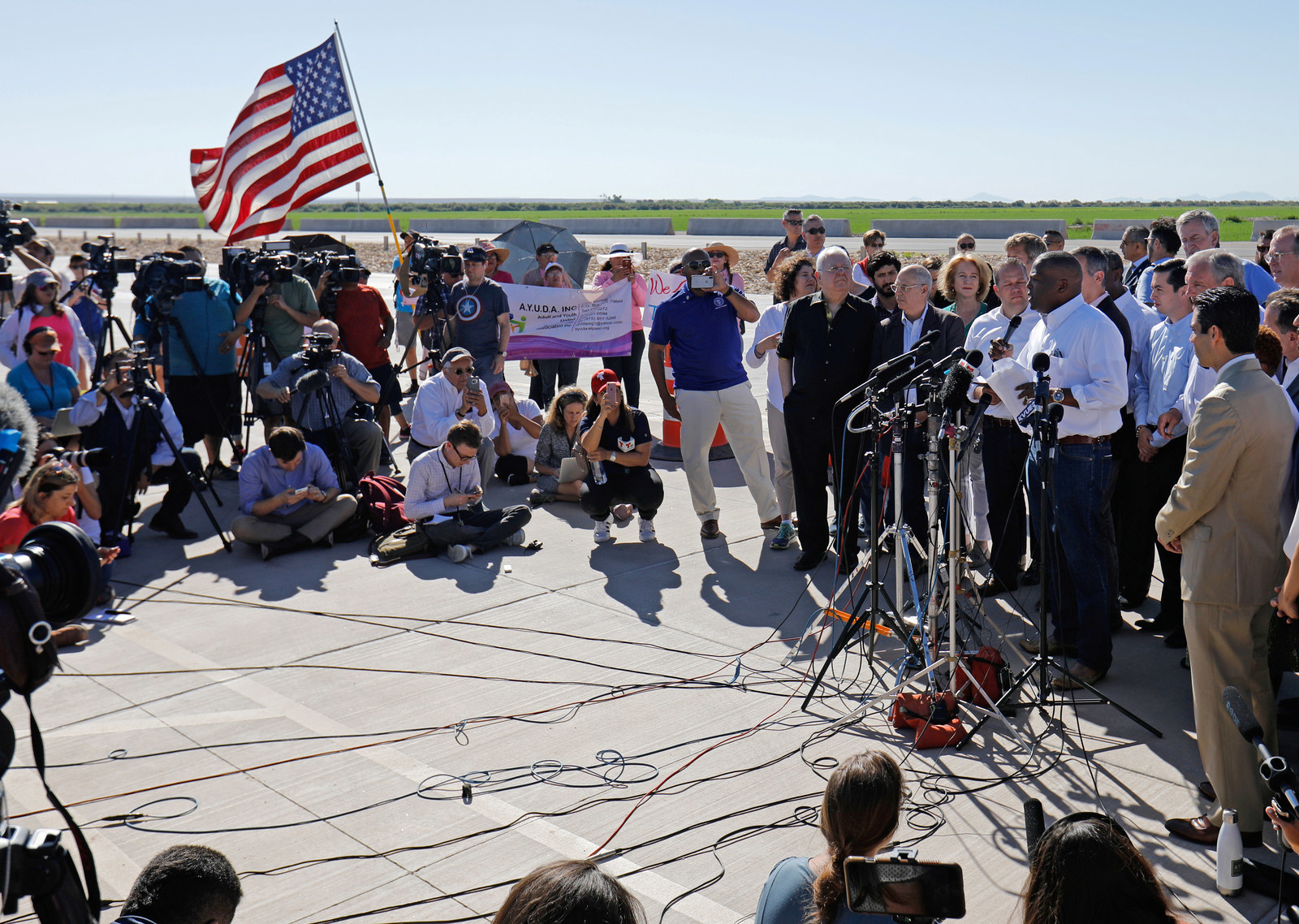 During a media tour of the facility Monday, the first time journalists had been allowed in since its opening, the incident commander told reporters the policy was "an incredibly dumb, stupid decision."
He added that because of the media and political backlash against the policy, working at the facility was a nightmare.
"If I could go home today, I would," the commander told reporters, noting that his staff "hate this mission."

"I want to be done with this mission 100%," he added.

But that's not an opinion shared by all workers.
"No," one female worker said when asked if she also wanted to be done with the job, like the commander.
"It's work. That's all. It's work," she said. She nodded when BuzzFeed News asked if it was well paid.
She also said the public misunderstood the conditions at the facility. "People think the kids are being ill treated and yada yada. Far from the truth," she said.
Some workers did not want to get into the politics of the government's immigration policies.
"There's no kids being detained," another young male worker told BuzzFeed News, presumably a reference to the government saying they are "housing" not "detaining" children.

When the worker who is a father was asked about the Trump administration's family separation policy, he replied: "I have no opinion about it."

The female worker shrugged when asked.
The 17-year-old worker reiterated that he was just here to help kids.
"In all honesty, I'd rather not involve myself in politics," he said, "just because a lot of people have very heated discussions and are very bias about their opinions."