Three months after saying she was "waiting to feel less angry" before speaking publicly about Harvey Weinstein, actor Uma Thurman on Saturday accused the disgraced Hollywood producer of sexually assaulting her in a London hotel room.
In an interview with New York Times opinion columnist Maureen Dowd, Thurman said Weinstein "attacked" her and did "all kinds of unpleasant things."
"The complicated feeling I have about Harvey is how bad I feel about all the women that were attacked after I was," said Thurman.

In a statement provided to BuzzFeed News, Weinstein's attorney, Ben Brafman, said the producer is "stunned and saddened by what he claims to be false accusations by Uma Thurman."
Brafman said that Thurman's comments to the Times "are being carefully examined and investigated before deciding whether any legal action against her would be appropriate."
Thurman starred in Pulp Fiction (1994) and Kill Bill: Volume 1 (2003) and Volume 2 (2004), the indie hits directed by Quentin Tarantino and produced by Weinstein.

She said after Pulp Fiction she began to spend more time with Weinstein and his then-wife Eve Chilton.
"I knew him pretty well before he attacked me," she said. "He used to spend hours talking to me about material and complimenting my mind and validating me. It possibly made me overlook warning signs."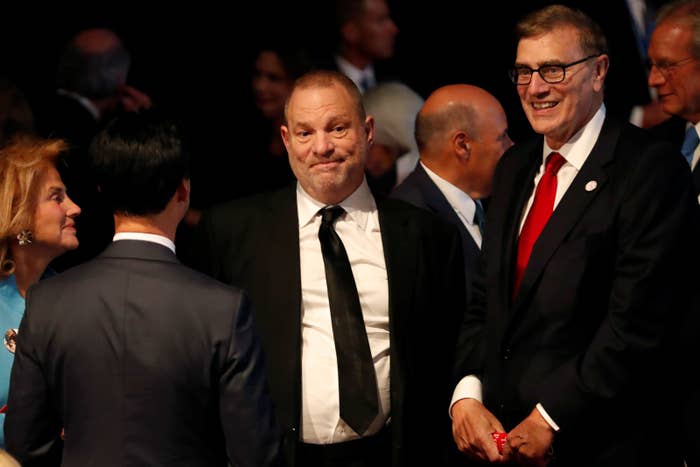 Thurman first described an incident in a Paris hotel room, where Weinstein donned a bathrobe and led her into a steam room.

"I was standing there in my full black leather outfit — boots, pants, jacket. And it was so hot and I said, 'This is ridiculous, what are you doing?' And he was getting very flustered and mad and he jumped up and ran out," Thurman told the Times.
Shortly after that occasion, Thurman said she was sexually assaulted by Weinstein, again at a meeting in a hotel room, this time at the Savoy Hotel in London:
He pushed me down. He tried to shove himself on me. He tried to expose himself. He did all kinds of unpleasant things. But he didn't actually put his back into it and force me. You're like an animal wriggling away, like a lizard. I was doing anything I could to get the train back on the track. My track. Not his track.
The next day, she said Weinstein sent two dozen yellow roses and a note that read, "you have great instincts."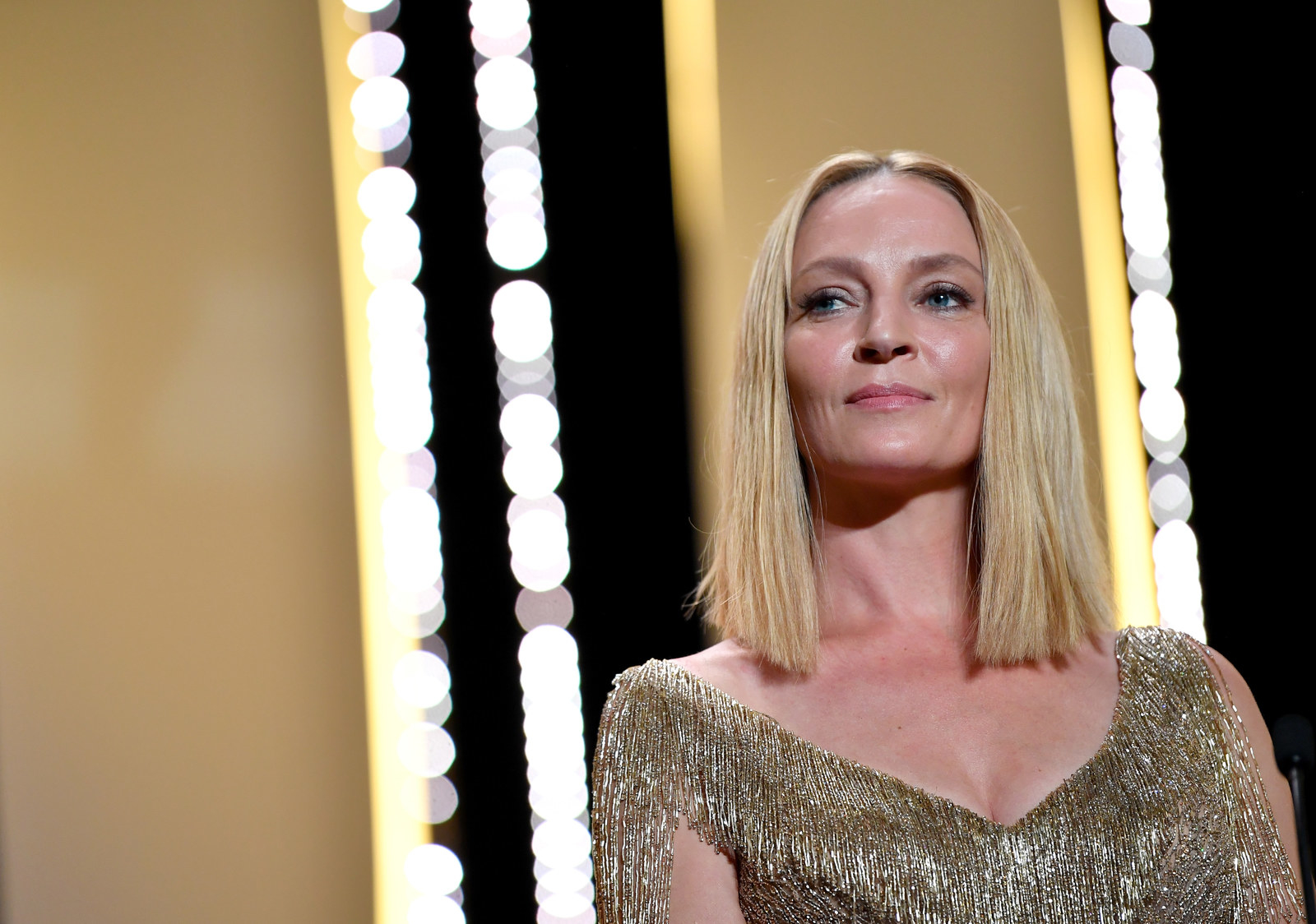 Thurman said she went to meet with Weinstein again at the Savoy to confront him about the attack. She said she told him, "If you do what you did to me to other people you will lose your career, your reputation, and your family, I promise you."

Thurman told Dowd she doesn't remember what happened next, but a friend, makeup artist Ilona Herman, who was waiting downstairs at the hotel, said when Thurman came downstairs "she was very disheveled and so upset and had this blank look."
"Her eyes were crazy and she was totally out of control. I shoveled her into the taxi and we went home to my house. She was really shaking," recalled Herman to the Times, adding that Thurman had told her Weinstein had threatened to ruin her career.
When BuzzFeed News asked for further clarification on the incidents, Thurman's spokesperson replied: "The article speaks for itself."
In a statement to BuzzFeed News, a Weinstein spokesperson acknowledged he had made "an awkward pass 25 years ago in England after misreading her signals, after a flirtatious exchange in Paris, for which he immediately apologized and deeply regrets."

His spokesperson said "her claims about being physically assaulted are untrue. And this is the first time we have heard those details."

The spokesperson provided BuzzFeed News with six photos of Thurman and Weinstein at various work events in recent years, which they claim "demonstrate a strong relationship" between the two.
Weinstein's attorney, Ben Brafman, also sent BuzzFeed News a statement calling Thurman's comments "false accusations of attempted physical assault."
After the revelations against Weinstein first broke in the New York Times and New Yorker last year, Thurman was interviewed on the red carpet, saying that she was too "angry" to speak out yet.

"I am not a child," Thurman said. "And I have learned that when I've spoken in anger, I usually regret the way I express myself. So, I've been waiting to feel less angry, and when I'm ready, I'll say what I have to say."
On Thanksgiving, Thurman also posted a message on Instagram, a still from a scene in Kill Bill: Volume 2 where her character is driving to get revenge on the person who has wronged her.

"Happy Thanksgiving Everyone! (Except you Harvey, and all your wicked conspirators - I'm glad it's going slowly - you don't deserve a bullet)," she wrote.
Her interview with Dowd also touched on her relationship with Tarantino, with Dowd writing that the "animosity between Weinstein and Thurman infected her creative partnership" with the director.
"I am one of the reasons that a young girl would walk into his room alone, the way I did," Thurman told the Times. "Quentin used Harvey as the executive producer of Kill Bill, a movie that symbolizes female empowerment. And all these lambs walked into slaughter because they were convinced nobody rises to such a position who would do something illegal to you, but they do."
Thurman told the newspaper that Weinstein apologized about the hotel incidents to her in 2001, after Tarantino noticed Thurman was uncomfortable around the producer and quizzed her on why.

"I just walked away stunned, like 'OK, well there's my half-assed apology,'" Thurman said.
Thurman also accused Tarantino of putting her life at risk by insisting during Kill Bill filming that she drive a stunt car that she'd been warned wasn't functioning properly.
The stunt resulted in a car accident that left her seriously injured, with Thurman saying she still has a "permanently damaged neck" and "screwed-up knees."
She said it took Tarantino 15 years to provide her footage of the crash, which was published by the Times.
"We were in a terrible fight for years," she said. "We had to then go through promoting the movies. It was all very thin ice."
She also said that Tarantino had spat on her face himself and choked her as part of filming stunts for Kill Bill.
The Times said Tarantino did not respond to requests for comment. BuzzFeed News also contacted his lawyers.