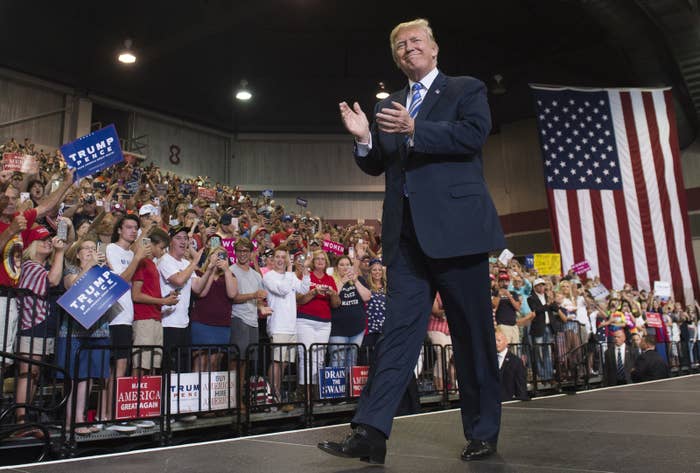 HUNTINGTON, West Virginia — Just three days after President Trump's opioid commission declared the "nation is in crisis" over drug abuse and deaths, he barely mentioned the issue at a rally Thursday in West Virginia, a state wracked by the epidemic.
"We are stopping drugs from pouring into our country and poisoning our youth," he told thousands gathered here at the Big Sandy Superstore Arena. "You have a big problem in West Virginia and we are going to solve that problem."
But that vague comment wasn't enough for some die-hard Trump supporters attending the rally, who are pleading for him to tackle the opioid crisis.

"He talked about stopping drugs into the country but he did not address the epidemic in West Virginia," Tara Leach, 36, from neighboring Ohio, told BuzzFeed News.
Leach, a stay-at-home mom who attended the speech with her 14-year-old daughter Hannah, said she was surprised Trump didn't speak more about local drug issues.
"It's one of the bigger problems West Virginia has besides jobs, so I figured he would address that," said Leach.
"Everybody knows someone who has been addicted, is addicted, or is a recovering addict. It hits very close to home. Something needs to be done about it. It'd be great if he helped out with that," said Leach.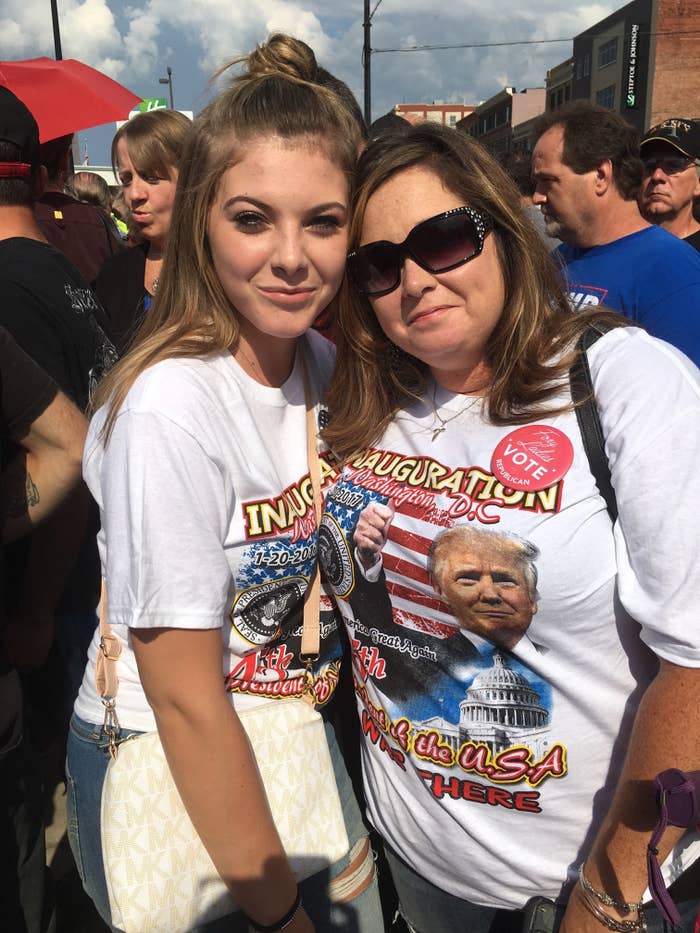 On August 15 last year, 28 people overdosed on opioids in Huntington in just one day (two died). West Virginia suffered the highest rate of deaths from drug overdoses, 41.5 per 100,000 people, of any state in 2015, which is the most recent data available. Opioids make up the majority of drug overdose deaths.
On Monday, Trump's Commission on Combating Drug Addiction and the Opioid Crisis issued an interim report calling for the president to declare a state of emergency so that addicts could better access drug treatment on Medicaid. Trump has not yet commented on whether he will implement the commission's recommendations.
And it's access to treatment that many Trump voters in West Virginia pointed to as a major concern.
"From Lexington to Huntington, there's a lack of resources here. We need more funding," said Mollie Hamrick, 26, a social worker from Huntington who used to work in a drug rehab facility for more than 200 male addicts.

She said half of her patients are currently addicts, and that many have contracted hepatitis B.

"Just trying to get them help and into rehab and the resources to get them better – there's just no places. They're full, there are waiting lists and by the time [openings appear], sometimes it's too late," she said.
Trump declared at the West Virginia rally that he was "taking the fight to the drug dealers," and blasted so-called sanctuary cities that "shield criminal aliens."

Speaking to BuzzFeed News before the president's speech, Jason Holden, 34, a prosecuting attorney from Gallipolis, Ohio, who was attending the rally with his family, was optimistic that Trump would speak directly about the local opioid crisis.
"That's a hope I have for today," said Holden, who called the drug crisis "the biggest issue that faces our area of our country."
"We're having people overdose left and right, daily," he said. "It's stealing our loved ones. Especially heroin mixed with fentanyl and carfentanil [synthetic opioids]."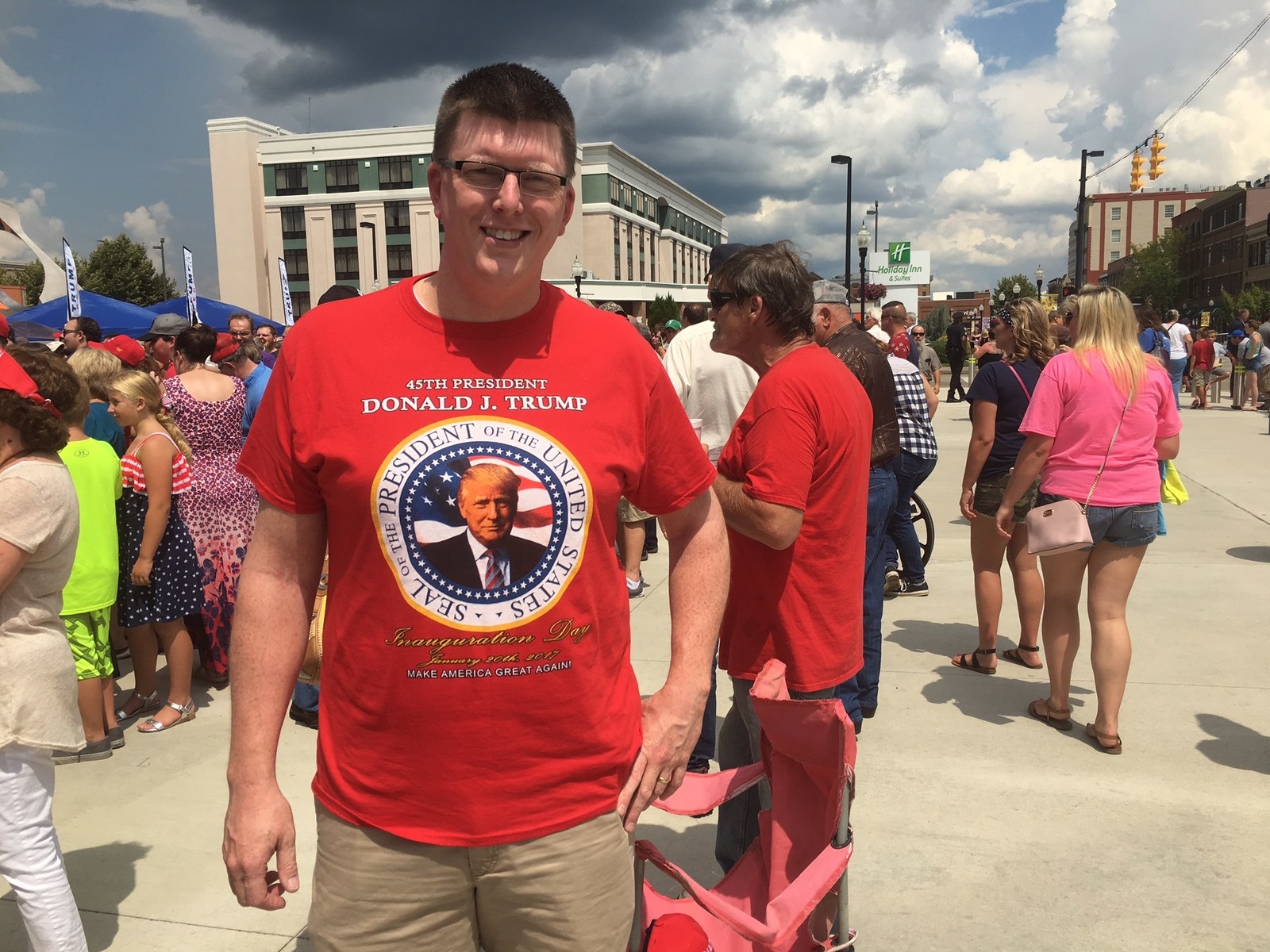 Holden was hoping Trump would announce funding for drug rehabilitation and treatment.

"I hope there will be federal funding dollars available to facilities to have residential treatment," he said. "We're seeing a lot of success in faith-based types of rehab; I hope funding would be available for that as well."
On Wednesday, Attorney General Jeff Sessions announced an "Opioid Fraud and Abuse Detection Unit", a new data program to examine issues such as which physicians are overprescribing opioids and which pharmacies are more likely to have patients who overdose, and one of the first major policies of the Trump administration to tackle opioids.
Sessions said in his comments that treatment was "important" but that the Department of Justice was focused on prevention and enforcement rather than just rehab.
"Treatment often comes too late. By the time many people receive treatment, they, their families, and communities have already suffered so much... In recent years, some of the government officials in this country have sent mixed messages about the harmfulness of drugs. We must not capitulate intellectually or morally to drug use. We must create a culture that is hostile to drug abuse," said Sessions.
At the Huntington rally, Beverly Mohr, 52, who runs a tire business with her husband in the nearby town of Ona, said she wants Trump to crack down on access to legal opioids. Her brother, her nephew, and close friends of her children are all suffering from opioid addiction, she said.
"I hope he puts stricter laws on getting opioids. And then something needs to be done in the city of Huntington, West Virginia, in general, to keep drugs out," she said. "It's not just him [Trump] doing it, the state needs to do something."
Mohr said she suffers from chronic health issues, including lupus and Sjögren's syndrome, but avoids taking prescription painkillers because of how addictive they are.
"I've never smoked marijuana in my life but I would get legal marijuana if I could and I would not take opioids, and I'm in pain all the time. We need to get back to the natural things and get rid of big pharmaceutical," said Mohr.
Other Trump supporters didn't mind that the president barely mentioned the opioid crisis and that the major announcement at the rally was instead about the state's governor switching his party affiliation from Democrat to Republican.
"I think it's fair to say people want to hear about drugs, people have been so impacted by addiction. But there's so many needs – economically, locally, medically – it's not realistic to fit all those needs in the speech," said Thomas Perry, an operations director from Huntington.

Joetta Hatfield, the mayor of neighboring Fort Gay, suggested Trump focused on the good bits of the state instead.
"He came into West Virginia with a very positive attitude," she said. "And that's what the people of West Virginia need."