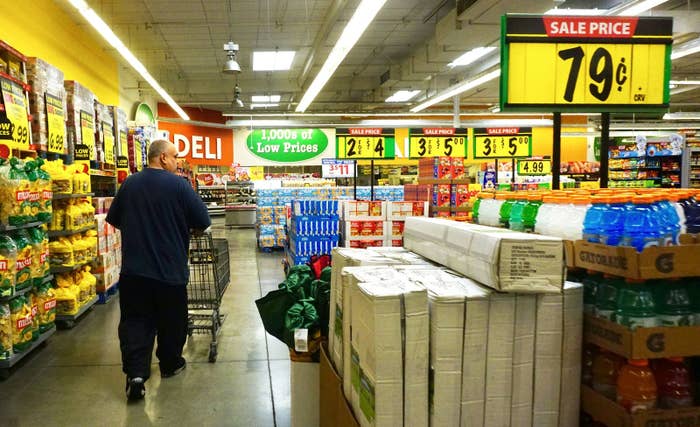 Rather than letting people on food stamps choose their own groceries, the Trump administration is proposing sending out more than 16.4 million boxes of basic food supplies every month as part of its new proposed federal budget — and will force states to cover the cost of distribution.
The 2019 budget summary for the Department of Agriculture says that the government wants to cut $200 billion in benefits over 10 years from the Supplemental Nutrition Assistance Program (SNAP) — commonly referred to as food stamps. The administration's 2019 budget proposal is only a request, and Congress ultimately has to approve of government spending.
One of its cost-saving measures is dubbed "America's Harvest Box," a box of all US-grown food items that will be sent out to anyone who receives more than $90 in SNAP benefits per month, approximately 81% of SNAP recipients.
According to the USDA, the items in the box will include items like long-life milk, juice, grains, cereal, pasta, beans, peanut butter, canned fruit and vegetables, and canned meat or fish.

The USDA could not provide details of exactly how much of each food each person would receive.

"We thought it was a tremendous idea. So what we do is propose that for folks who are on food stamps, part — not all, part — of their benefits come in the actual sort of — and I don't want to steal somebody's copyright — but a Blue Apron–type program where you actually receive the food instead of receive the cash," said Mick Mulvaney, the budget director, at a press conference on Monday.

Blue Apron declined to comment for this article.
Critics immediately began questioning the effectiveness of the new program, which is supposedly designed to cut costs — but raises many logistical and practical concerns.

"It maintains the same level of food value as SNAP participants currently receive, provides states flexibility in administering the program, and is responsible to the taxpayers," said Secretary of Agriculture Sonny Perdue in a statement.
A spokesperson for USDA confirmed that states would oversee the packing and distribution of the boxes — and could not answer questions regarding what would happen if people were unable to receive mail at home, were homeless, or had transport or work issues stopping them from picking up the box.
Instead, BuzzFeed News was referred to this line from a one-page handout about the program: "States will be given substantial flexibility to distribute these food benefits to participants. States can distribute these boxes through existing infrastructure, partnerships, and/or directly to residences through commercial and/or retail delivery services."
So it depends on the state if boxes are even delivered directly to a person's home.
When asked if states would receive extra funding to cover packing and distributing costs, the USDA spokesperson told BuzzFeed News to refer to the budget analysis for funding questions. That document shows the SNAP program will be cut by $5.26 billion in the 2019 budget compared to the 2017 cost.
"There's no additional resources coming to help this new program get off the ground and work," said Carrie Calvert, managing director of government relations at Feeding America, a food bank not-for-profit.
"It's taking away client choice and pushing the distribution cost onto state and local governments and the not-for-profit sector when they cannot afford it," added Calvert.
Allergies and religious restrictions can be accommodated for, said the USDA spokesperson, although they did not respond to specific questions about whether people can choose items based on what they like to eat.

In contrast to the government's allocated box of food, Blue Apron and other programs like it contain fresh produce and meals that people choose from a list of options.

The budget notes that the food box plan "has the potential to reduce waste, fraud, and abuse by limiting opportunities for benefits to be misused or trafficked."

Except SNAP is one of the most efficient government programs, with some of the lowest numbers for misuse. In 2017, the USDA noted that the rate of trafficked SNAP benefits is just 1.3%.
"It seems like a harebrained scheme," said Calvert. "What they're really trying to say is, 'We're going to make it really hard and increase stigma for families and individuals.' They are really trying to make it an unattractive program for people to participate in."