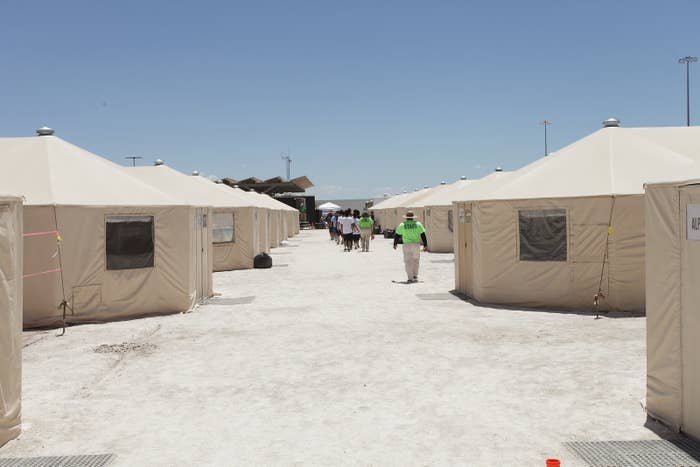 TORNILLO, Texas — Reporters on Monday were allowed to tour the Tornillo temporary detention facility in Texas, where hundreds of immigrant teens are being housed in tents. But first, there were ground rules.

"You can say hello. Wave. 'Hola.' 'Buenos días.' That's it," Mark Weber, a spokesman for the Department of Health and Human Services, told reporters.
When asked if we could tell the children we were journalists, he responded: "No, that's more than 'Buenos días.'"
The Tornillo detention center, located 30 miles outside of El Paso, has been the site of demonstrations over the government's policy to detain children and separate families at the southern border. But on this media tour, there were no cameras, no recording, no speaking to children or workers. Photos were provided by HHS officials after the tour.
Nothing said inside the facility could be attributed to any specific person by name except for Weber's quotes. Phones were allowed to be kept in pockets or bags, but could not be used.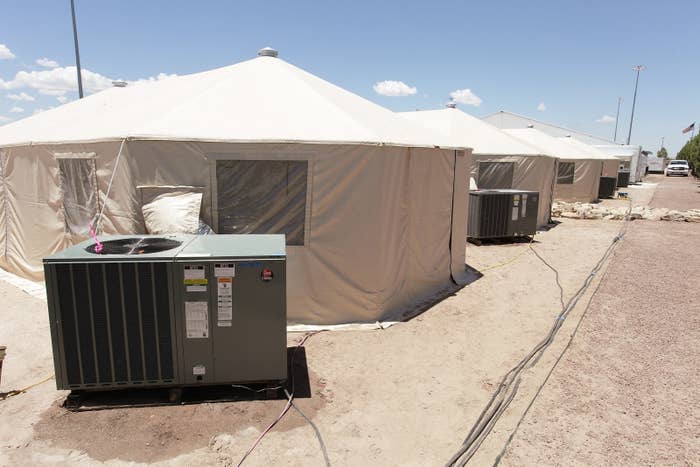 We then were able to walk inside the facility after entering through an electric gate.
Boys could be seen walking in lines between the tents, with a staffer — dressed in a fluorescent yellow T-shirt — at the front and back of each line of boys. The sound of air conditioners buzzed loudly.
First, we were taken to a mobile command center, where security footage and screens showing information about the children in the facility, which opened on July 14.
One screen showed available beds: 48 for males, 26 for females. Because of the nature of the facility — tents built in the middle of a dusty Texan desert — no young children are allowed to stay here, only minors between 13 and 17 years old.
Weber said that as of Monday, 326 children were in the facility, 14 of them girls. Of those children, 23 were separated from their parents or guardian after crossing the border. The rest had crossed the border as unaccompanied minors. Three children who had been separated from parents have been reunified with them or other guardians in the US.
A "departure tracker" showed that 70 children had departed the facility since it opened; 67 of them reunified with a sponsor, the other three transferred to another provider.
Reporters were given a handout that outlined the schedule for kids in the facility. The resident children are divided into different groups — Alpha Group 1, Alpha Group 2, etc. — according to the number tent they sleep in.
Each 45-minute period during the day is carefully mapped out, and changes daily, with set periods for "outdoor recreation" (playing soccer on a recently built soccer pitch), "self-led education" (described as being like study hall, with no teachers but worksheets for kids to do if they want), and "theater arts."
For example, Alpha group 1 showers at 9:15 a.m on Mondays, Wednesday, and Fridays, and 5 p.m. on Tuesdays, Thursdays, and Saturdays. Most days it is over 100 degrees in Tornillo.

The incident commander, who works for BCFS, a Texas nonprofit that runs emergency shelters, said he had run many similar operations, often after hurricanes or other natural disasters.
"It's only a big deal 'cause they're children," he said.
That said, he strongly disagreed with the Trump administration's policy of family separation, which officials say they are rolling back.

"I'm totally against the separation. Should never have happened," he told reporters. "It was an incredibly dumb, stupid decision by our leadership. It was flawed. All it did was harm children, no question about it."
He also noted that it was nice to meet so many people he and his team had been watching on cameras for days (many reporters, including myself, had walked or driven around the facility's fence trying to peer in).
"Media is outside. One photographer is standing on top of the white vehicle filming Alpha site," the latest security update said.
Journalists were also given a handout of "Our House Rules," with 17 rules written up in English for children to follow. Posters of the rules also appeared in the dining area.
The rules include "Please do not leave the dorm without wearing clothes, sandals or socks. Doing so could be embarrassing for all" and "Be nice to everyone! Use good manners and appropriate words when you speak to others."
The dining hall had rows of empty plastic tables and foldable chairs. The teenagers receive three hot meals a day — breakfast this morning was a choice of scrambled eggs, sausages, hash browns, banana nut muffins, fruit, yogurt, cereal, and oatmeal — and two snacks, at specific times.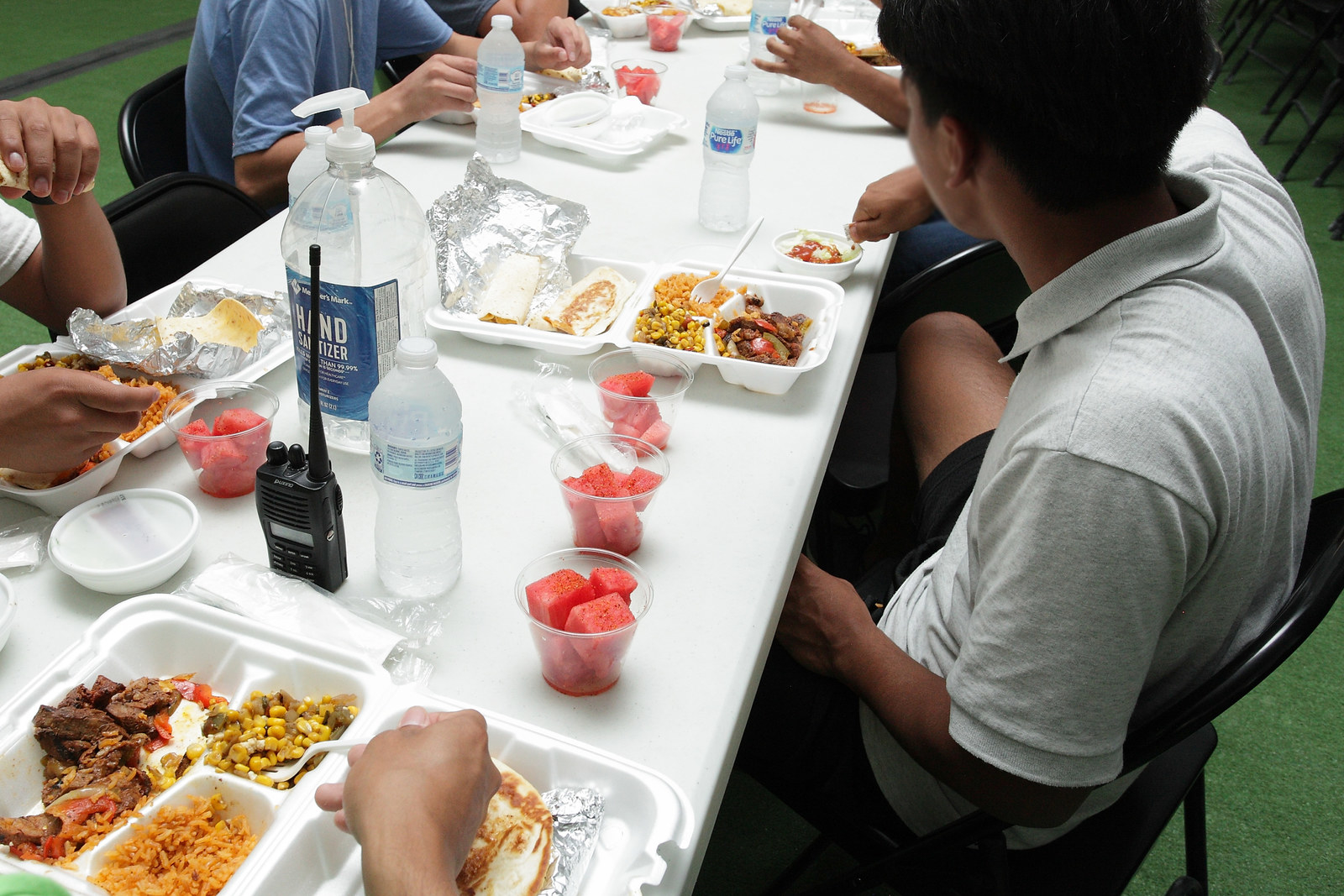 In the corner, a sign read "Reporta el abuso" and phones were there for children to call and report abuse from a fellow detainee or worker. So far no abuse has been reported, the incident commander said.
A projector was set up for kids to watch Spanish movies inside the dining area, with a popcorn machine next to it, but the incident commander said everyone currently just wanted to watch the World Cup.
"They'd rather watch the World Cup half the day and play soccer all day," he said, noting that Sunday's Colombia vs. Poland game had been especially popular.
Staff said that there was another spot where children could watch television, but it was not shown to journalists.
Portable showers and toilets were set next to the sleeping tents, one of which reporters were allowed to visit.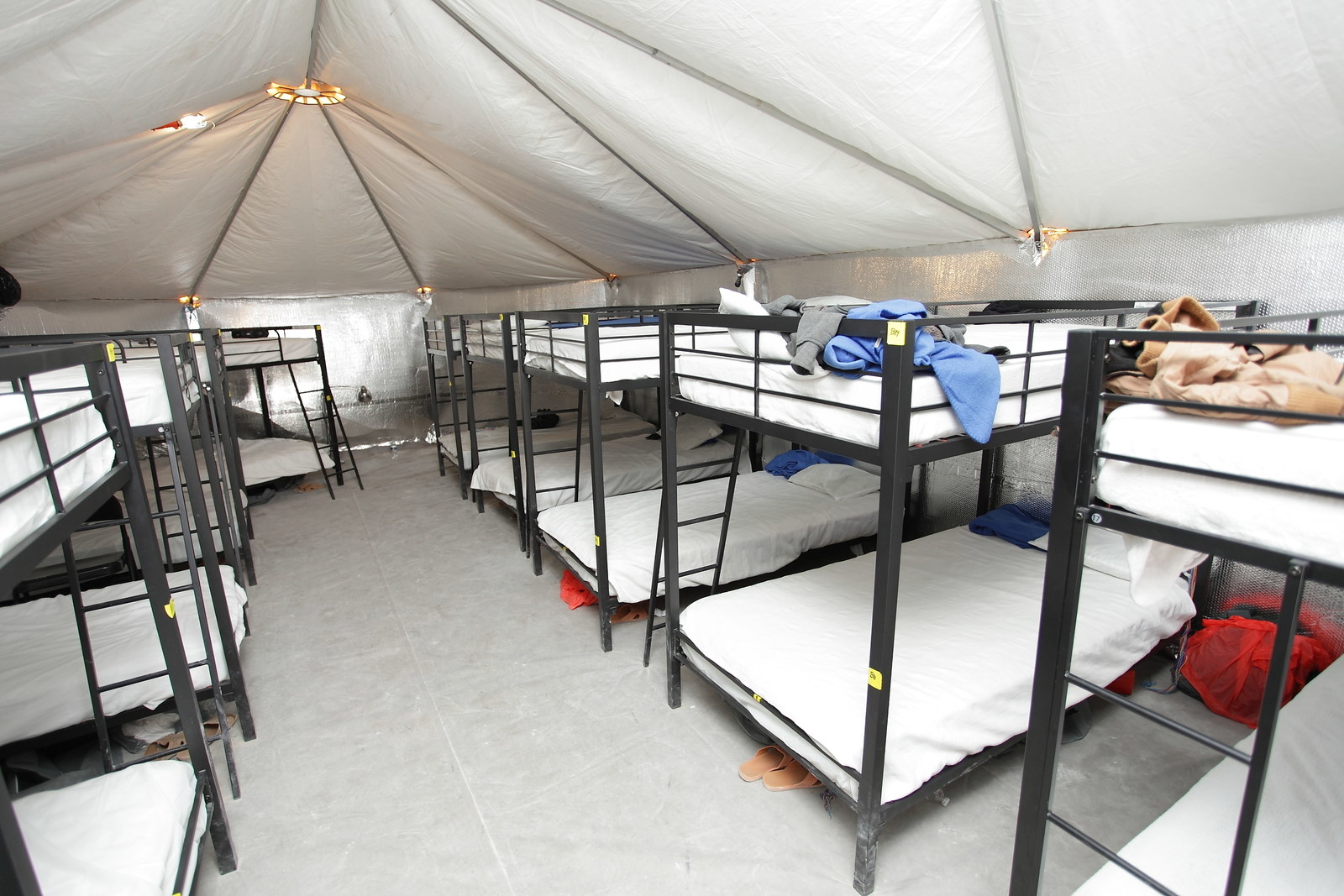 A group of boys was lined up next to it; they smiled and waved to reporters. They wore identification cards around their necks that showed their photo, name, date of birth, and registration number.
One told reporters he was "blessed," while others asked reporters how they were.
Inside the canvas sleeping tents were 10 black metal bunk beds in two rows, with a walkway in the middle. The children had made their beds, with sheets and a simple blue blanket. On top of one bed was a bible and a composition book with math problems.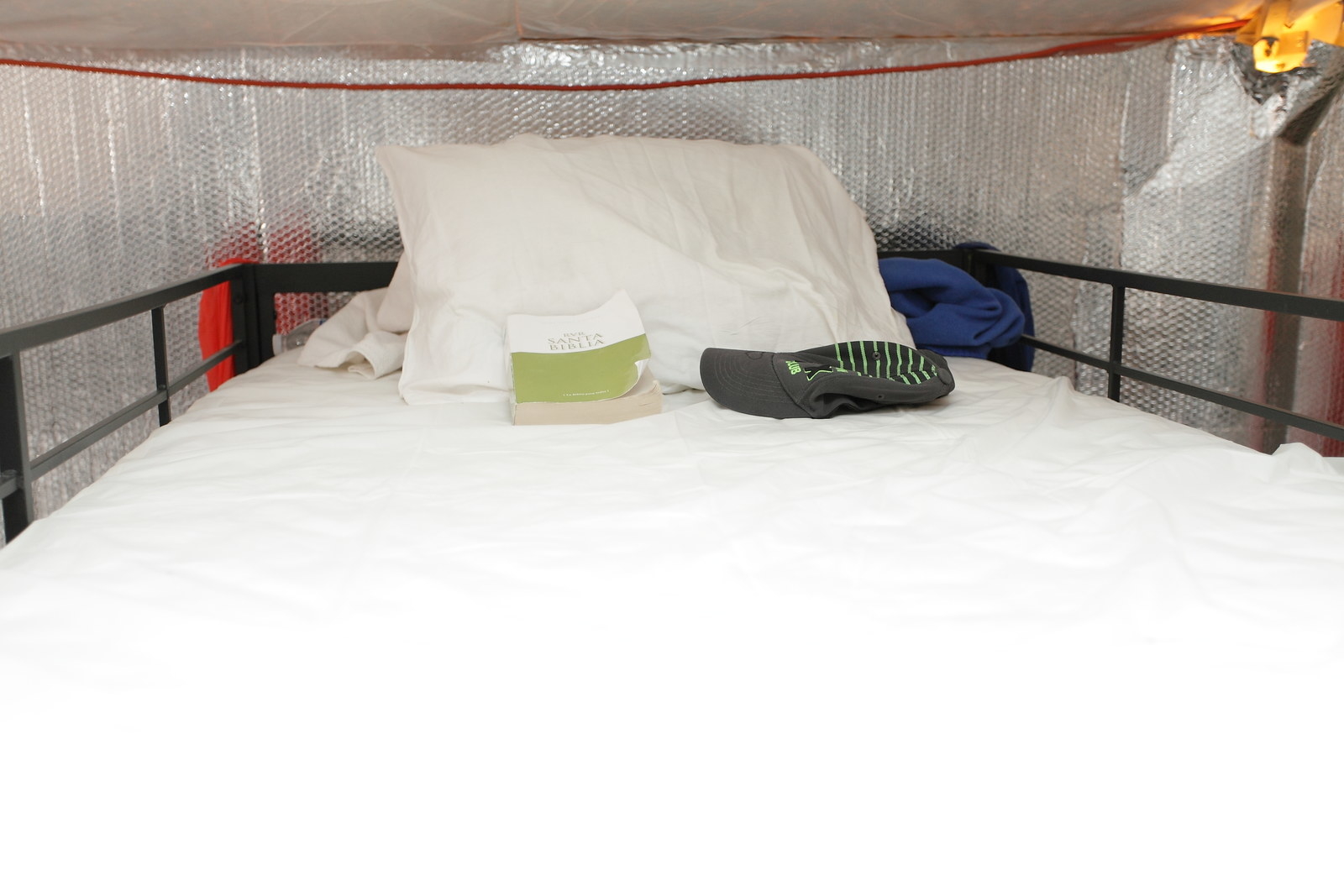 Under the beds were rubber slides for the shower and containers with clothes and belongings. A laundry-style bag with a hairbrush hung off one bed. Another had a colorful embroidered cotton bracelet hanging off the side.
A pencil drawing of hearts and roses, signed by "Erick R.," was taped to one end of the tent. At the other end was a sign that read in English "When you work hard good things happen" and another drawing, in blue and yellow, read in English "I am 100% Honduran. I walked 10,000km to the EEUU." (EEUU means Estados Unidos, the United States.)

Two adults sat in the tents with the kids at all times, including overnight, with a chair at each end.

Dozens of boys were lined up outside the restrooms as BuzzFeed News walked past. "Mucho calor, mucho calor," said one, meaning very hot, very hot. Most of the boys had a cooling rag wrapped around them, some over their faces, others around their necks.
Several boys carried books that read "Kindergarten" in English. No teachers or language instruction are provided to the boys, nor are any specific educational classes.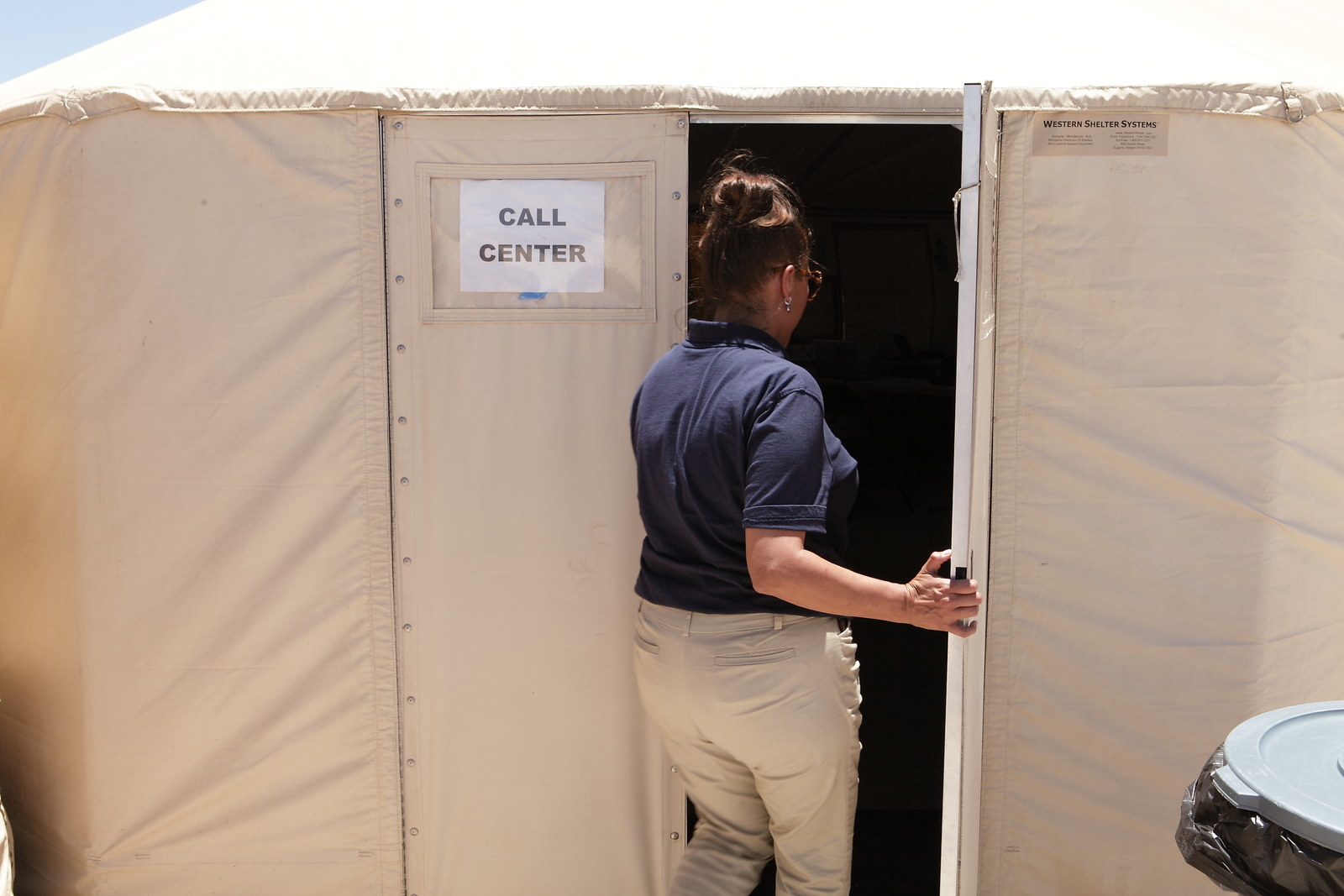 One tent was full of phones set up for children to speak with family. Children are allowed two phone calls of around 10 minutes per week to relatives. Staffers call the numbers and confirm the identity of the person before passing the phone to the child.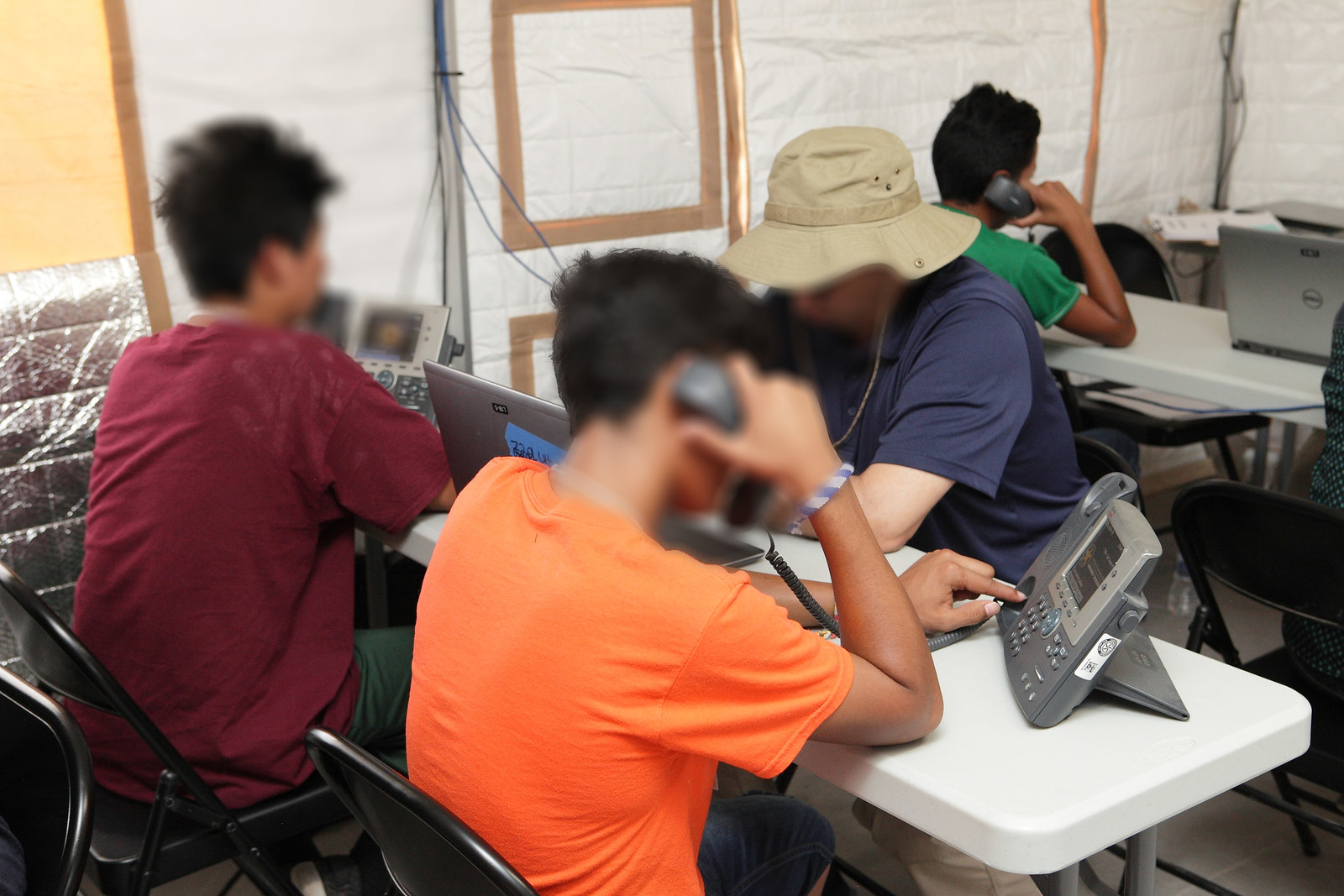 The soccer pitch is the most popular part of the facility, officials said. It has three sets of goal posts in an area roughly the size of one soccer field, and staffers serve as referees. The kids are only allowed to play for six minutes at a time, before a break in the shade, because of the extreme heat.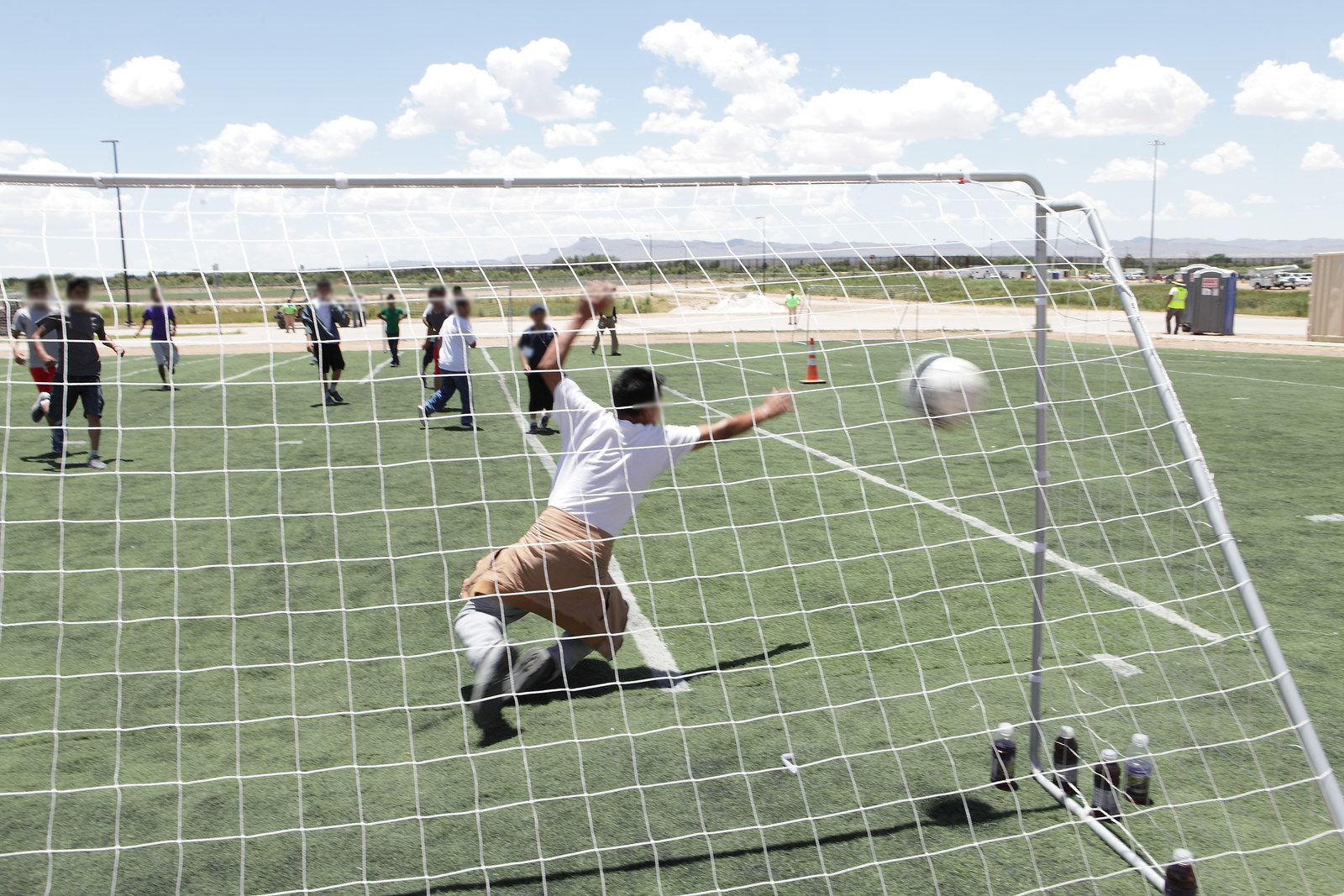 As boys waited in the shade during one of the breaks, drinking water and Gatorade while playing cards, some briefly spoke to reporters. When asked how they were, boys said "good" and several gave a thumbs up. When asked how the food was, several replied "buena," meaning good. When asked about the World Cup, one replied "Brasil va a ganar," Brazil is going to win.
The girls tent is just next to the soccer field, but they are kept completely separated from the boys, including different dining facilities and bathrooms. The girls, the incident commander said, did not want their sleeping tent visited. A recent visit from members of Congress apparently upset many of the children. The incident commander declined to say which member of Congress made a little girl cry after aggressively quizzing her where she was from, why she'd come, and whether she'd been abused along the way.
But two of the girls came out to say hello to reporters. When asked her age, one girl replied "17," before Weber declared that was enough and that she could go back inside. Another came out who spoke some English and wanted to say hello, but journalists were not allowed to ask her questions.
Journalists did not visit any of the girls' facilities, such as dining hall or study or TV area.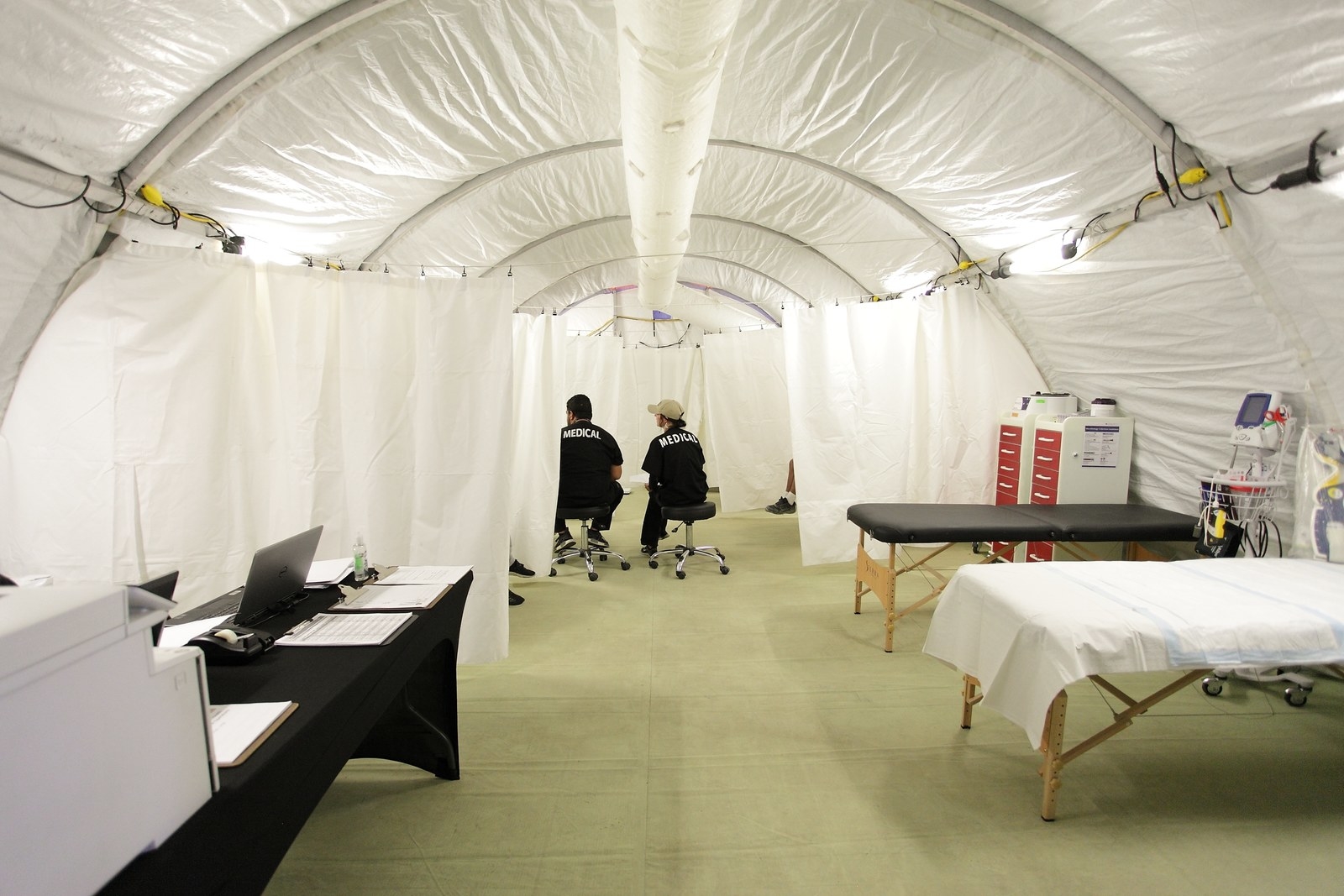 An emergency medical center tent also has 20 beds inside. One child has been quarantined because of strep throat, the most serious medical issue so far. BuzzFeed News saw a boy with his arm in a sling walking back in the direction of the soccer field, but medical staffers were unable to say exactly what had happened. Minor injuries from soccer are apparently common.
The incident commander noted that his staff is trained to look for gang signs, and none had been seen, despite comments from the president that many of the teenagers coming over are in gangs, such as MS-13. The commander described the children as being compliant.
Weber explained that temporary facilities are built specifically so that children don't end up at facilities not built for long-term or age-appropriate care.
"We do not want young kids in border patrol facilities," he said, referring to the facilities in South Texas where children are kept in cages.
Weber said the department had been aggressive about building temporary housing facilities after learning from mistakes in the 2014 child immigrant crisis when not enough housing was available.
"HHS really screwed up and ran out of space," he said.
When asked why some detained parents had been unable to get information about their children, Weber said, "That's a mystery to me."
For the 23 separated children in this facility, Weber said they had identified other family members living in the United States and were in the process of moving the children to their care but that it takes time to screen guardians and confirm they are suitable.

The kids in the Tornillo facility mainly come from Guatemala (162) and Honduras (117). Forty came from El Salvador, three from Mexico and four from other countries, including one boy from Romania.
About 250 staffers are in the facility at all times, and six mental health workers are available at all hours. There's also a full medical center, and emergency fire and EMS team. Forty caseworkers are responsible for handling the children's next steps.
A permanent HHS shelter costs approximately $250 per child per day. Weber said that the Tornillo shelter, because of the high cost of its temporary facilities, cost $700 per child per day.
The BCFS contract is only to run the facility for 30 days, and may close July 13, according to the incident commander.
"My opinion is that it is not going to be needed," he said, saying that he believes all the children in the facility will be placed with relatives or guardians by then.
Weber, however, refused to commit to a date.
"The federal government will make a decision," he told reporters after the tour.