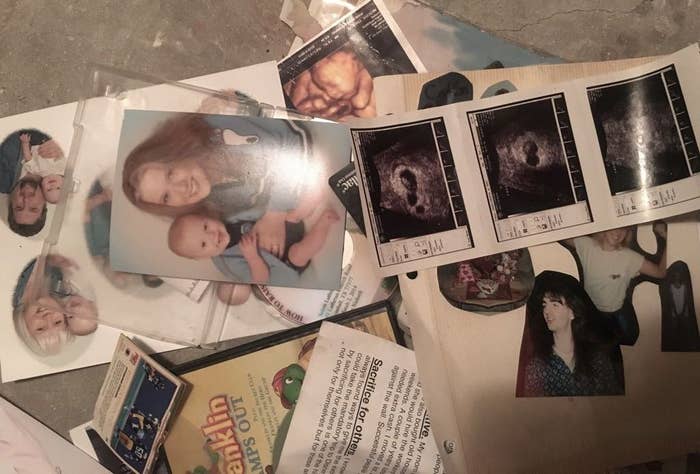 HOUSTON — As Harvey survivors continue to clean out ruined homes and survey what is left, residents of Florida are preparing for Hurricane Irma, a Category 5 hurricane that slammed the Caribbean on Wednesday and is making its way toward south Florida.
Residents and tourists have been mandatorily evacuated from the Florida Keys and parts of Fort Lauderdale, and Miami residents in flood-prone areas were also told to evacuate. While Florida families pack up their belongings, BuzzFeed News spoke with Harvey survivors affected with various levels of flood damage to see what they were most upset to lose.
Everyone BuzzFeed News spoke with said how thrilled they were to have anything that survived the storm and were grateful they'd survived alive, aware that others were not so lucky.
Only a handful of photos from Highland Glen resident Christine Jasek's life now remains, drying out under a fan in her Spring, Texas, home.
"That was all the pictures we could salvage. I lived a really cool life before I had kids: I lived in Los Angeles, I danced on the Soul Train soul stage, I went to a party at the Playboy Mansion," said Jasek, a 46-year-old teacher. She lost all the photos documenting her teens, twenties, and thirties — including all her wedding photos.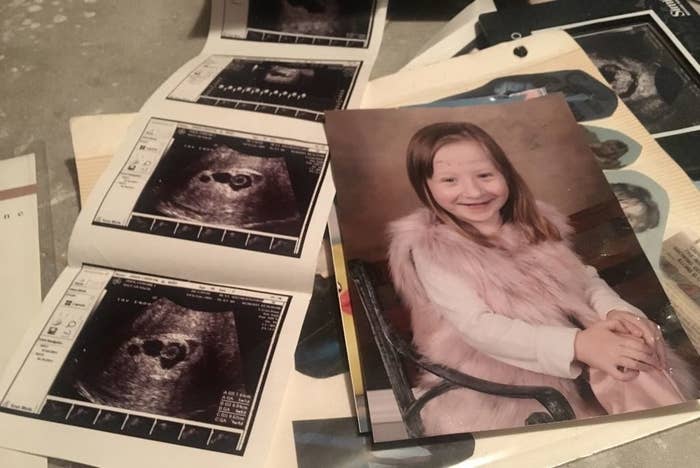 But after thinking them lost, Jasek managed to find one of her most special possessions, an ultrasound showing her quintuplets (her 5-year-old daughter Gracie was the only one to survive the pregnancy).
The ultrasound is wet and warped, but at least she has one picture of them.
Her neighbor Luann Williams, a 63-year-old retired schoolteacher, also noted the pain of losing photos and family possessions.
"You think you've gone through everything and then you pick something else up and it's full of water and you go, 'Oh, there's a picture of my great-great-great grandfather,'" she said.
Williams was most upset to lose a family Bible from her late mother, which had her mother's handwriting of a family tree inside. She thought it had been packed away securely and high enough, but the floodwaters rose even higher.
"It was in a plastic box. But [water] got in it, and opened it and turned it over," said Williams.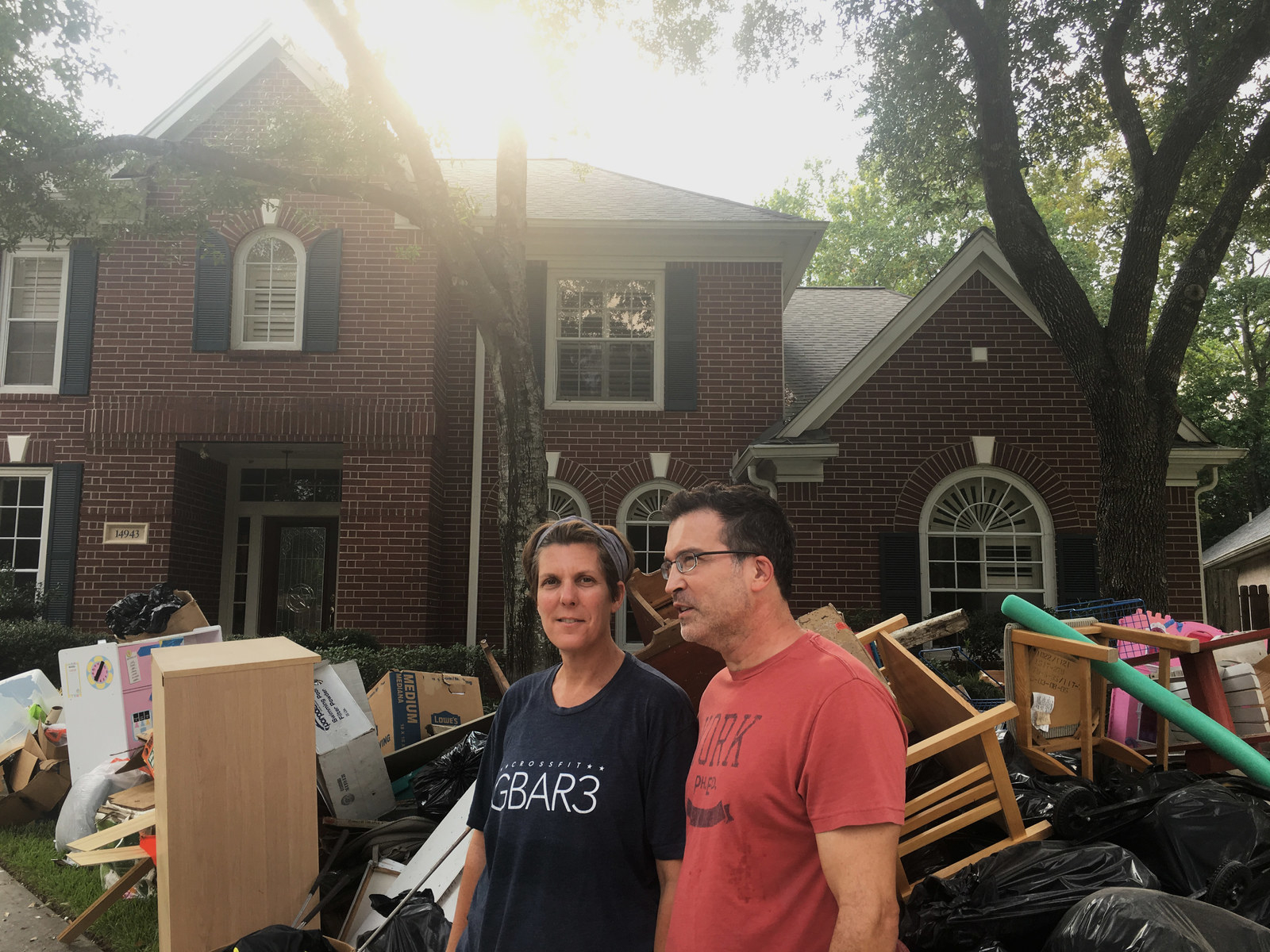 The Longwood home of dentist Jorge Marquis, 49, flooded during Harvey's torrential rain, but because of another flood a year earlier, the family was well-prepared and saved most of their belongings — apart from some ruined items in the garage.

"There was a box with old personal cards and letters" said Marquis. "When I was a kid I was really sick, and my dad was stationed in Okinawa and he'd write to me. I was like 3. Happy birthday cards from when I was 5 or 6. Letters from family in Germany."
"I was really bummed about losing them. I tried to dry them and open them, but the ink had been smudged on most of them," explained Marquis.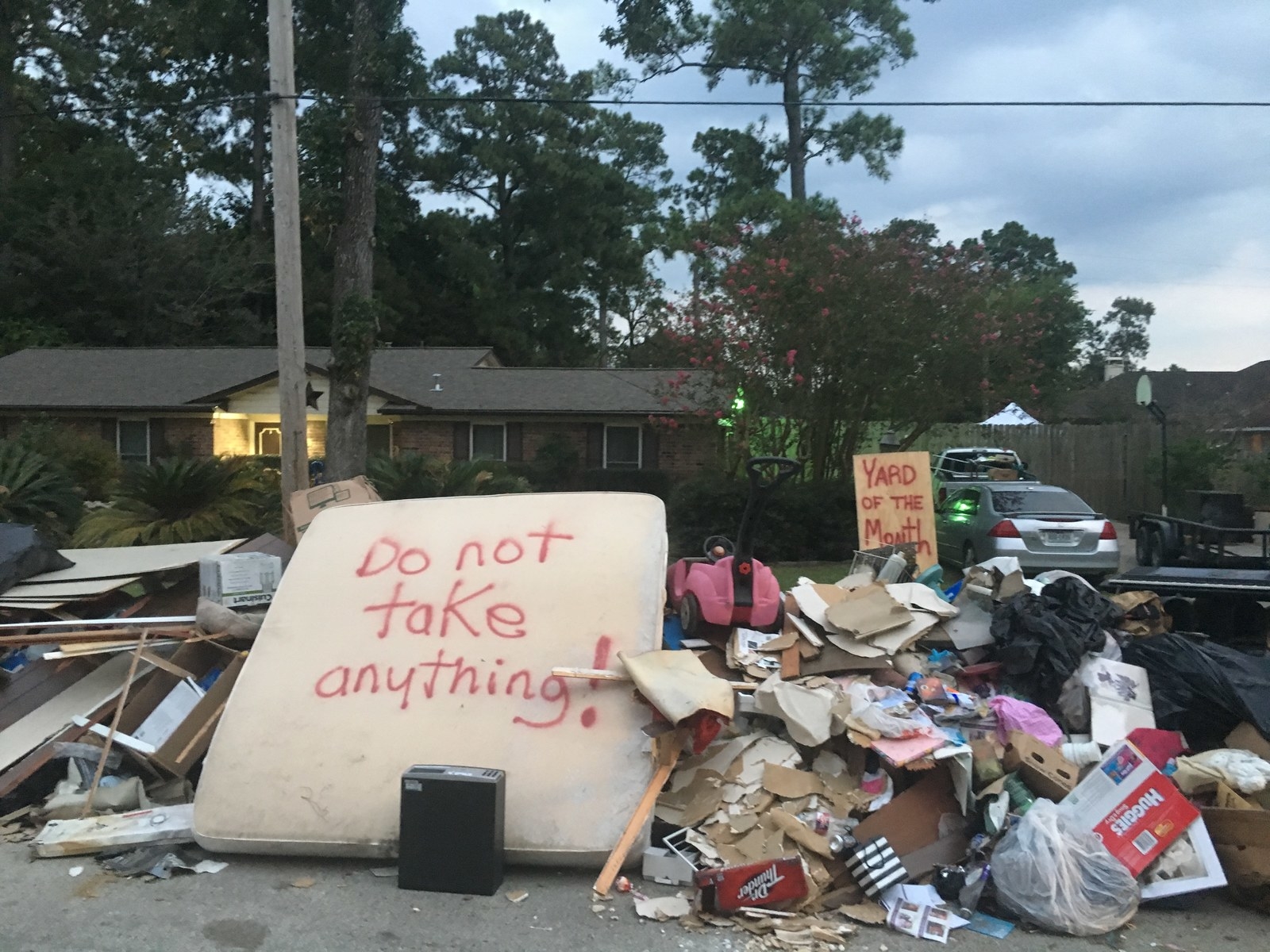 For Jimmy Jenkins, a 56-year-old teacher and car buff who lost nearly everything in his home and garage, his prized car and motorcycle collection hurt the most.
"I had a Camaro that I've had since I was 18," said Jenkins, who'd just finished hosting a Labor Day barbecue for his flood-affected Highland Glen neighbors.
"Two corvettes, one a ZR-1. They only made 2,400 of them. I had a Z1-R Kawasaki motorcycle. They only made 43 in the color that I had. I bought it brand new when I was 18. A [Chevy] S-10 Race Truck — I just spent $8,000 building the engine. It went under. A brand new Yamaha 550 four-wheeler. One brand-new John Deere lawn tractor," recalled Jenkins.
Does the loss of the Camaro hit the hardest? "The Camaro and the Corvettes. Oh, and my motorcycles: two Harley-Davidsons and my Kawasaki. I like toys. That's going to change now. Everything I worked for for 40 years was gone in one night," he said.
After the flood receded, Jenkins immediately towed all the vehicles and gave them away to a scrap metal yard.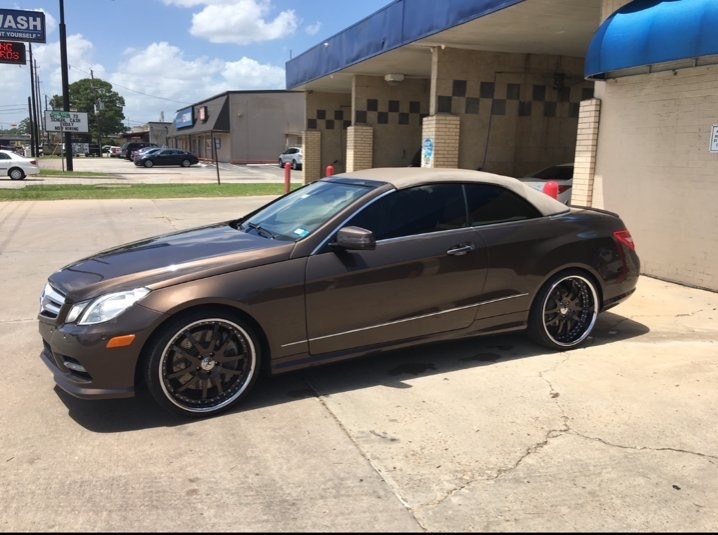 The apartment of Spring resident Lisa Johnson, 51, who works in health care, was untouched, but her 2013 Mercedes E550 convertible, sitting in the garage, was not so lucky and flooded completely.

"Oh, boy. It was a beautiful brown. My husband had bought color-matched custom rims. It was one of those treat vehicles. We loved the car," said Johnson, who got the car for her birthday in 2015 and nicknamed it Ms. Coco.
Johnson's husband, Michael, took the news hardest. "His face just looked like he'd lost his best friend," said Johnson. "Seeing that damage truly hurt him — he'd spent a lot of time customizing it."
Others in shelters, who hadn't yet made it back to their homes, told BuzzFeed News the things they were most nervous about losing.
"See, I'm a hat fanatic," said Xavier Holloman, 28, from Beaumont, Texas. "And the only thing I'm worried about is my hats. I have a lot of Polo [Ralph Lauren] hats, all different colors. And I was only able to bring two Polo hats, and my Nike hat."
Hazel Hibbs, a 94-year-old who escaped her flooding apartment near Katy, Texas, by boat, carrying only her purse and some toiletries, feared most for her beloved furniture.
"I have two matching green club chairs. Beautiful. I hope they're OK. And a lovely oak table and four padded chairs," she told BuzzFeed News.
"And my bed set! I hope the water didn't get them," said Hibbs.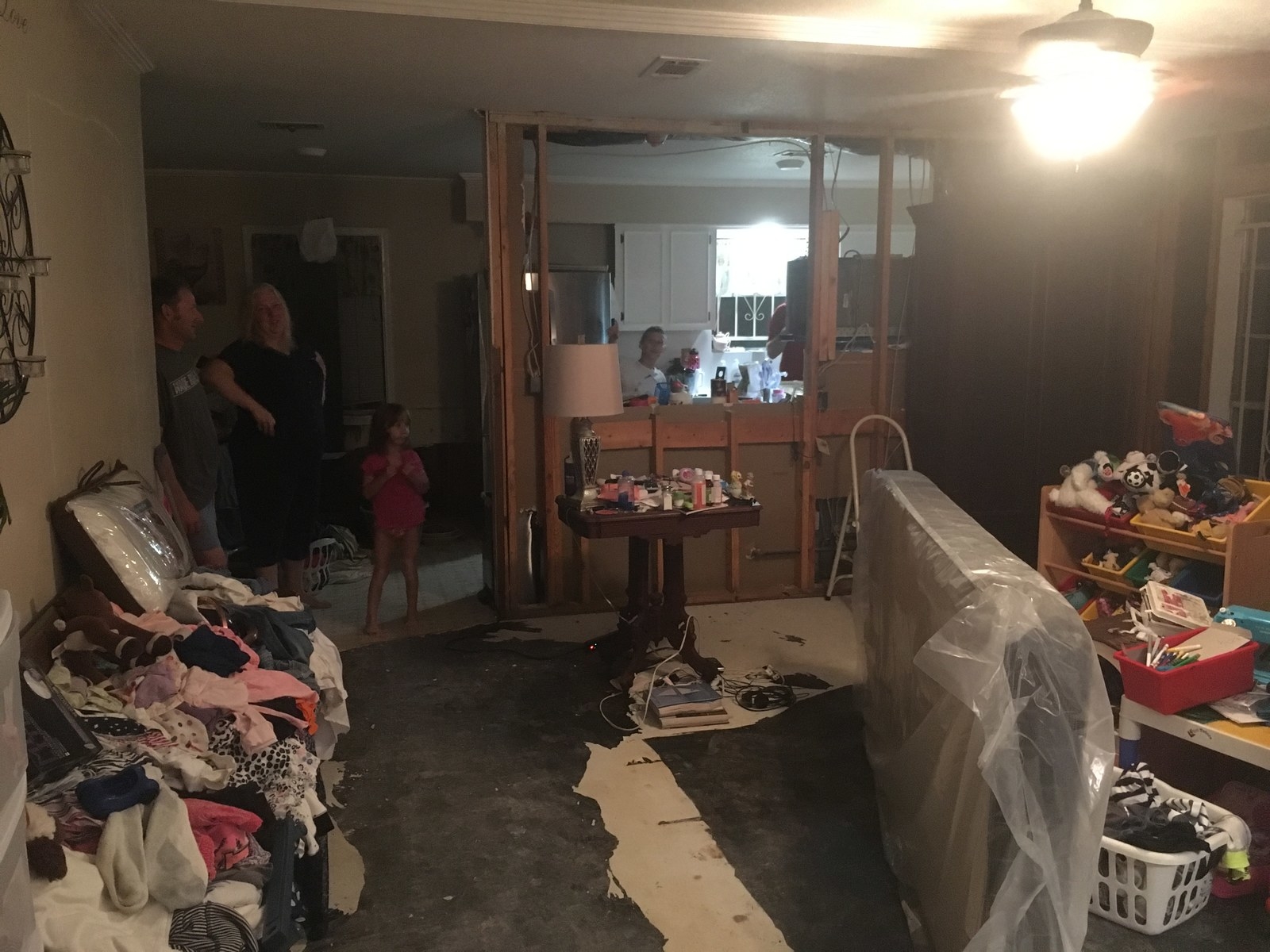 Back in Highland Glen, 12-year-old Matthew Jasek had accepted he might lose most of his belongings, but he was particularly sad about his limited edition Xbox One and video game Halo 5: Guardians getting swept away. (Even worse: He hadn't played it recently as it had been removed as punishment by his mother, Christine, for poor behavior.)
But for dad Darrell Jasek, the worst thing to lose was his sense of security (even worse than the loss of his rookie card for baseball legend Nolan Ryan).
"You think when you close the doors, lock the windows at night, you're not vulnerable," he said. "No matter what you do to your house: Water is going to come in, wind is going to knock it down."
Blake Montgomery contributed to this report.