A lot of people tuned into the Super Bowl on Sunday and freaked out at seeing a packed stadium — but on closer inspection, there are thousands more cardboard cutouts than people.

Sunday's Super Bowl between the Kansas City Chiefs and Tampa Bay Buccaneers at the Raymond James Stadium in Tampa is the smallest crowd in recent history, due to the dangers of COVID-19 and the need for social distancing.

The NFL capped the crowd at 22,000 fans, with 7,500 tickets distributed to vaccinated healthcare workers across the country as a thank-you during the pandemic.
Another 3,000 players, personnel, and other NFL staff are also at Sunday's game, according to the NFL.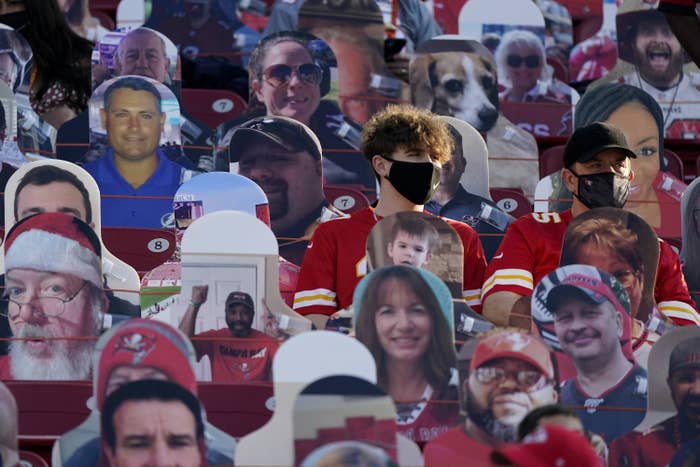 However, the stadium still looks crowded because of 30,000 cardboard cutouts made to look like cheering fans are in the stands. A Super Bowl cutout cost $100, and a bunch of celebs, such as DJ Khaled and Lady Gaga, also appear.
Brian McCarthy, a spokesperson for the NFL, tweeted an explanation noting that the cutouts "provide physical distance btwn pods of fans & vaccinated health care workers."

McCarthy also pointed out that they are quite a visual effect. "Place looked packed when I arrived at 8:30 a.m. today," he said.

However, the appearance of a packed stadium stressed people out.
Particularly for those pretty frustrated that thousands are gathering to celebrate during a pandemic, when others haven't seen family or socialized in nearly a year.

Currently Florida's Hillsborough County, where the stadium is, has seen a drop in the last two weeks from 612 cases to 423.
Florida is currently ranked third in the country in COVID-19 cases.

The stadium has a 65,000 capacity, which means even with the 30,000 cutouts, the venue isn't totally full.