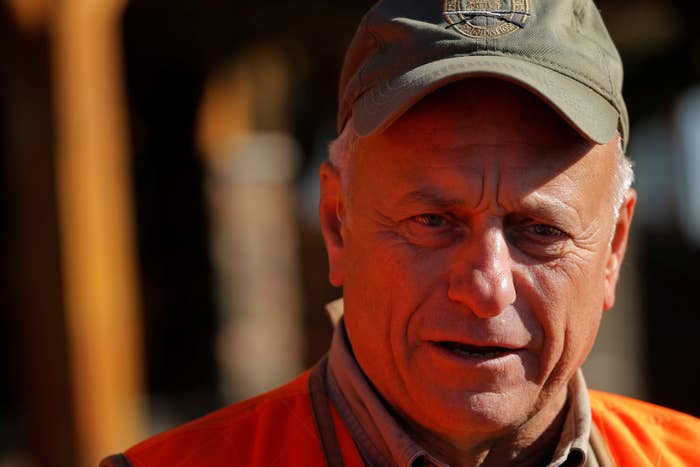 Republican Steve King of Iowa hung on to his congressional seat Tuesday night, despite the deadly synagogue shooting in Pittsburgh drawing attention to his history of racist and anti-Semitic comments.
In doing so, King defeated Democrat J.D. Scholten, a 38-year-old former minor league baseball player, the Associated Press reported.
King, who has represented a sprawling Northwest Iowa district since 2003, has repeatedly made racist statements, speaking often about his fear of America losing its white Christian majority to immigrants and people of color, with little outcry from his Republican colleagues.
"Diversity is not our strength," he tweeted in December 2017, while quoting Hungary's far-right prime minister as saying, "mixing cultures will not lead to a higher quality of life but a lower one."

In June, King retweeted Mark Collett, a self-described "Nazi sympathizer," and added his own anti-immigration comment: "Europe is waking up... Will America... in time?"

In an interview in August with Unzensuriert, a far-right Austrian site founded by a former Nazi SS officer and aligned with Austria's far-right Freedom Party, King spoke about his white nationalist beliefs, including the "Great Replacement" conspiracy theory that Muslims and immigrants of color are replacing white people.
King claimed that George Soros, the billionaire who fled Nazi-occupied Hungary as a child and has since donated millions to liberal causes, is helping fund this "replacement." Soros, who is Jewish, recently had a pipe bomb sent to his New York state home.
"The US subtracts from its population a million of our babies in the form of abortion," said King. "We add to our population approximately 1.8 million of 'somebody else's babies' who are raised in another culture before they get to us."
In 2013, when speaking against the DREAM Act, which allowed undocumented young people who had crossed the border as children to remain in the United States, King claimed most of them were drug mules.
"For every one who's a valedictorian, there's another 100 out there that weigh 130 pounds and they've got calves the size of cantaloupes because they're hauling 75 pounds of marijuana across the desert," said King.

King has falsely claimed that undocumented immigrants have murdered 63,000 Americans — a lie later repeated by President Trump.
The Republican also follows known white supremacists on Twitter, sometimes retweeting them.
In 2015, King tweeted a photo of himself with Geert Wilders, the Dutch politician known for his anti-Muslim views, whom he has supported numerous times since.

In June, the lawmaker said that Somali Muslims shouldn't work in meat-packing factories in his Iowa district because they traditionally do not eat pork.
"I don't want people doing my pork that won't eat it, let alone hope I go to hell for eating pork chops," said King, in an interview with Breitbart News.
But the shooting at the Tree of Life temple in Pittsburgh in late October, where 11 people were allegedly killed by a white nationalist who railed against Jews and immigrants, refocused the public attention on King's comments just before the midterm election.
The day before the shooting, the Sioux City Journal endorsed King's rival, Scholten.

"We would prefer King spend less time trying to 'save' Western civilization and making a national name for himself as a conservative leader trying to move the nation to the political right," wrote the newspaper's editorial board.
Companies including Intel, Land O'Lakes, and Purina announced last week they would no longer financially support King because of his white supremacist beliefs.

"We looked into the congressman's public statements and determined that they conflict with Intel values," said Dawn Jones, Intel's director of policy and external partnerships, in an email to staff.
A key person in his own party, Rep. Steve Stivers, chair of the National Republican Congressional Committee, also tweeted that King's "recent comments, actions and retweets are completely inappropriate."

Jonathan Greenblatt, the chief executive and director of the Anti-Defamation League, an organization focused on ending anti-Semitism, wrote a letter to House Speaker Paul Ryan last Wednesday about King, calling on Ryan to remove King from his committee positions and reprimand him for his comments.

King is the chair of the congressional Subcommittee on the Constitution and Civil Justice and sits on the Subcommittee for Immigration and Border Security.

"After years of offensive statements, over the past weeks, Rep. King has met with outright anti-Semitic organizations and individuals, giving them the imprimatur of legitimacy that comes with meeting with a Member of Congress," wrote Greenblatt.
"Moreover, the massacre of 11 of our fellow Jews at prayer at the Tree of Life synagogue in Pittsburgh has reminded us that silence in the face of anti-Semitism and hate is acquiescence," he continued.
During a press conference Thursday, King was questioned about the similarities in his worldview to that of the Pittsburgh shooter and asked if he identified as a white supremacist.

"Stop it," replied King, refusing to answer any of the questions.