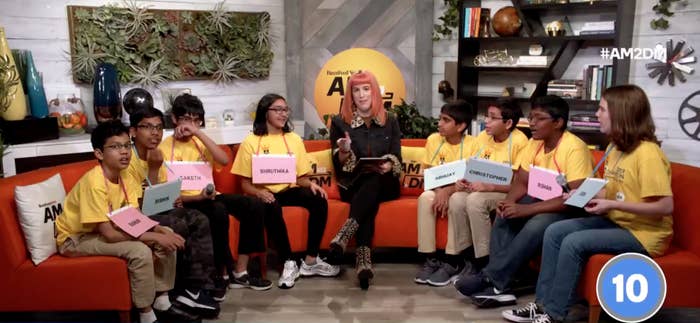 The eight winners of the 2019 Scripps National Spelling Bee may be able to spell "pendeloque" and "auslaut," but they failed to correctly name the Spice Girls.
For the first time in the competition's 93-year history, eight kids tied for first place in last week's final.
All of the winners — Rishik Gandhasri, Erin Howard, Saketh Sundar, Shruthika Padhy, Sohum Sukhatankar, Abhijay Kodali, Christopher Serrao, and Rohan Raja — joined BuzzFeed News' morning show AM to DM on Monday and competed in a '90s pop culture quiz.

The first question was to name all five members of iconic girl power group the Spice Girls.

"Ginger, Posh, Baby...Cinnamon?" said Shruthika.

"Tumeric, Coriander, Paprika," joked Rohan.
The correct answer is, of course, Ginger, Posh, Baby, Sporty and Scary — although Posh is not currently on the reunion tour.
While the spelling bee winners were able to explain Myspace and Blockbuster, they were unable to define the '90s search engine Ask Jeeves or a cassette tape.

"It's basically, you put it on a DVR and it has anything you want recorded on it," Rishik said, trying to define a cassette tape.
Shruthika recovered from her Cinnamon Spice answer to accurately explain the difference between a VHS, a CD, and a DVD.
"A VHS is a tape, a CD is a disc, and a DVD has video, but is also a disc," said the 13-year-old.
Most importantly, Erin correctly spelled "tamagotchi."