Indian authorities have completed three expeditions to North Sentinel Island, where an American missionary was killed by a remote tribe last week during an illegal attempt to visit them, but are struggling to figure out how to safely recover the man's body.
John Allen Chau, 26, died after visiting the protected island while trying to convert the Sentinelese tribe to Christianity. Fishermen who had taken Chau to the island witnessed his body being buried on the beach last week.
On Saturday police said they'd mapped the area of the island where Chau's body lies.
"We have more or less identified the site and the area in general," Dependera Pathak, director-general of Andaman and Nicobar Police, told the Associated Press.
"It's a difficult proposition," said Pathak, speaking about removing Chau's body. "We have to see what is possible, taking utmost care of the sensitivity of the group and the legal requirements."
Andaman and Nicobar Police are seeking help from anthropologists and academics as part of their investigation, due to the risk posed by interfering with the Sentinelese people.

Investigators specifically wanted advice on "the nuances of the group's conduct and behavior, particularly in this kind of violent behavior," said Pathak.

The tribe are the only occupants of North Sentinel Island and remain completely disconnected from the outside world. The Sentinelese are known for attacking anyone who tries to come to the island with spears and arrows, as happened to Chau.
"I don't believe there is any safe way to retrieve the body without putting both the Sentinelese and those attempting it at risk," Sophie Grig, a senior research and advocacy officer at Survival International, a group that advocates for remote tribes, told BuzzFeed News on Saturday.
"Any incursion onto their island puts the Sentinelese at serious risk of diseases to which they'll have no immunity," she said.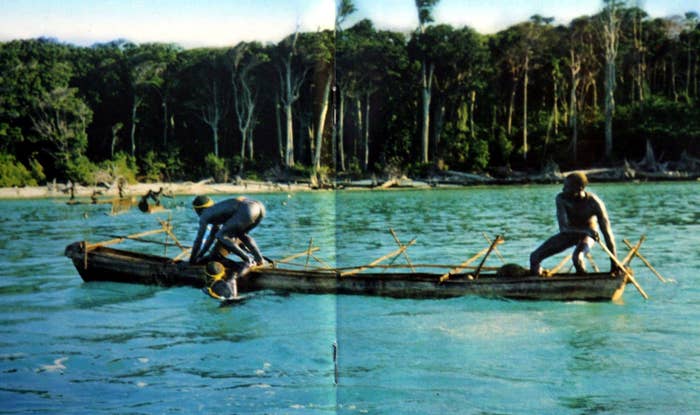 On Friday, authorities — including officials from the police, forest department, tribal welfare department, and coast guard — took a second boat trip to North Sentinel Island as part of the investigation into Chau's death. (A police air surveillance was done on Nov. 20, and a first boat trip on Nov. 21.)
Seven men, including five local fishermen and two friends of Chau's who connected him to the fishermen, have been arrested and charged over his death.

Two of the arrested men joined authorities on Friday's trip to North Sentinel Island to help "ascertain the route and possible circumstances of Chau's killing," according to a police press release.
During Friday's trip, authorities got around 1,600 feet from the island and studied the behavior of four or five islanders for a few hours.
No attempt has yet been made to retrieve Chau's body.

In 2006, the Sentinelese killed two local fishermen whose boat drifted onto their island, after they'd been illegally fishing nearby.
Authorities tried to retrieve their bodies, which had also been buried on the beach, via helicopter, Grig explained. However, the Sentinelese fired arrows at the helicopter, and the plan was abandoned.
"After that the relatives of the fishermen announced that no further attempts should be made to retrieve the bodies — they understood that the fishermen should not have been there in the first place and that it would put too many people at risk," said Grig.
"I would hope that a similar conclusion might be reached in this case, especially given that John Allen Chau's family have made a public statement that they forgive those responsible for his death," added the researcher, who has spent 20 years studying the Andaman Islands.

Chau's family has not yet responded to a request for comment.

"We forgive those reportedly responsible for his death," they wrote in a tribute message posted to Chau's Instagram on Wednesday.
CORRECTION
Sophie Grig's name was misspelled in an earlier version of this post.