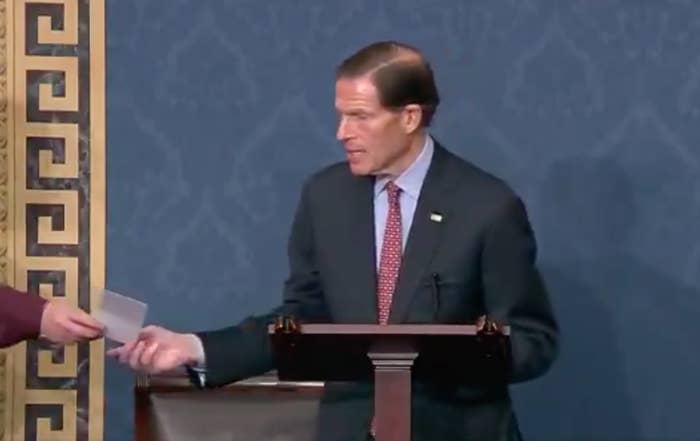 Democratic Sen. Richard Blumenthal was midway through a speech on gun violence on the Senate floor when he learned that a deadly school shooting had taken place minutes earlier in California.
"We are complicit in these deaths if we fail to act," Blumenthal said after Republican senators blocked a vote on universal background checks.

An aide then passed him a note informing him there had been a shooting at Saugus High School in Santa Clarita, California, in which two students were killed and three others were injured.

"As I speak, on the floor right now, there is a school shooting in Santa Clara[sic], California," said Blumenthal. "How can we turn the other way? How can we refuse to see that shooting in real time demanding our attention, requiring our action?"
"We are complicit if we fail to act. It is not just a political responsibility; it is a moral imperative," he added.

The shooting took place around 45 minutes after Rep. Cindy Hyde-Smith, a Republican from Mississippi, blocked a motion to hear the background checks bill.
Maria McElwain, Blumenthal's communications director, said as soon as their team heard about the shooting they contacted the Democratic Cloakroom and "asked that someone pass Senator Blumenthal a note updating him on the developing tragedy given its relevance to his remarks."

The Cloakroom had already seen the news and were about to inform him via a handwritten note, because electronic devices are not permitted on the Senate floor.
The majority of Americans support universal background checks, with a 2018 Gallup poll showing 92% of respondents in favor of background checks on all gun sales.
"To the victims and families, we can't take back the loss and fear you're feeling, but we'll keep fighting to end this epidemic of violence," Blumenthal tweeted after the speech.