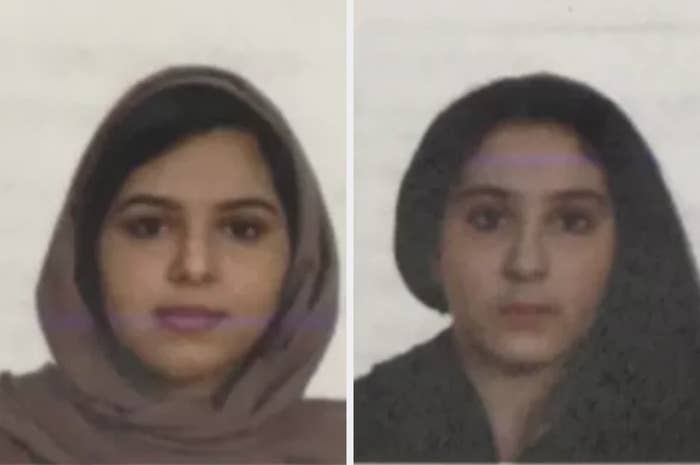 Police said Friday there was no indication of a crime in the deaths of the two Saudi sisters found dead and tied together next to the Hudson River in New York City on October 24.
Instead, police described a tragic set of circumstances — including allegations of family abuse and running out of money — that may have led to their deaths.
Rotana Farea, 22 and her younger sister Tala Farea, 16, were found lying on rocks near the river close to 68th Street on the Upper West Side.
They arrived in New York City from Virginia on Sept. 1, living in hotels, shopping, and ordering meals in the city for nearly two months before they died.
"At this point in time, we have no credible information that any crime took place in New York City," said NYPD Chief of Detectives Dermot F. Shea in a press conference on Friday.

No cause of death has been yet determined.
The case garnered significant media attention after police reported that the girls had been tied together with duct tape, and called for public help in identifying them.
Shea clarified that the duct tape was "not binding them tight together, more like keeping them together."
He also confirmed that the girls, who were from Saudi Arabia, had applied for asylum to the United States.
Shea said detectives had interviewed sources in Virginia who told them the Farea sisters had said "they would rather inflict harm on themselves and commit suicide than return to Saudi Arabia."
The sisters had not been seen by their family, who lived in Virginia, since Nov. 30, 2017.
After authorities located them in December 2017, they were placed in "a shelter-like facility due to some abuse allegations," rather than returned to their family, said Shea.
The detective said there were allegations of abuse between their brother, mother, and father, and that the girls had been abused. He also said their asylum application referenced the abuse.
From December 2017 to August 2018, the sisters did not have any contact with authorities, but it's believed they lived in the facility, which was in Virginia, during this time.
On Aug. 23 or 24, the girls left the facility, arriving in New York on Sept. 1.
The sisters stayed in high-end hotels, such as the five-star Knickerbocker in Midtown, a Hyatt, and a Hilton, and regularly ordered in meals for two. Security footage showed them in good health, Shea said.
However, "money started to run out" and a credit card was maxed out, Shea said.
On Wednesday, a man came forward to the NYPD to tell them about an incident that he said was "haunting him."
On Oct. 24, the day they died, he saw two girls matching their description sitting 30 feet apart in a playground, with their hands in their heads and their heads lowered, and making noises that sounded like praying.
The playground is located on 163rd Street in Riverside Park, near the Hudson River.
The National Suicide Prevention Lifeline is 1-800-273-8255. Other international suicide helplines can be found at befrienders.org.