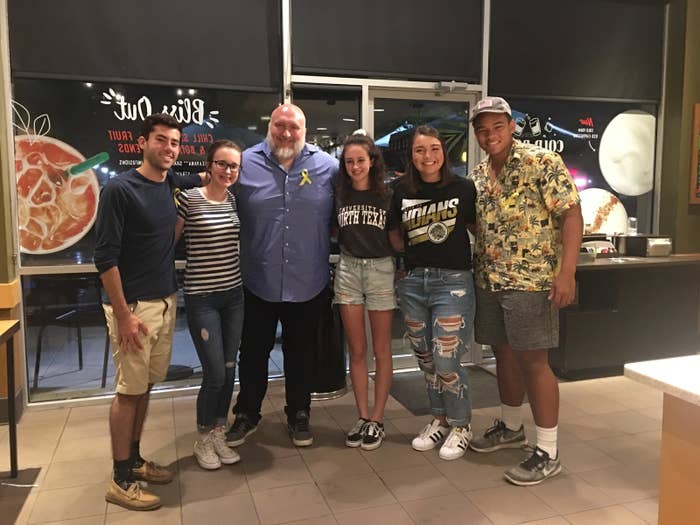 Shortly after Friday's massacre at Santa Fe High School in Texas, senior Bree Butler, 18, called out Sen. Ted Cruz and President Trump on Twitter. "As a [Santa Fe High School] student, all i can ask you to do is vote for gun reform," she wrote. "you have the power to help prevent these things. thank you for your prayers, but we need action as well."
Butler soon received a DM from Matt Deitsch, the chief strategist behind March for Our Lives and an alumnus of Marjory Stoneman Douglas High School in Parkland. She learned that a few other friends who fired off similar tweets were also talking to other nationally recognized MFOL leaders.
So her friend Kennedy Rodriguez, a Santa Fe High senior, turned it into a group chat with two other Santa Fe teens and Parkland leaders David Hogg, Emma González, Cameron Kasky, Jaclyn Corin, and Deitsch.
"She was my hero," Butler told BuzzFeed News about González. "It's insane she called me 'my love' today."
And on the night of the shooting, Marcel McClinton, a high school junior and organizer of Houston's MFOL, drove down to Santa Fe with his mother to attend the community candlelight vigil.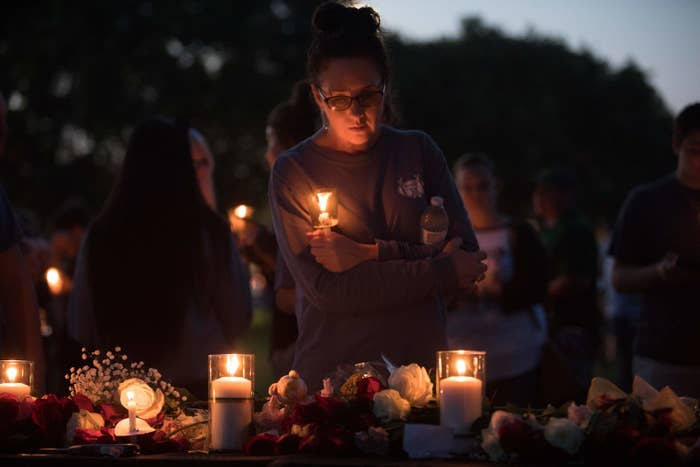 The plan, discussed in advance with Hogg and Deitsch, was simply to go and offer love, hugs, and support. But "saying 'March for Our Lives' just turned them off automatically," McClinton, 16, who survived a shooting outside his church on Memorial Day in 2016, told BuzzFeed News. "People were like, 'If I take these resources, do I have to buy into March for Our Lives, do I become part of March for Our Lives?"
The MFOL members quickly realized their limitations in a rural community where most students told BuzzFeed News they haven't heard of, followed, or supported the movement — a stark difference from the widespread energy for change the Parkland teens created after the shooting at their school, thanks to their ferocity on Twitter and relentless engagement with the media.
So instead, the Parkland teens sought to connect with a few like-minded Santa Fe survivors to share their experiences of coping with the trauma of a school shooting — and offer practical tips of dealing with the media and political fallout.
And the handful of Santa Fe students who are working with MFOL are doing so relatively quietly, out of respect for a town that values faith, community strength, and responsible firearm ownership — not demanding political action.
"I just hope everything goes back to normal," Michael Valentin, 17, a Santa Fe senior, told BuzzFeed News after a church service on Sunday. "I don't believe we need a lot of change."
Maggie Childs, a sophomore, said during Saturday night's baseball game, "I think we just need to move on from it. Accept what it is and we can only go up from here. It happened. You can't go back in time."
And Tyler Martin, a senior, 18, didn't think any policy could stop a school shooting. "I've thought about this a lot even before Friday," he told BuzzFeed News after a service at Arcadia First Baptist Church. "There's nothing you can do to prevent it."
Martin was particularly cautious about anything that might limit gun access. "You can't blame the guns — it's people who pull the trigger," he said. "It falls back onto parents and keeping guns locked in a safe." The shooter behind Friday's massacre obtained the guns from his father, who owned them legally.
In the 2016 election, 78% of voters in Santa Fe's precinct voted for Donald Trump. The prom theme this year was "Denim and Diamonds," complete with denim tablecloths and cowboy hats. The Santa Fe Indians' football and baseball players are hometown heroes. At least a dozen churches are dotted around a town of 13,000 people — and the public school district fought all the way to the Supreme Court to allow prayer in school. Hunting is popular and gun ownership is common.
"It's a very stereotypically Texas town," said Megan McGuire, 17, a junior who is in the group chat with the MFOL leaders along with Rodriguez, Butler, and her younger sister Brooklynn, a freshman.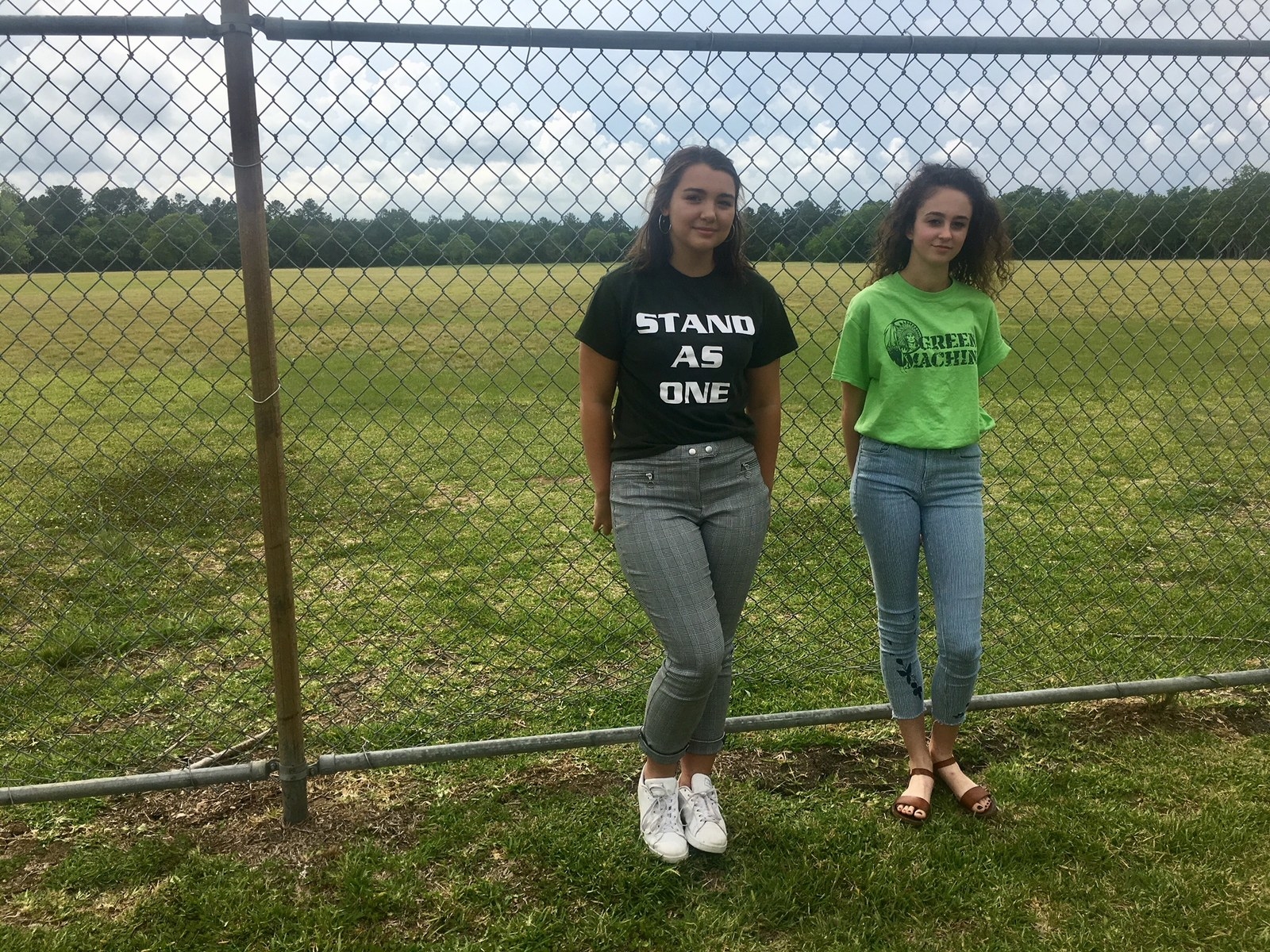 The chat conversation includes how to handle the media — Deitsch told McGuire to "be professional in interviews and a savage on Twitter," which might be the best public relations tip you'll ever hear — and advice on falling asleep peacefully. McGuire has been having nightmares about being unable to find her young brother during the shooting.
Gonzalez offered up a list of relaxing remedies, including watching Brooklyn Nine-Nine and The Office.
"If you had told me a week ago I'd be talking with Emma González about our fave episode of The Office, I wouldn't have believed you," McGuire said.
Butler and McGuire both fled during the shooting. Brooklynn and McGuire's younger cousin escaped out exit doors close to the art hallway. McGuire frantically called her little brother, getting no answer and fearing the worst. He left his phone in his classroom while evacuating.
They say the interactions with the Parkland students, and their own burgeoning activism, is helping turn the worst day of their lives into something more positive.
The Santa Fe shooting didn't change Butler's and McGuire's political opinions, though. They have long been progressives and accustomed to arguing with peers in English class on issues such as protecting DREAMers and Black Lives Matter.
"I've been a political activist on Twitter for years — it's just no one has ever paid attention to it cause I'm just small-town Santa Fe. No biggie. Doesn't matter," Butler, who attended Houston's MFOL event in March, said.
Now, they're planning their own political demonstration. They want to hold a national lie-in, during which groups of students lie in the front of the White House, representatives' offices, and state capitol buildings, as part of their demands for changes to gun laws.
They're hoping to hold the lie-in either on June 14, the one-year anniversary of the congressional baseball shooting, or on June 18, the one-month anniversary of the Santa Fe school shooting.
One reason they're aiming for a national event is that they aren't expecting Santa Fe to embrace their activism on a local level.
Butler says she's trying to organize press conferences and get her face in the news to keep people talking about the Santa Fe shooting, aware of how quickly news cycles move and how the weekend's royal wedding stole attention from the tragedy.
"But I feel almost disrespectful whenever I do it. I don't want to make anyone upset in Santa Fe, because I know it's a conservative town. It's kind of hard — it's conflicting, mentally," Butler said.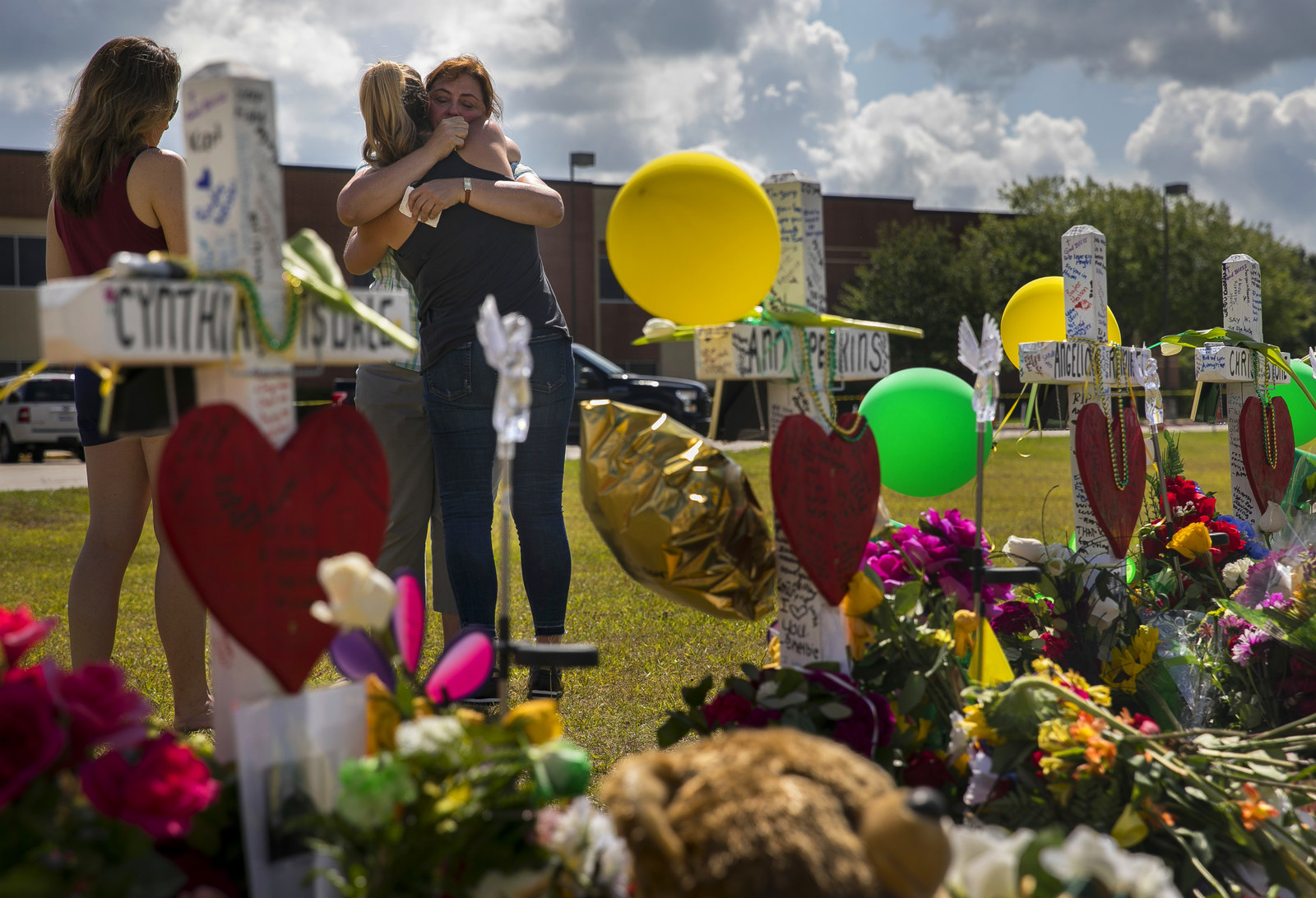 Butler and McGuire applauded one mother — whose daughter, 14-year-old Kimberly Vaughan, died in the shooting — who posted calling for gun reform on Facebook.
"Folks — call your damn senators. Call your congressmen. We need GUN CONTROL. WE NEED TO PROTECT OUR KIDS," Rhonda Hart wrote.
Even just tweeting about her own frustrations with politicians has upset people locally, said McGuire.
"I've had people tell me it's disrespectful. You can tell when they're subtweeting it," she said.
"I find I have different personal views than many others at my high school," Kennedy said. "I don't think many are thinking about next steps. They are just trying to process. That does not mean none of us are thinking about next steps. Myself and many of my friends are. But not the whole town."
Butler noted that several of her friends who've reached out to offer help are not from Santa Fe.
"This is just the town that we live in and we'll have to deal with that," said McGuire. "We will be known as survivors rather than as people standing for Santa Fe."
But the pair are less worried about the town's support because they've got MFOL backing them.
"I want it to be very clear that the March for Our Lives kids aren't using us as puppets," said Butler. "They don't want this to be their platform. They want us to be able to speak."
On Sunday evening, the teens held a planning meeting with MFOL representatives in a Starbucks just outside of Santa Fe.
The Butlers and McGuire met with Houston organizer McClinton; Matt Post, a high school senior and organizer with the Brady Campaign to End Gun Violence; and Robert Disney from the Brady Campaign. Disney and Post had flown down from DC after the shooting.
After McClinton's experience at the vigil, Post and Clinton spent the weekend in Santa Fe but decided to not introduce themselves as aligned with MFOL.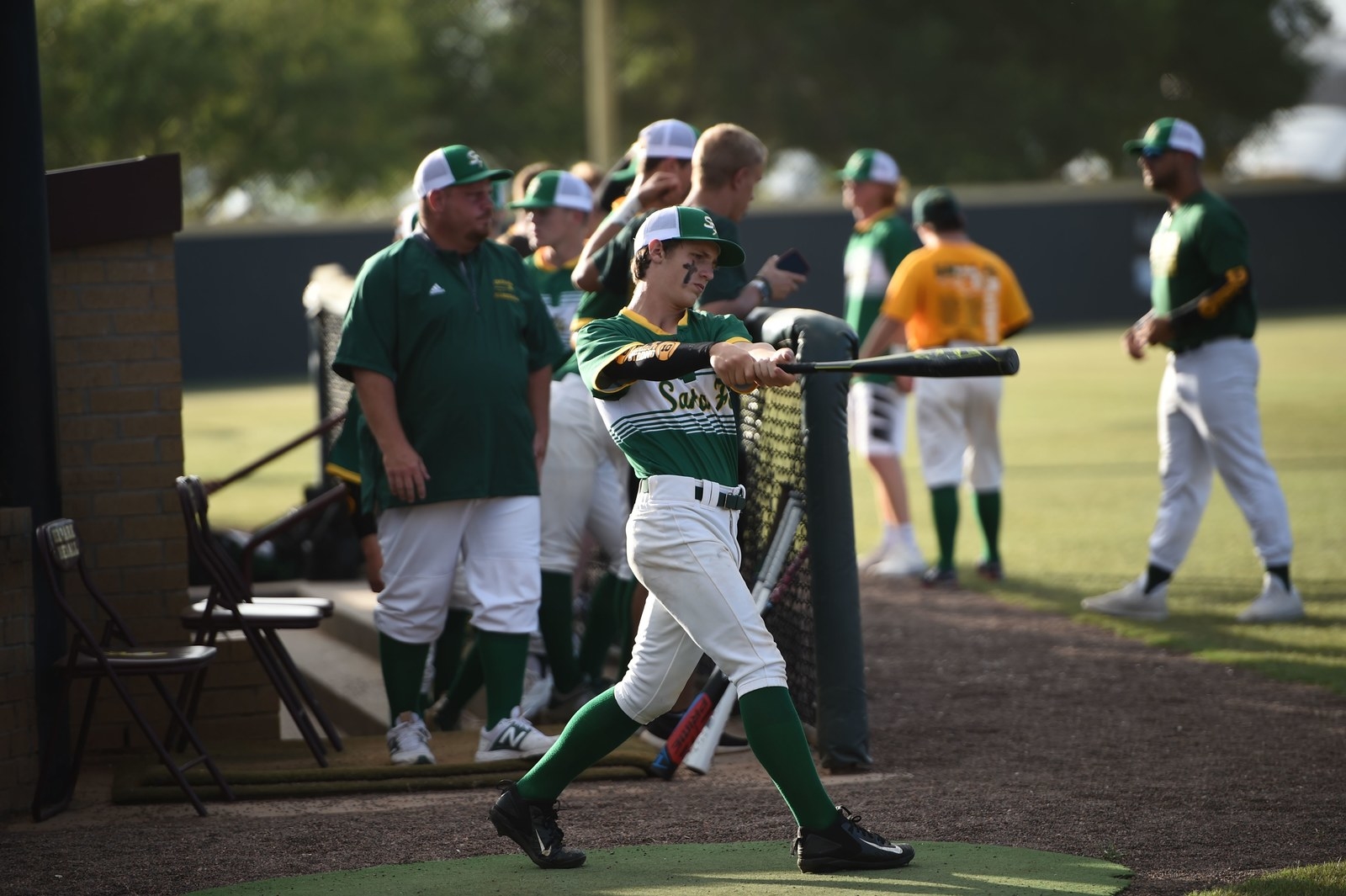 They attended the school's baseball game on Saturday. They went to a church service on Sunday morning and a youth service at a church Sunday evening. Post, 18, said he'd just say he was "from Maryland" and had come to help if anyone asked who he was.
He says teens were friendly and welcoming — "on some level, there is a universality to the teenage experience and on that plane we could connect" — even if not overly interested in using MFOL resources.
"We didn't know the kind of community we were coming into," said McClinton. "We didn't know it was really conservative, didn't know people weren't open to March for Our Lives."
The Parkland survivors were vocal about dismissing politicians who sent "thoughts and prayers" after the Feb. 14 shooting. "This is a town that wants thoughts and prayers," Post said.
"Out of Parkland there was a lot of rage immediately. I don't feel that kind of rage here," said Post. "It's such a nice community that no one wants to be an adversary."
But Post said MFOL has cash to give out and resources to share — emotional support; infrastructure for organizing politically; and money for medical bills or graduation or prom — as the group tries to figure out how it'll move and grow after Parkland.
"Honestly if it has the name March for Our Lives on it, I don't know if my community is going to be very accepting," Butler said. But she personally is desperate for help with political organizing and activism.
In just three days, Butler's Twitter feed has jumped from a few hundred followers to over 12,000. A tweet she posted calling out Tomi Lahren about gun laws got more than 92,000 retweets and more than 450,000 likes. She feels very conscious of her growing spotlight.
"I have everybody's eyes on me," said Butler, noting that the distraction was a benefit because she had so many media requests to handle.
Getting advice from González in particular about how to handle the attention has been helpful, Butler said. "This is like a full-time job, but she understands that. She knows what it's like to be coping and grieving at the same time."
"I would surmise them as the big siblings to Santa Fe," McGuire said about the MFOL leaders. "Not Santa Fe, necessarily, but us."
Blake Montgomery and Brianna Sacks contributed additional reporting to this story.
CORRECTION
An earlier version of this post misspelled Matt Deitsch's last name.