Ryanair Passengers Were Bleeding From Their Ears After Their Plane Lost Pressure
More than 30 people were injured after the flight from Dublin depressurized.
More than 30 passengers on a Ryanair flight from Dublin were treated for injuries, including bleeding from the ears, after the cabin depressurized and required an emergency landing.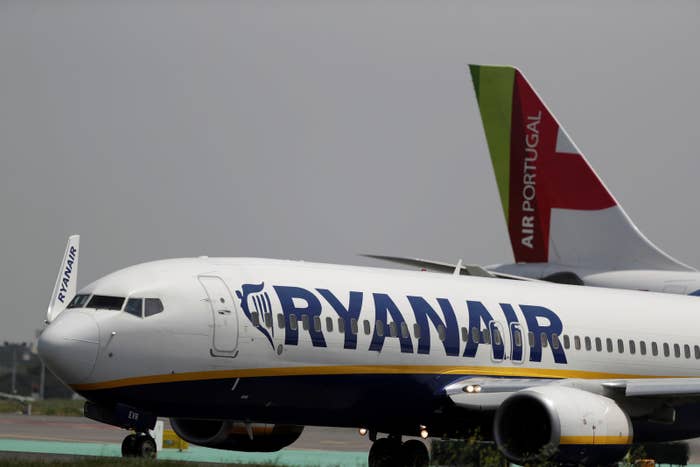 A photo from one of the passengers posted on Twitter showed blood in the oxygen mask that covers a person's nose and mouth.
Another passenger, Miomir Todorovic, posted on Facebook that the plane rapidly descended after the depressurization. "My right ear barely works. What's important is that we survived," he wrote in Bosnian.
One passenger, Minerva Galvan, called the flight "the worst moments" of her life.
Video taken by another passenger shows everyone on board wearing the masks, sitting quietly and looking nervous. "It's not fun," a boy tells the camera.
After the horror flight, passengers of the budget airline were provided with a camp bed in a military base to sleep.
One person who claimed to be on the flight said Ryanair provided some McDonald's cheeseburgers to delayed guests — but only 100 burgers for 189 passengers.
The lack of proper accommodation and food left many passengers furious after the scary flight. "Abhorrent treatment for people post trauma," wrote one.
A Ryanair spokesperson told the Guardian that the flight was diverted due to "in-flight depressurization" and said there was a "shortage of available accommodation."
"In line with standard procedure, the crew deployed oxygen masks and initiated a controlled descent. The aircraft landed normally and customers disembarked, where a small number received medical attention as a precaution.
"Customers were provided with refreshment vouchers and hotel accommodation was authorized, however, there was a shortage of available accommodation.
"Customers will board a replacement aircraft which will depart to Zadar this morning and Ryanair sincerely apologizes for any inconvenience."
Eventually, Ryanair charted a bus to take passengers from Frankfurt to Zadar (roughly an 800-mile drive).