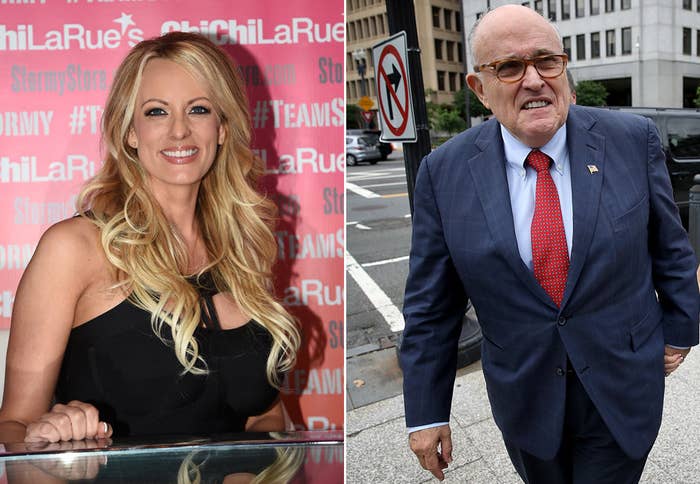 President Trump's attorney, Rudy Giuliani, dismissed adult film star Stormy Daniels — who is currently suing his client — as not being worthy of respect because she works in the porn industry.
"I respect women — beautiful women and women with value – but a woman who sells her body for sexual exploitation I don't respect," said Giuliani, during a conference in Israel on Wednesday.

Daniels is suing Trump to dissolve a hush money payout agreement after the pair had an alleged sexual relationship in 2006. Yesterday, Daniels filed another lawsuit against her former lawyer Keith Davidson, and Trump's former lawyer Michael Cohen — who is the subject of a federal criminal investigation and who negotiated that deal.
"Oh, very, very credible source," said Giuliani sarcastically. "Stormy the porn star."
"I know Donald Trump, and look at his three wives. Beautiful women, classy women, women of great substance. Stormy Daniels?" asked Giuliani.

"Someone who sells his or her body for money has no good name," said Giuliani.
"I even have to respect criminals. But I'm sorry, I don't respect a porn star the way I respect a career woman or a woman of substance or a woman who has great respect for herself as a woman and a person and isn't going to sell her body for sexual exploitation," added the president's attorney.
Daniels is also currently suing Trump for defamation, after he tweeted that her story was a "con job."

"She has no reputation. If you're going to sell your body for money, you just don't have a reputation. I may be old-fashioned," continued Giuliani.
Daniels' lawyer, Michael Avenatti, told CNN's Anderson Cooper than the former mayor of New York City was "an absolute pig" for his comments about not respecting Daniels.

"I certainly hope we're not going to reach a place where Rudy Giuliani is going to be the police that is going to decide which women deserve respect or not," Avenatti told CNN.
Daniels' lawyer then called on Trump to fire Giuliani.
"His comments are piggish; they're outrageous. … He should be fired immediately by the president," said Avenatti.
"This just infuriates me," said Elizabeth Warren, the progressive senator from Massachusetts. "This whole notion that Rudy Giuliani thinks that the way he's going to protect the president of the United States is try to demean and degrade a woman who has brought what appears to be a pretty credible charge against the president."
Warren called the comments "an insult to every woman in this country."
But Giuliani didn't shy away from them on Thursday.
"If you're a [feminist] and you support the porn industry, you should turn in your credentials," he said.