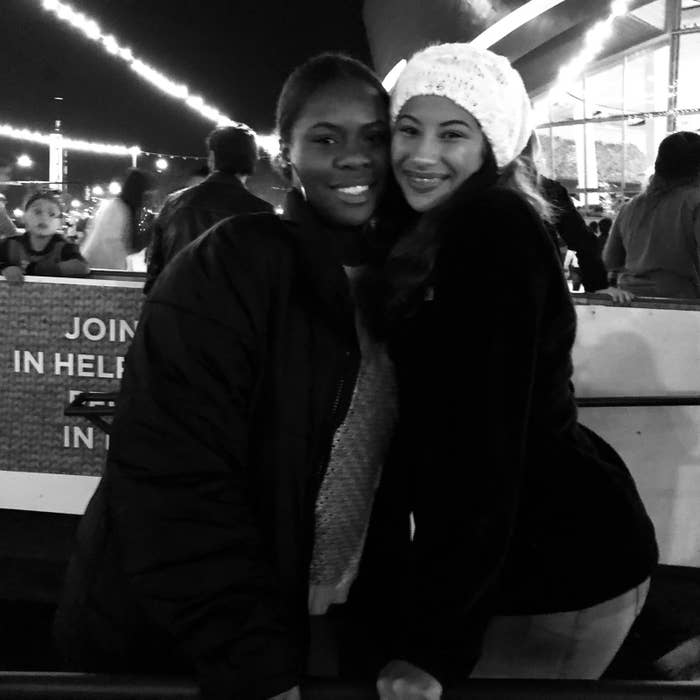 A North Carolina high school's discussion over Wednesday's national school walkout quickly turned into a racist argument after one student, angry about the prospect of changing gun laws, said the n-word in a Snapchat video.
On March 14, one month after the Parkland school shooting, students across the country will walk out of classes as part of a nationwide debate over guns in schools.
But discussion of the proposed walkout at Central Cabarrus High School in Concord, North Carolina, resulted in four students getting suspended last month.
Two of the students, both black, were handed a two-day in-school suspension after republishing a video — viewed by BuzzFeed News — on social media of a white student saying the n-word while criticizing gun reform. They told BuzzFeed News they didn't think it was fair they were punished for drawing attention to racism among classmates.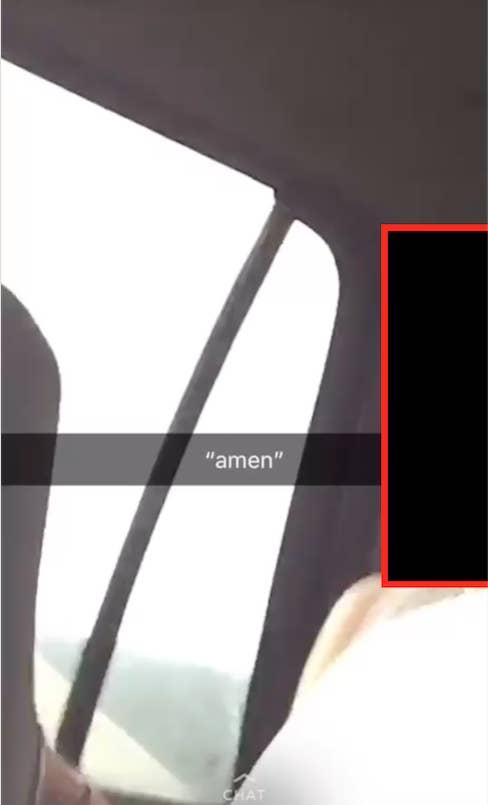 "I was a victim in the situation and you all got mad at me for putting it out there," said Carmani Harris-Jackson, a 15-year-old sophomore at CCHS, about school administrators.
Harris-Jackson, who describes herself as a liberal, said she started posting on Snapchat about gun reform after other students started slamming the proposed walkout.

"Someone posted on Snapchat how the walkout would be stupid, how without guns we wouldn't have any of the stuff we have today, and that we were wasting our time walking out," Harris-Jackson said.

She said she then posted a Snapchat Story saying people like herself weren't trying to take guns away, but that she wanted more restrictions on who could buy them.
She said she and a few white students who identified as conservative went back and forth debating gun reform via their Snapchat Stories on Feb. 21.
A white female student then recorded her friend, who is also a white CCHS student, in a Snapchat video filmed in a car, where she said: "They're putting laws on who can purchase a gun. No, nigger..."
BuzzFeed News spoke via Instagram DM with the girl who said the n-word, who said she didn't want to speak about it as she had "moved on" and that BuzzFeed News had "no right" to cover it. She then blocked the reporter from her Instagram profile.
The girl who shot the video didn't respond to questions from BuzzFeed News. Both girls are minors.
Harris-Jackson took the racial slur to be a direct insult for her public Snapchat comments.
"Me and [the girl who said it] were friends before this happened. We had a class together. We would talk together. But as soon as I have a difference in views, you call me a very harmful and offensive racial slur? She said it in a joking manner, but there are boundaries of things you joke about and that's not one of the things you joke about it," said Harris-Jackson.
So Harris-Jackson and her best friend Trinity Smith, 16, also a CCHS sophomore, reposted the video on their Facebook and Twitter profiles, naming the girl and mentioning that she attends CCHS.
It got over 10,000 views and 200 retweets on Smith's Twitter alone.
Both noted one reason they wanted to hold the girl accountable for her comments was that they'd often witnessed racism at CCHS — such as "KKK" scratched into the bathroom walls and white students casually saying the n-word — and felt it had been ignored previously.

Students reposted the videos talking about their own experiences of racism at the school and current and former students emailed complaints to Principal Andrew Crook. Other white students came out defending the white girl's use of the n-word.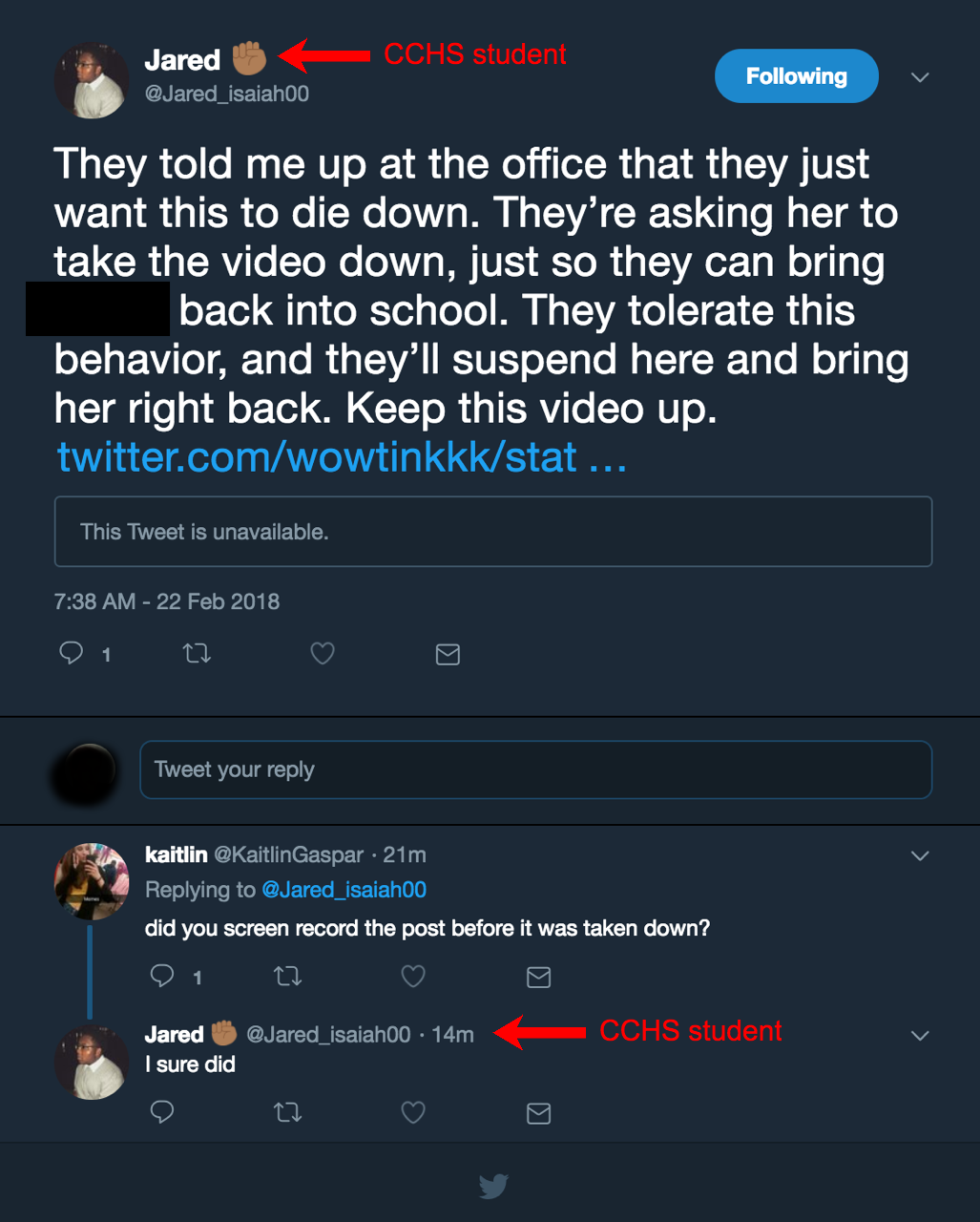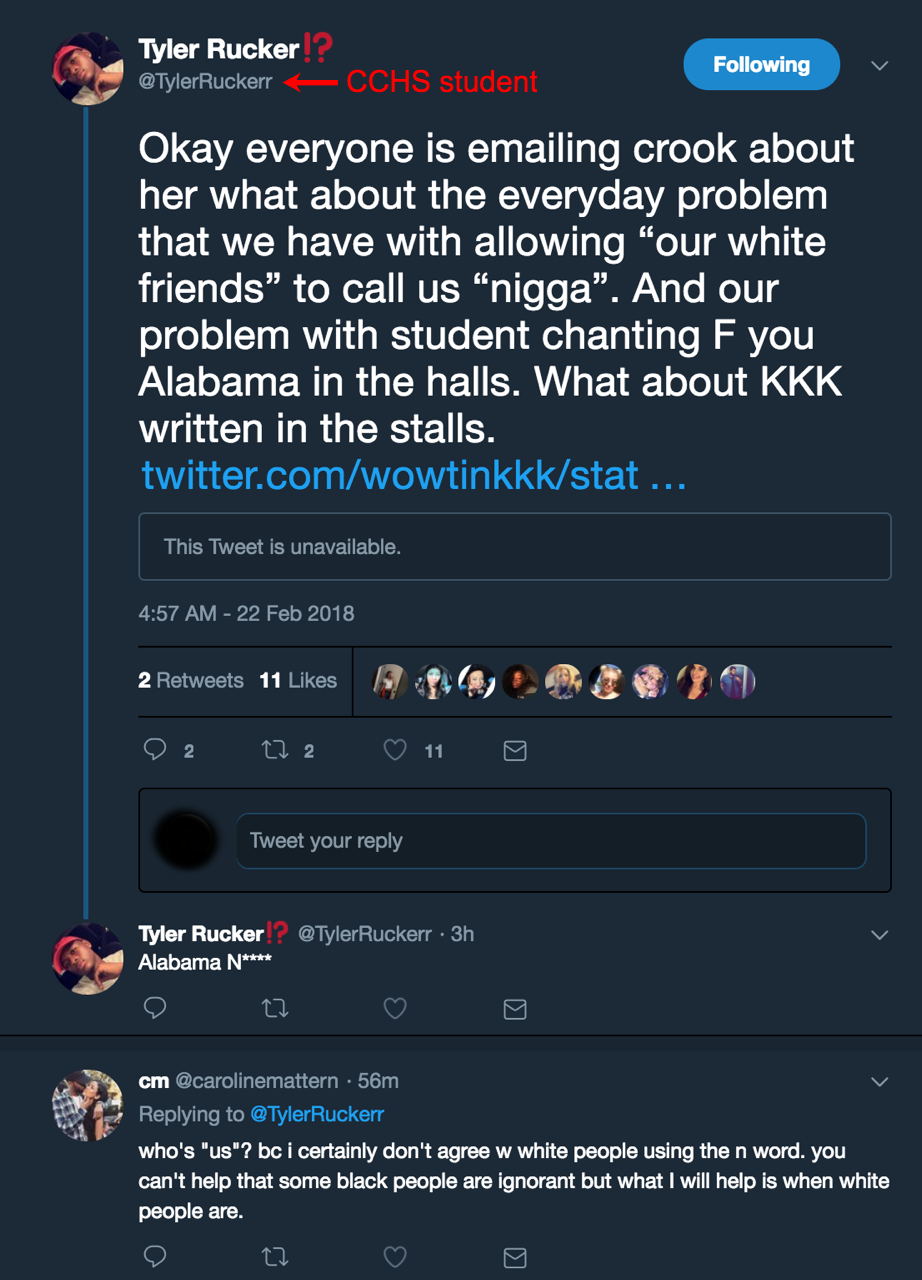 Four students told BuzzFeed News the two white girls — the one who said the n-word and the one who recorded it — were given out-of-school suspensions, but Ronnye Boone, the communications director for Cabarrus County Schools, said she wouldn't discuss the punishment of individual students.

On Feb. 22, the morning after the video with the slur was posted and reposted, school administrators asked Smith and Harris-Jackson to remove it from their accounts. Both said that at first they didn't want to, then eventually did. Smith only agreed after school authorities told her, with her mother on speakerphone, that she wouldn't face any disciplinary action.
The next day both girls were informed they would receive two days of in-school suspension for creating a "disruptive environment."
"I know for a fact if I hadn't posted it and cause a 'disruption,' you would haven't cared as much, you all would have swept it under the rug," said Harris-Jackson, talking about the school administration.

"I can understand if I actually did something bad, but the fact is, I didn't threaten this girl, I didn't say anything derogatory, I didn't start a fight with her. The only thing I did was post a video and said I was disgusted with what she said. Because it is disgusting," said Smith, who is biracial.
Smith's mother, Sharon Shingler, 47, told BuzzFeed News she thought her daughter's suspension was "very baffling," since Trinity was standing up against racist behavior.
"You are standing up for what is right and you're getting in trouble for standing up for what's right," said Shingler.
When asked about incidents of racism at the school, Crook, the principal, directed BuzzFeed News to Boone, the county spokesperson.
"Cabarrus County Schools seeks to provide a safe, inviting and motivating learning environment for all of our students. Racial prejudice and insensitivity have no place in our classrooms or on our campuses," Boone said in a statement.
"We investigate all claims and use the provisions outlined in Board Policy to determine disciplinary action," added Boone.
All the arguments over racism meant that the issue of the school walkout and gun reform got largely pushed aside, several students said. CCHS had told students they may be suspended for 10 days if they participated in the walkout, and instead encouraged a student-led assembly and taking a photo in front of a banner of solidarity.
Smith said she'd been "pretty much" discouraged to be involved in any protest after the racist video incident and didn't intend to participate in the school's plans.
"As much as I want to do something to represent Parkland, everything the school is trying to do is for publicity and I don't want to participate in that," said Harris-Jackson.
"They don't have the right idea about it and I refuse to take a picture with a banner just so my principal can say he 'tried' to do something," she added.
CORRECTION
The student who said the n-word blocked BuzzFeed News on Instagram. An earlier version of this article said she had deleted her account.