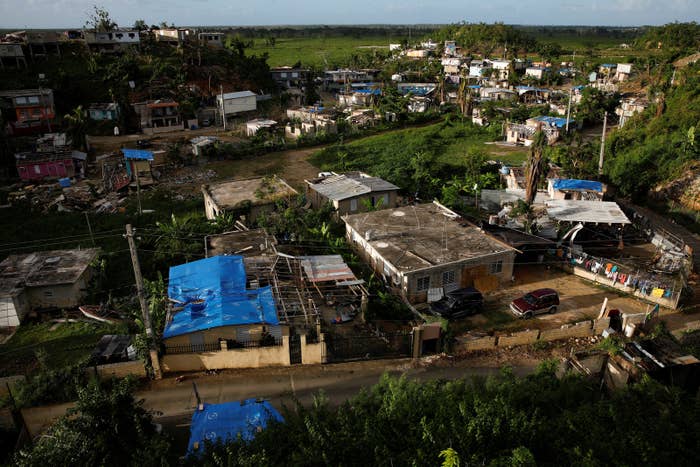 Electricity was restored Thursday after an island-wide outage plunged Puerto Rico back into darkness in the biggest blackout to hit the island since Hurricane Maria wiped out much of the island's fragile infrastructure seven months ago.

The blackout came just six days after authorities said about 840,000 people lost power when a tree fell on a power line. The Puerto Rico Electric Power Authority (PREPA), a government-owned utility, said Wednesday it would take up to 36 hours for power to be restored.

By Thursday afternoon, power had been restored, the utility said on Twitter.
Just before the blackout, officials had been boasting about Puerto Rico's recovery from Maria, which caused the biggest power failure in the territory's history. PREPA had bragged early Wednesday that less than 3% of the island's residents were without power. And White House budget director Mick Mulvaney told lawmakers during a budget hearing that "more people have power now in Puerto Rico than had it before the storm."

By mid-morning Wednesday, however, nearly all of PREPA's 1.5 million customers were back in the dark. The power company tweeted that the electrical fault happened in the 50700 power line, which runs from Central Aguirre, in the south of the island, to power plants.

"Our technical personnel is inspecting this line to determine the causes of the failure," said Justo González Torres, executive director at PREPA, in a statement Wednesday afternoon.
Later, officials said they had determined that the blackout occurred after a subcontractor operating a large excavator got too close to the line while working to remove a felled tower. In a statement, Puerto Rico Gov. Ricardo Rosselló said he had urged PREPA to terminate any work with the company operating the excavator, which had been subcontracted by Cobra Acquisitions.

Cobra, a subsidiary of the Oklahoma-based oil-and-gas company Mammoth Energy Services, formed in early 2017, came under scrutiny last year for its $200 million contract with PREPA, which included a $15 million upfront payment from the cash-strapped Puerto Rican power utility. Cobra's contract was expanded to about $445 million in January, according to a Mammoth Energy press release.
"Despite the frailty of the existing electrical infrastructure system, Cobra is dedicated to the difficult work that lies ahead and continues to work around-the-clock with PREPA and the citizens of Puerto Rico to repair the entire infrastructure system to prevent outages such as this one from affecting the entire population on the island," Mammoth Energy said in a statement Wednesday.

Wednesday's blackout marked the first time since Maria hit on Sept. 20 that the whole island has been without power, although the power grid has been unstable. Even before Wednesday's outage, 40,000 of the island's residents were still without power.
"This is too much," resident Luis Oscar Rivera, 42, told the Associated Press. Rivera, who said he had only gotten power back at his home recently, added: "It's like the first day of Maria all over again."
On Wednesday, PREPA said priority for power restoration would be given to hospitals. At around 3 p.m. ET on Wednesday, PREPA announced that several hospitals, including the cardiovascular center, the San Pablo hospital, the pediatric medical center and El Maestro hospital had power back.

Two islands off Puerto Rico's mainland, Vieques and Culebra, still had power Wednesday, as did two other small communities in Arecibo and Naguabo that use micro power grids.