Video Shows White Ohio Police Officer Punching A Black Man In The Face
The officer, Michael Amiott, has been placed on administrative leave pending an investigation.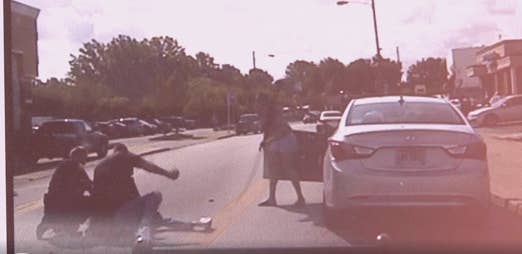 Video taken by a bystander and police dashcam captured an Ohio police officer repeatedly punching an unarmed black man in the head while sitting on top of him over the weekend.
Euclid Police have put the white officer, Michael Amiott, on paid administrative leave pending an investigation into the incident, which occurred on Saturday.
Police had stopped Richard Hubbard III, 25, for allegedly going through a stop sign. The arrest quickly turned violent when Amiott slammed Hubbard against the car, kicked him to the ground, and then continued to punch him in the head for several minutes.
"Hubbard ignored the order to face away, and as the officer attempted to take Hubbard into custody, he began physically resisting," police said in a statement. "A violent struggle lasting over three minutes ensued and additional officers were needed to eventually take Hubbard into custody. "
Lashaunda Malone, who according to her Facebook page went to school in Euclid and lives in Cleveland, witnessed the event, capturing it on video and uploading it to Facebook and Instagram.
"What's he doing? What's the police doing, mommy?" a small child asks in the video.
"Oh my god. He's punching him though," a woman says.
"He just got out the car, as soon as he got out the car, the officer grabbed him by the throat," Malone told WKYC. "It was disturbing."
Malone did not respond to BuzzFeed News' requests for comment.

(Warning, the video footage is graphic.)
Police released dashcam footage of the incident on Monday, showing the officer pulling over the 2011 silver Hyundai Hubbard was driving. In the footage, Amiott tells Hubbard that the car is registered to a driver with a suspended license, that the car went through a stop sign, and that someone in the car is not wearing a seatbelt.
Hubbard tells the officer he wasn't aware that he missed a stop sign.

The police officer questions why Hubbard's getting upset, insinuating that he might have a warrant out for his arrest. The officer then asks him to get out of the car, and as Hubbard stands up, Amiott says "face away from me, face away from me."
In the dashcam video, Hubbard begins turning around to face away from him when the officer slams him against the roof of the car, before the two men end up on the ground. Two officers then hold Hubbard down amid the kicks and punches.
A woman in the passenger seat then jumps out, puts her hands up, and yells for the officers to stop hitting Hubbard.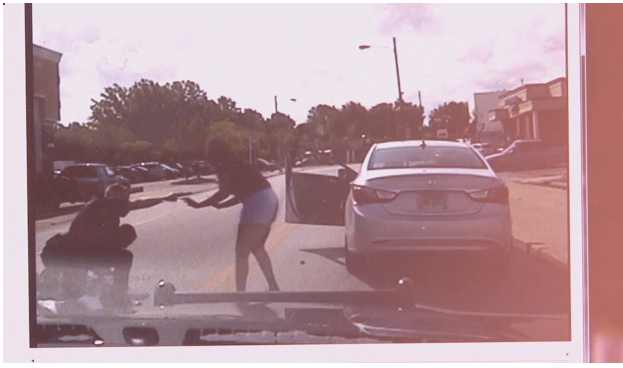 "Baby, baby, listen to me," she pleads, just feet away from the officers.
One of them screams at her to stay back. She kneels on the ground, trying to get Hubbard's attention.
"Babe, look at me, look at me", she yells.

She then hits the ground, and tells Hubbard to "listen to them. Stop, babe, stop."
"I ain't got no fucking gun on me," Hubbard tells the officers. The woman also tells police he doesn't have a gun.
"Record! Record!" Hubbard tells her as she runs to the car to get a cell phone.

Another woman, a bystander, also comes up and starts filming.
The girl who was with Hubbard in the car is also forced down onto the ground by police.
"Why am I under arrest?" she asks repeatedly.

Hubbard was charged with driving with a suspended license, and with resisting arrest.
He was medically examined at the Cuyahoga County Jail, while Amiott was treated at a local hospital after the incident.
"He is on paid administrative leave, pending the ending of an administration review into the use of force," Lt. Michael Houser, the public information officer for Euclid Police, told BuzzFeed News.

A statement released by Euclid Police said: "This entire incident will be reviewed, in detail, so that the public can have a full and open understanding of the series of events that eventually led to this violent encounter."

Last month, Amiott was also accused of using excessive force while arresting a city worker, who was left bruised and bleeding from the incident.
Mayor Kirsten Gail said in a statement that videos of the incident "raise some very serious concerns."
"We have policies and procedures in place to ensure that all use of force by police are both lawful and justified," she said. "I can assure you the incident will be reviewed thoroughly and appropriate action will be taken."
Amiott became a Euclid officer in 2014. WKYC reported that Amiott had been hired by Mentor Police, a city less than 20 miles from Euclid, in 2013, but that he left within a year.

Mentor Police Chief Kevin Knight told WKYC on Monday that Amiott "struggled ... to meet department standards" during his probation period, and "separated" from the department after less than a year.