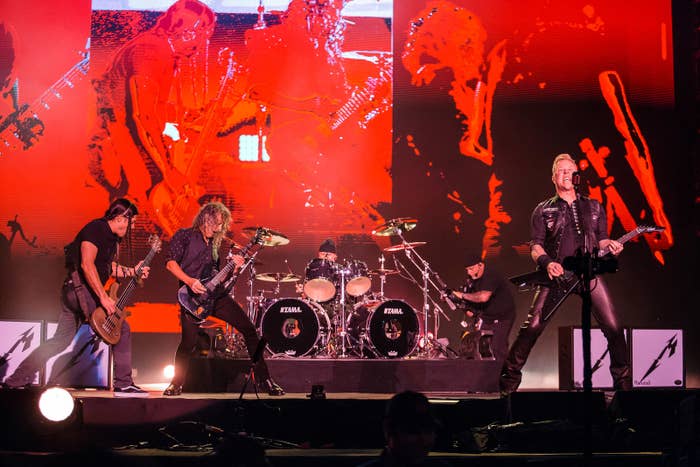 A New Mexico man was arrested for disorderly conduct and indecent exposure after a 10-year-old girl and her parents said he urinated on them during a Metallica concert.
The concertgoers were attending Friday's gig at the University of Phoenix stadium in Glendale, Arizona, when Daniel Francis Daddio, 44, from Albuquerque, allegedly urinated on the family, whose seats were in front of his, around 9 p.m.
The family is unnamed in court documents, but quotes from the father's statement to Arizona state troopers describe the moment when "all three of his family members felt warm liquid washing over their backs and legs."
When the dad turned around to see where the liquid came from, "he observed Daniel Francis Daddio standing behind them in the row of seats just above theirs with his penis out of his pants and in his hands... Daddio was urinating on all three of his family members," the documents state.
The horrified father told authorities he "confronted Daddio concerning the urination on his 10-year-old daughter, at which time Daddio just shrugged."
After the parents notified stadium employees of the incident, two Arizona state troopers arrived to investigate.
"Two troopers responded and they contacted the wife and daughter. Minutes later, the two witnesses pointed out a man walking out of stands into concessions area and informed troopers he was the man who urinated on them," Bart Graves, a public information officer for the state troopers, told BuzzFeed News.
Daddio was arrested at 9.30 p.m. He was "heavily intoxicated at the time of his arrest" and denied the incident occurred, according to court documents.
Troopers found a ticket for the Metallica concert in his possession that confirmed his seat was located directly behind the family.
Daddio could not be reached for comment. He appeared for his initial arraignment in the superior court of Maricopa County on Aug. 5.
It's unknown if the incident occurred during a performance of One, with its lyric often misheard as "tied to machines that make me pee."