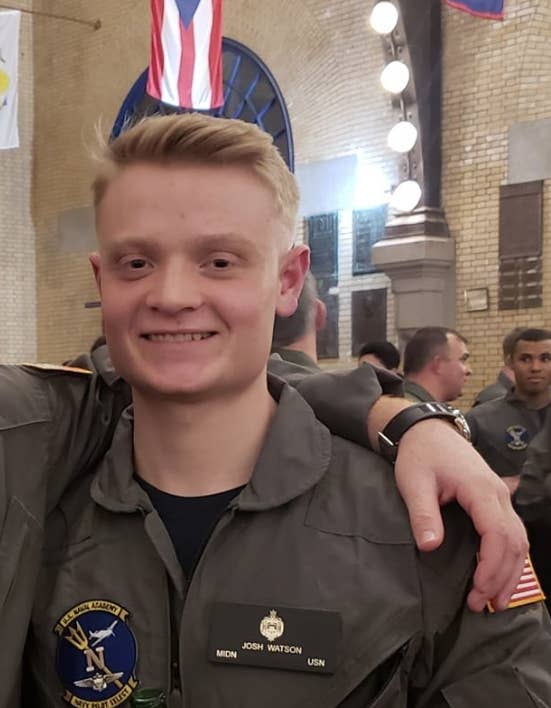 One of the Pensacola Naval shooting victims "died a hero" after alerting first responders to the location of the shooter, according to his family.
Joshua Kaleb Watson, 23, was a Naval Academy graduate from Enterprise, Alabama. He died after a trainee from the Saudi Arabian Air Force opened fire at the Naval Air Station Pensacola in Florida on Friday morning. The shooter also injured at least seven people as well as killing two of Watson's fellow students at the Naval Aviation Schools Command.
On Saturday, the US Navy released the names of the other two victims as Airman Mohammed Sameh Haitham, 19, and Airman Apprentice Cameron Scott Walters, 21.
All three young men died running toward the shooter, the Navy said. Capt. Tim Kinsella, commanding officer commended them for their "heroism and bravery in the face of evil" in a statement Sunday.
"The Sailors that lost their lives in the line of duty and showed exceptional heroism and bravery in the face of evil. When confronted, they didn't run from danger; they ran towards it and saved lives," Kinsella said. "If not for their actions, and the actions of the Naval Security Force that were the first responders on the scene, this incident could have been far worse."
Watson's family and friends remembered him in posts on social media.
"Today has been the worst day of my life," wrote Adam Watson on Facebook. "My youngest brother gave his life for his country in a senseless shooting. Joshua Kaleb Watson saved countless lives today with his own."

His father Benjamin told Pensacola News Journal that Watson was the officer on deck when the shooting began. He was shot five times, his father said.
"Heavily wounded, he made his way out to flag down first responders and gave an accurate description of the shooter," said his father. "He died serving his country."
Watson had hoped to one day become a Navy pilot and had started flight training at Pensacola less than a month ago, according to his dad.
"He died a hero and we are beyond proud but there is a hole in our hearts that can never be filled," wrote Adam Watson on Facebook. "Just wish I could talk to him one more time or wrestle with him one more time even though he could probably take me now."

Watson grew up in Enterprise, Alabama, around 120 miles from Pensacola. The principal of Enterprise High School posted on Twitter that he was "sad beyond words" and that Watson "was an incredible young man."

Cori Horton, who described Watson as, "my first love and forever my best friend," posted a tribute to her former sweetheart on Facebook.

"You were always my biggest supporter and my greatest pain in the ass, but I would do it all over again in a heartbeat," wrote Horton. "Even after life pulled us apart, we never lost each other. We continued to share in each others triumphs and depressions. No matter the label we placed on each other, you never stopped showing me what it was like to be loved. Without you, I never would have been welcomed into such a wonderful and loving family who never shut their doors to me. And I hope you know how incredibly proud of you I was, and still am."
Friends and family of Haitham also posted about their grief and memories upon learning the tragic news over the weekend.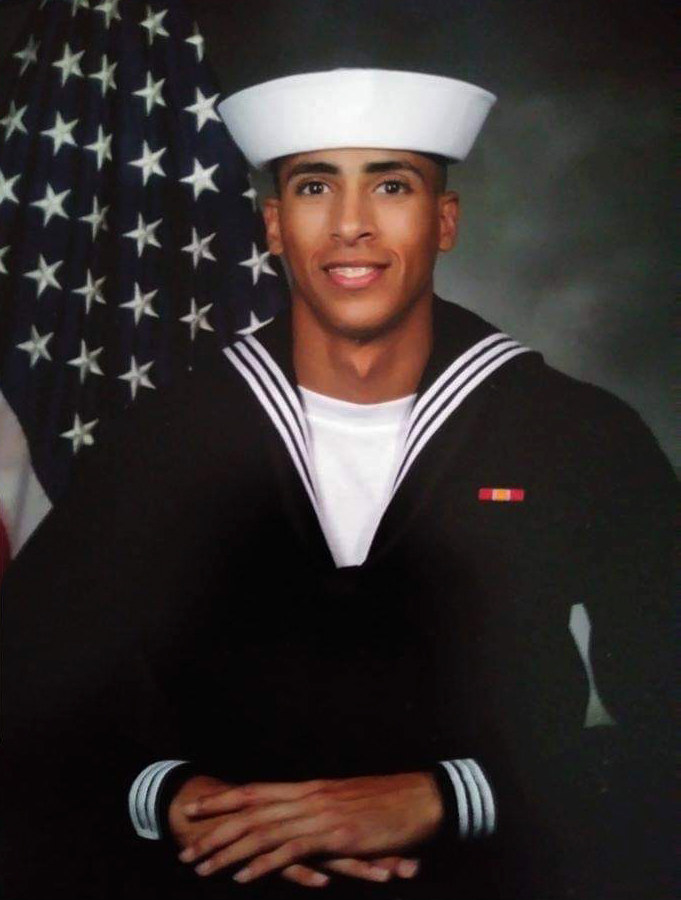 "Couldn't sleep last night with the thought that your no longer here, sending you messages, HOPING you'd reply back telling me this is not true and that your okay/fine. But i can't wrap my mind around the fact that I lost one of my bestfriends yesterday," wrote Dierra Bradley, one of Haitham's friends, on Facebook.
According to the Tampa Bay Times, Haitham was a track and field star in high school and joined the US Navy after graduating in 2018.
His mother, Evelyn Brady, told the publication over the weekend that the commander of his school called her and told her his son died heroically. "He told me my son did try to stop the shooter," Brady said.
Brenda Delgado Haitham, his stepmother, told BuzzFeed News Haitham was "an awesome kid" and that she and his dad are still processing the loss.
"I continue to speak about him in present tense because it still hasn't sunk in that he's no longer here," she said. " I knew that he was an all-star athlete, running track and playing basketball. He definitely had goals to accomplish."
"He was so close to finish...until we received this tragic news," said Brenda. "Our hearts are broken, and he will be missed by many."
Cameron Walters was from Richmond Hill, Georgia. In a Facebook post, a spokesperson for the city said "one of our own...has made the ultimate sacrifice."
"The City of Richmond Hill feels the loss profoundly of these three sailors and grieves with the family and friends of the deceased," the city spokesperson wrote.
"We ask our community to come together for Cameron's family, to mourn and remember him, and to pay tribute to his sacrifice," they added. "We will forever be grateful for his courage and heroism."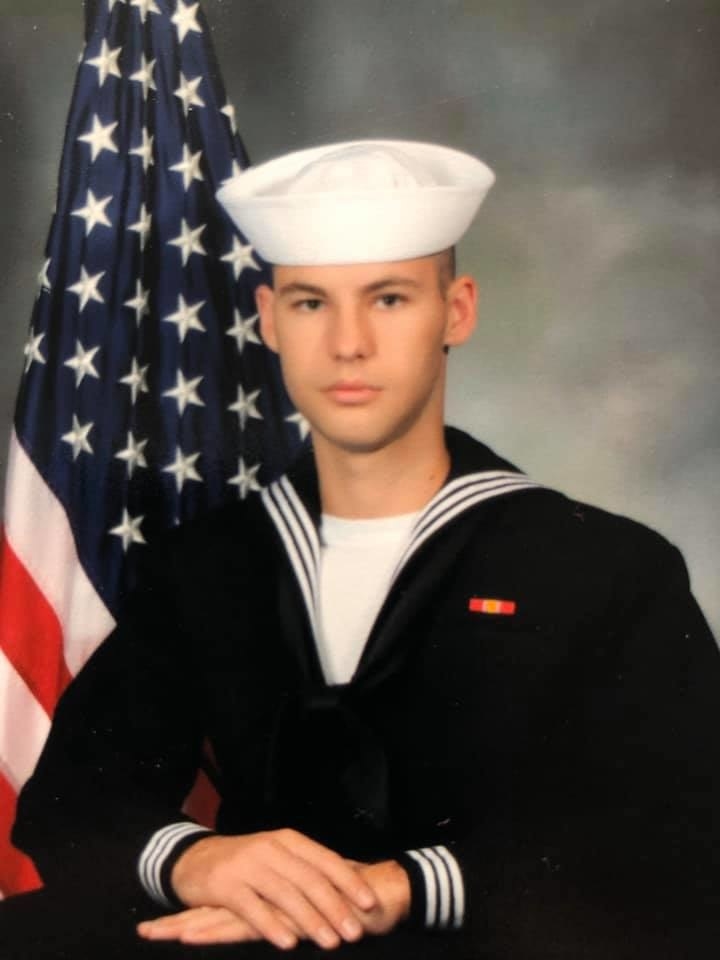 His father, Shane Walters, told WTOC he had served in the Navy and his son was proud to carry on his father's legacy.
"He was doing what he wanted to do and he was doing a great job," Shane said. "I was more proud of him than I've ever been."
Cameron Walters' younger brother, Mason, remembered his infectious smile.
"Every time he would walk into a room and smile, the whole room would smile," said Mason.

Inspired by his brother, Mason now plans to join the Navy as well.
"I want to pick up and finish off what he started," Mason said.
The shooting was the second one at a Naval base in a week, after two shipyard workers were killed on the Pearl Harbor base Wednesday.