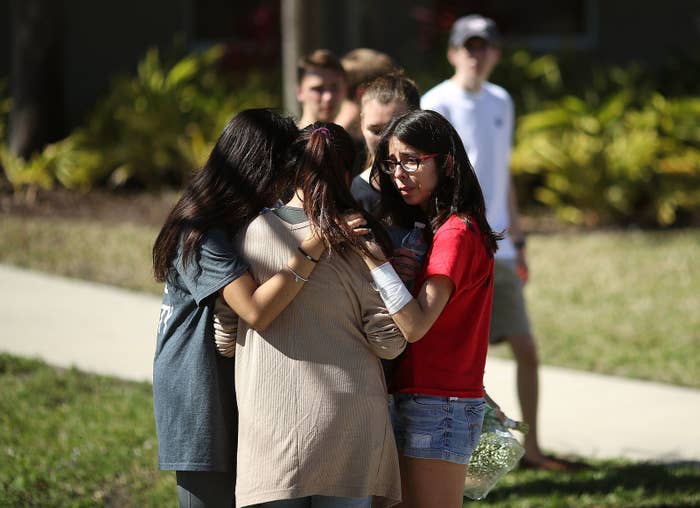 Authorities are investigating reports that multiple sheriff's deputies waited outside the Parkland, Florida, school with their guns drawn rather than immediately confronting the shooter who killed 17 students and staff members last week.
CNN reported Saturday that officers from the nearby Coral Springs Police Department were "stunned and upset" that when they arrived at the scene four Broward County sheriff's deputies were taking cover behind cars in the parking lot with their guns drawn.
NBC News also reported that deputies remained outside the school, but put the number at three.
Reports that some deputies did not go into the building has increased pressure on the department and Sheriff Scott Israel, who was called on by a Florida legislator to be removed from his position.
Now, the sheriff's office is investigating the actions of its staff.

"Detectives are investigating the claims from the Coral Springs Police Department that some deputies did not go into the school when they should have," according to a statement from the Broward County Sheriff's Office.

The sheriff's department, however, pushed back on the allegation, saying there is no confirmation at the moment about it.
"Stop reporting it as fact," the statement from the department read. "It's a claim being investigated to determine if action is warranted."
One of the four was Scot Peterson, the armed school resource deputy accused of remaining in the same position for four minutes during the shooting rather than entering the building where the massacre was taking place. Broward County Sheriff Scott Israel said Thursday that Peterson had resigned.
Coral Springs police officers also told CNN that Peterson and the three other sheriff's deputies did not enter the school building with the police officers, although other Broward County sheriff's deputies who arrived shortly after did.
Since the Columbine High School shooting in 1999, the standard police protocol has been that any officer immediately tries to stop the shooter rather than waiting for backup, as deadly shooting rampages typically last only a few minutes.
The shooting on Valentine's Day at Marjory Stoneman Douglas High School left 17 people dead and 14 people injured.
On Friday, the Coral Springs Police Department released a statement about the issue, which the Broward Country Sheriff's Office tweeted.
It notes that the police department has not made an official statement regarding the allegations "as it is still an open and active investigation being handled by the Broward Sheriff's Office."
The department also noted its staff were "being transparent through this investigation."
"There were countless deputies and officers who responded on that fateful day from multiple jurisdictions, whose actions were nothing short of heroic," the department added. "As already reported, any actions or inactions that negatively affected the response will be investigated thoroughly, and the information will be released officially from the proper agency spokesperson."
Broward County Sheriff's Office and the Coral Springs Police Department did not immediately responded to a request for comment by BuzzFeed News.