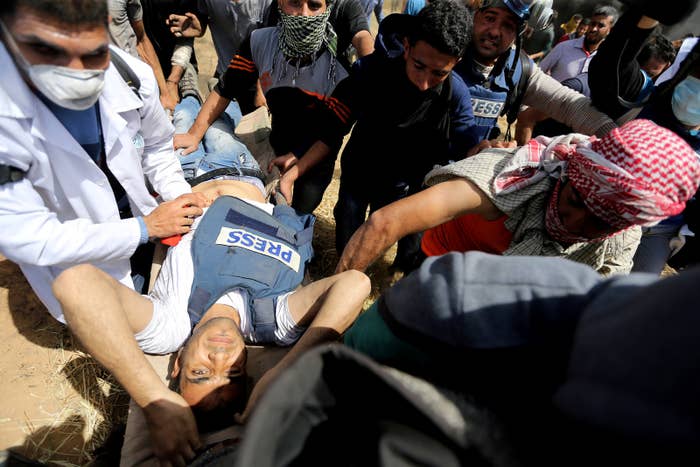 A Palestinian journalist was shot and killed by Israeli forces while covering protests along the Israeli border in Gaza late Friday.
Photos show Yasser Murtaja, 31, wearing a "press" vest as he was evacuated during the clashes after being shot. He died of his injuries shortly afterwards.
The Palestinian Journalists Syndicate reported that six journalists, all of whom they say were easily identifiable as press, were shot by Israeli forces firing over the border on Friday, including Murtaja.
A spokesperson for the Israeli Defense Forces told BuzzFeed News that they were investigating Murtaja's death, but said that journalists were not intentionally targeted. The spokesperson said IDF troops were working to protect the security fence with Israel from Hamas, which they blamed for inciting "tens of thousands" of people to approach and attack the fence, throwing explosives and rocks at soldiers.
"IDF troops are operating in accordance with clear rules of engagement that are tailored to this scenario. The IDF uses means such as warnings, riot dispersal means, and as a last resort firing live rounds in a precise, measured way," said the spokesperson.
"The IDF does not intentionally target journalists. The circumstances in which journalists were allegedly hit by IDF fire are not familiar to the IDF, and are being looked into," the spokesperson said.
Witnesses told the Associated Press Murtaja was shot below the armpit while holding his camera as protesters set fire to tires, resulting in thick black smoke.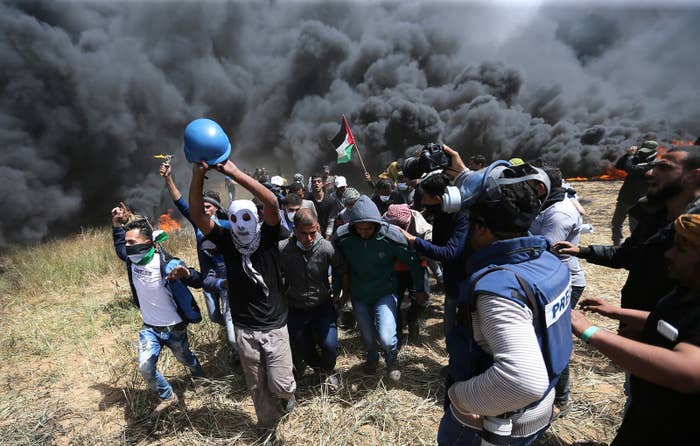 The AP reported at least nine Palestinians were killed during Friday's violence, and the Palestinian Health Authority reported 491 people were wounded by gunshots from Israeli troops. The AP reports that 31 Palestinians have been killed by Israeli troops in protests since last week.

Thousands of Palestinians have demonstrated along the border this week in the Great Return March, a protest on the 70th anniversary of Nakba, the mass Palestinian exodus during the 1948 war.
On Friday, protesters burned walls of tires to cover themselves from Israeli snipers during the protests, in a day called "Friday of Tires."
"The IDF will not allow any breach of the security fence, which protects Israeli civilians, and will continue to operate in order to prevent terrorists who are involved in these acts of terror. The IDF wishes to emphasize that approaching the security fence is a dangerous act," said the IDF in a press release on Wednesday.

Murtaja, who worked as a filmmaker for Gaza news agency Ain Media, was known for shooting drone footage, offering a birds-eye view perspective not often seen by citizens of Gaza.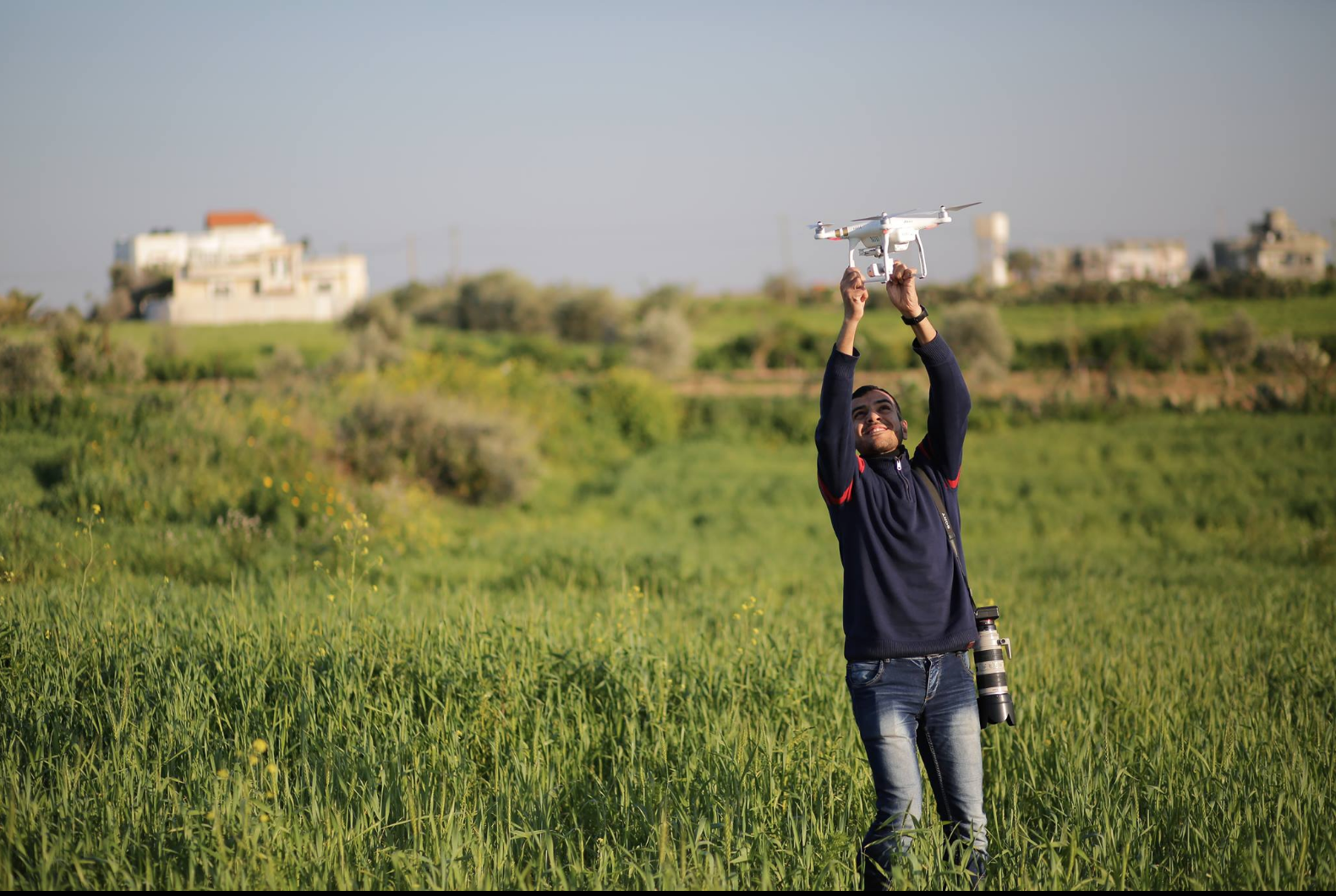 "He was kind, gentle, and caring, eager to become the best journalist he could be, because his aim was always to document the Palestinian people's suffering," Rori Don­aghy, a former news editor at the Middle East Eye website, told the Washington Post.
Hundreds attended his funeral on Saturday as his body was carried through the Gaza Strip, draped in the Palestinian flag and his press jacket.