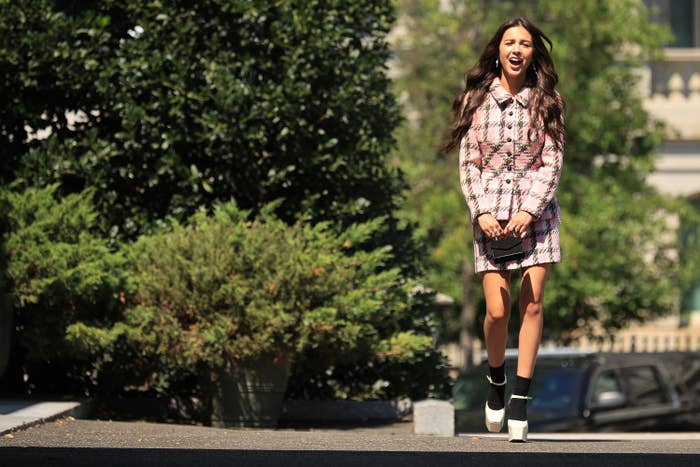 Good 4 her.
Olivia Rodrigo wants you to stay happy and healthy, so she drove up to the White House on Wednesday as part of a campaign encouraging young people to get vaccinated against COVID-19, as the country moves one step forward and three steps back in its fight against the virus.
The 18-year-old pop star fronted the lunchtime press briefing where she was introduced as someone "who traversed red lights and stop signs to see us," because ain't it funny when the government makes the same sour jokes as us.

"I am beyond honored and humbled to be here today to help spread the message of youth vaccination," said Rodrigo from the podium.

"It's important to have conversations with friends and family members encouraging all communities to get vaccinated, and actually get to a vaccination site, which you can do more easily than ever before," said Rodrigo.

Currently only 34.8% of teens (ages 12 to 17) have received at least one vaccination jab, as have just 46% of young people between 18 and 24, according to CDC data.
Hospitals around the country are seeing a surge in younger people sick and dying from COVID, as the more contagious Delta variant spreads across the country, with 99% of those now dying from the virus being unvaccinated.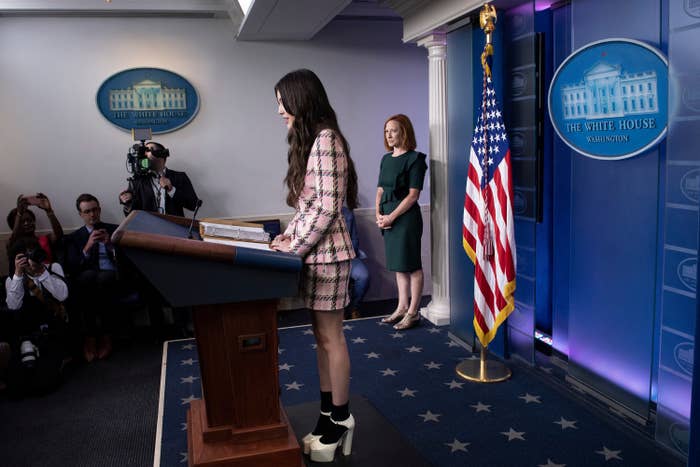 The biggest pop star of summer 2021 arrived at the White House in a pink and black tartan suit, despite the brutal DC summer heat.
After her press appearance, Rodrigo then headed off to spend the afternoon meeting with President Joe Biden and Anthony Fauci, chief of the National Institute of Allergy and Infectious Diseases.
Before her visit, White House officials told media she would be recording videos to post on her social media — she has 14.4 million followers on Instagram — and on the White House socials.
In May, the FDA approved the Pfizer vaccine for children between the ages of 12 and 15, as COVID-19 became one of the top 10 causes of death for teens across the country.
The New York Times recently reported that some teens are getting the vaccine without their vaccine-skeptic parents knowing. (Surely, they won't feel betrayed when their children become immunized against a deadly virus.)
For those feeling insecure, the three approved COVID-19 vaccines from Pfizer, Moderna, and Johnson & Johnson all protect against severe illness and hospitalization, even when someone is sharing strawberry ice cream, one spoon for two.

In Pfizer's presentation to the FDA, the company showed that in a study of more than 2,000 adolescents, the vaccine prevented 100% of COVID-19 infections — including asymptomatic cases — one week after the second shot. Young vaccinated teens showed a higher level of protective antibodies than even those aged between 16 and 25.
With Wednesday also marking the five-year anniversary of Hillary Clinton making a "Pokémon Go to the polls" joke, officials are hoping that many young people (and the millennials crying to her music) feel inspired to Olivia Rodri-go get vaccinated.
OK, we're done now.