A Cop Union Lashed Out At A Tweet Informing People Of Their Fourth Amendment Rights
"You sit on your ass and target the NYPD all while growing up on the nipple of what's easy," tweeted the Sergeants Benevolent Association.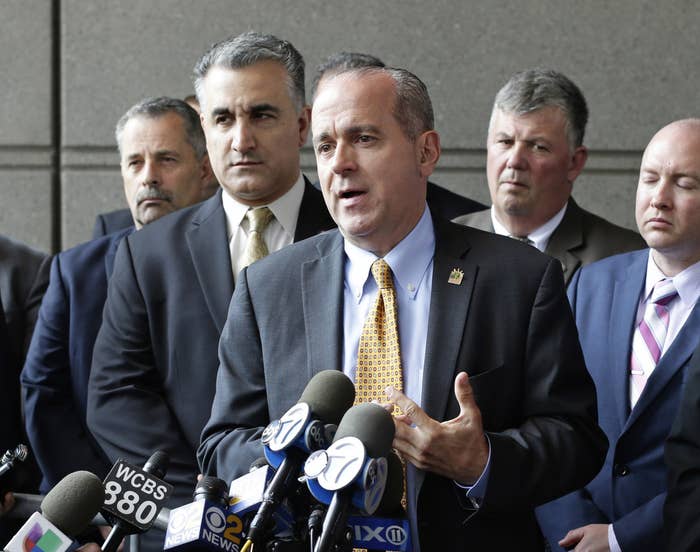 One of New York's most powerful police unions on Friday called all employees of the city's independent regulatory board for police misconduct a "disgrace."

The remarks from the Sergeants Benevolent Association came in response to a tweet by the Civilian Complaint Review Board about protecting Fourth Amendment rights around police searches.
"You are all a disgrace," tweeted the SBA, which according to its Twitter bio represents 13,000 active and retired NYPD sergeants.
"You sit on your ass and target the NYPD all while growing up on the nipple of what's easy," the SBA continued.

"You have no clue what a NYPD officer does yet target us and disparage our integrity," the SBA said. "One day you will dial 911 when evil is at your door and thank god for the NYPD."

The tweet was followed up with another post showing media reports of police officers killed in the line of duty.
Friday's viral #MayTheFourth hashtag, created to celebrate the Star Wars franchise, was coopted by some to celebrate the Fourth Amendment, which protects "the right of the people to be secure in their persons, houses, papers, and effects, against unreasonable searches and seizures."

The CCRB — an independent agency which handles complaints about police misconduct, including investigating, mediating, and prosecuting complaints — tweeted the hashtag and a photo of its employees, writing, "If you feel your rights have been violated by an NYPD officer, file a complaint here."
The SBA tweet drew criticism from many online.
The CCRB and the mayor's office did not immediately respond to a request for comment. Neither did the SBA, whose president Ed Mullins is known as a staunch defender of the city's police officers and a strong attacker of those who criticize police behavior.

Mullins accused previous police commissioner Bill Bratton of "hypocrisy," and said current commissioner James O'Neill has been "neutered" by the administration.