President Donald Trump declared on Friday that NFL team owners should fire any "son of a bitch" who doesn't stand for the national anthem — an apparent reference to Colin Kaepernick, who kneeled to the flag in a political protest last year.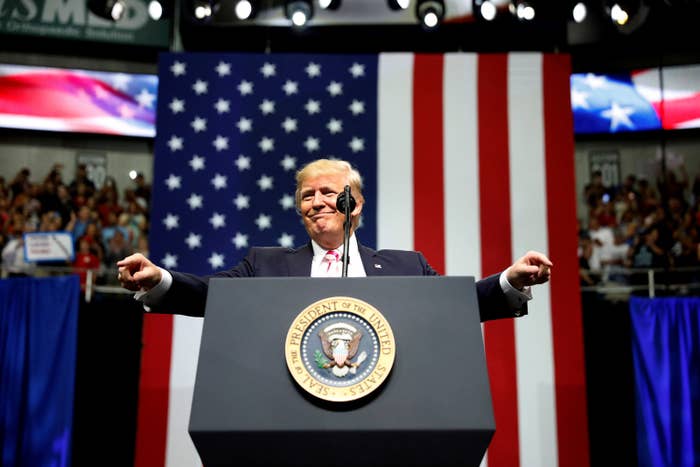 "I'd love to see one of these NFL owners, when somebody disrespects our flag, to say, 'Get that son of a bitch off the field right now. He's fired,'" said Trump at a rally in Alabama.
Both current and former players took to Twitter to back Kaepernick, a quarterback who played for the San Francisco 49ers but is currently a free agent, and to criticize the president.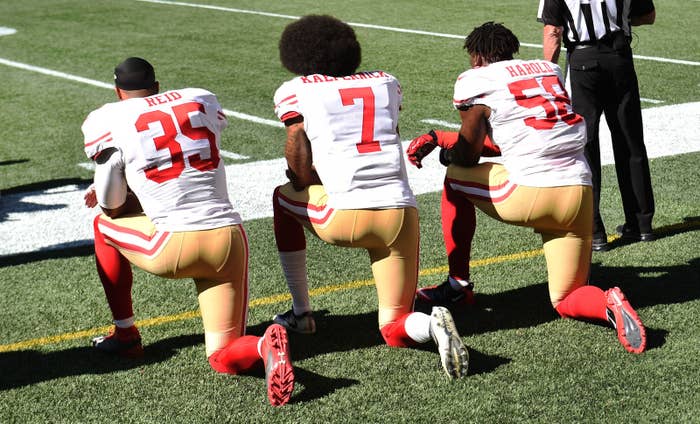 The head of the NFL Players Association, DeMaurice Smith, backed their constitutional right to protest, saying, "We will never back down."
Richard Sherman of the Seattle Seahawks declared that anyone not condemning Trump's comments was condoning them.
Devin McCourty of the New England Patriots (who shares a Twitter account with his twin brother, Jason, who plays for the Cleveland Browns) wondered if people would think the president's comments were disrespectful.
Ryan Grant, a wide receiver for the Washington Redskins, retweeted a post about how much power Trump purportedly believes NFL owners have over the players in their team.

Detroit Lions tight end Eric Ebron wondered if there was a double standard afoot.
Zach Brown of the Washington Redskins had a similar thought.
Kansas City Chiefs wide receiver Chris Conley didn't like being told to stick to sports.
Running back Reggie Bush called Trump a "clown."
Buffalo Bills running back Lesean McCoy went a little further, calling Trump an "asshole."
Don't disrespect the mamas, declared free agent Ronald Talley.
Quarterback and free agent Robert Griffin III said Trump's comments were divisive.
Former player Lance Moore said Trump spoke out more strongly against football players than white supremacists in Charlottesville.
Former player Chris Kluwe didn't hide his criticism.
Kluwe also suggested players and coaches should protest Trump's comments on Sunday during games.
Former Texans running back Arian Foster was frustrated that people cared more about the flag than players themselves.
Former player Takeo Spikes used the same words that North Korean dictator Kim Jong Un used this week to describe Trump.
It wasn't just players speaking out against the president. NFL Commissioner Roger Goodell called Trump's comments "divisive" and said they showed an "unfortunate lack of respect for the NFL."
NFL columnist Mike Freeman noted Trump was criticizing a black player in Alabama, a state with a turbulent history of racism.
ESPN TV host Jemele Hill, whom the White House said should be fired after she tweeted that Trump was a white supremacist, tweeted that Trump was making players more likely to protest.
While prominent Black Lives Matter activist DeRay Mckesson called for others to also kneel at the flag.