Thousands of high school students around the country walked out of class Friday morning for the National School Walkout aimed at preventing gun violence.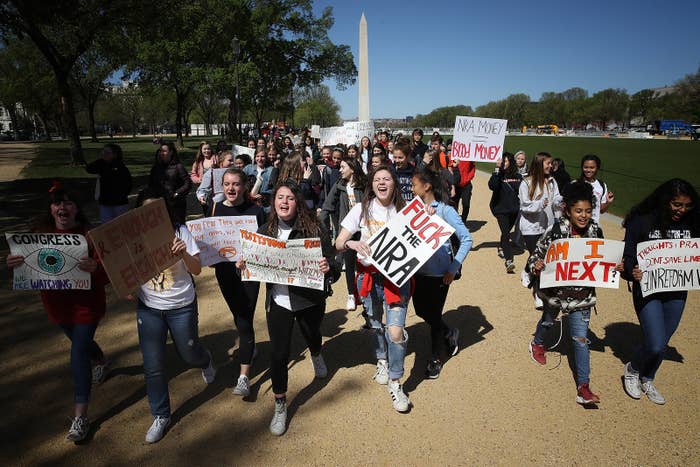 Students at Marjorie Stoneman Douglas High School in Parkland, Florida, where a shooter killed 17 people on Feb. 14, joined in the walkout — including David Hogg, one of the founders of the #NeverAgain movement.
Hogg tweeted a video of students sitting on the ground in the school courtyard during the protest.
Another leader in the #NeverAgain movement, Emma González, was not at Stoneman Douglas HS today for the walkout, but tweeted her support of the protest.
Students at Greenwich High School in Greenwich, Connecticut, posted a video on Snapchat as they walked out of class at 10 a.m. and led chants of "the NRA has got to go, hey hey, ho ho."
video-player.buzzfeed.com
In New York City, thousands of students from across the city protested at Washington Square Park, with dozens of speeches from activists and victims of gun violence.
Columbine High School shooting survivor Amalia Fernand spoke about dealing with survivor's guilt and the long-term impact of gun violence. "The Columbine massacre shocked the world. Today, American mass shootings seem nearly commonplace," she said.
Several Parkland students addressed the New York protest, calling on the crowd to address gun violence in different communities.
In Canton, Michigan, hundreds of students from Salem High School, Canton High School, and Plymouth High School (the three schools make up the Plymouth-Canton Educational Park) walked out of class and sat on the school's football field.
video-player.buzzfeed.com
In Detroit, hundreds of students participated in the walkout.
And at McKinney North High School in McKinney, Texas, students posted on Snapchat as they walked out of class.
video-player.buzzfeed.com
Students also joined in the National School Walkout at Atherton High School in Louisville, Kentucky.
At San Antonio's Lee High School, students had 17 minutes silence for the 17 victims of the Parkland massacre.
video-player.buzzfeed.com
And it wasn't just high schools. Sutton Middle School, in Atlanta, had a protest in their school gymnasium.