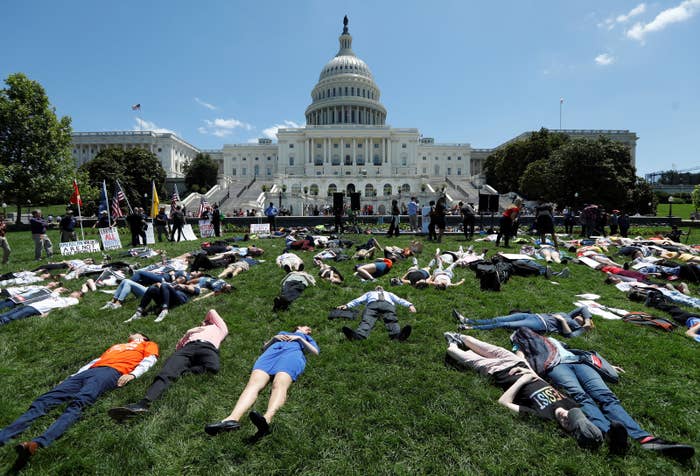 Teens affected by gun violence — including survivors of at least three recent high school shootings — lay silently in front of the US Capitol with a "die-in" protest before taking over the offices of Texas Sen. Ted Cruz and Senate Majority Leader Mitch McConnell.
"We aren't just fading into the background because it's summertime. We're still here and this problem is still a huge thing," said Mollie Davis, 18. Davis just graduated from Great Mills High School in Maryland, where two teens were shot — one fatally — by a fellow student in March.
Davis, who attended March for Our Lives just days after the shooting at her school, was one of the organizers of the National Die-In, with events held around the country on Tuesday to commemorate the two-year anniversary of the Pulse massacre.
Forty-nine people, many of them LGBT people of color, died in the Pulse nightclub shooting in Orlando in 2016. As well as remembering the Pulse victims, the teen protesters are hoping to push legislators for more restrictions on gun laws.
After the DC die-in on the Capitol lawn, students took over the offices of Mitch McConnell and Ted Cruz, leaving only when police threatened to arrest them.
"People need to realize that we aren't messing around — this is real. This isn't like 'We're teenagers; we'll move on.' We're not getting bored. We don't want to die," said Bree Butler, 18.

Less than one month ago, Butler was in first period at Santa Fe High School in Texas when a fellow student shot and killed 10 people in art class. Another 13 people were injured.
Immediately after the Santa Fe shooting, Butler and a handful of other Santa Fe students connected with organizers from the March for Our Lives movement and other anti–gun violence organizations.
Butler was flown up by the National Die-In organizers on Tuesday to speak at the DC event, meeting other teens affected by school shootings and gun violence, including students from Marjory Stoneman Douglas High School in Parkland, Florida, where 17 people were killed in February.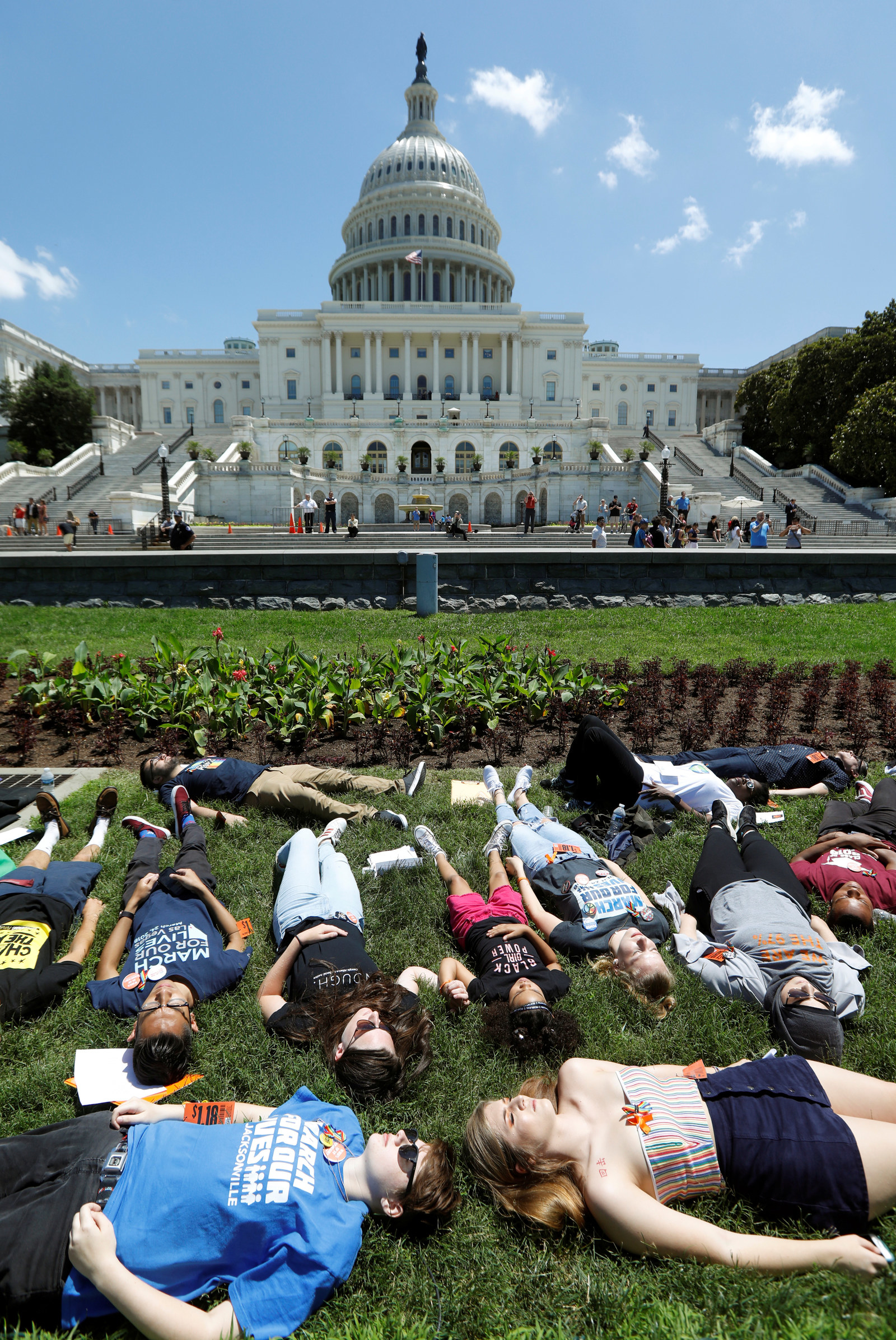 Parkland graduate Matt Deitsch addressed the crowd, as did Zion Kelly, a DC teen whose twin brother was shot and killed while being mugged in 2017. The students then staged a die-in for 12 minutes.
Protests were also held in Florida, just across from President Trump's Mar-a-Lago resort, with around 50 people lying in protest, according to local reports.
Other protests were held in New York City, Philadelphia, and Las Vegas, where a small crew of people staged a die-in in front of Las Vegas City Hall.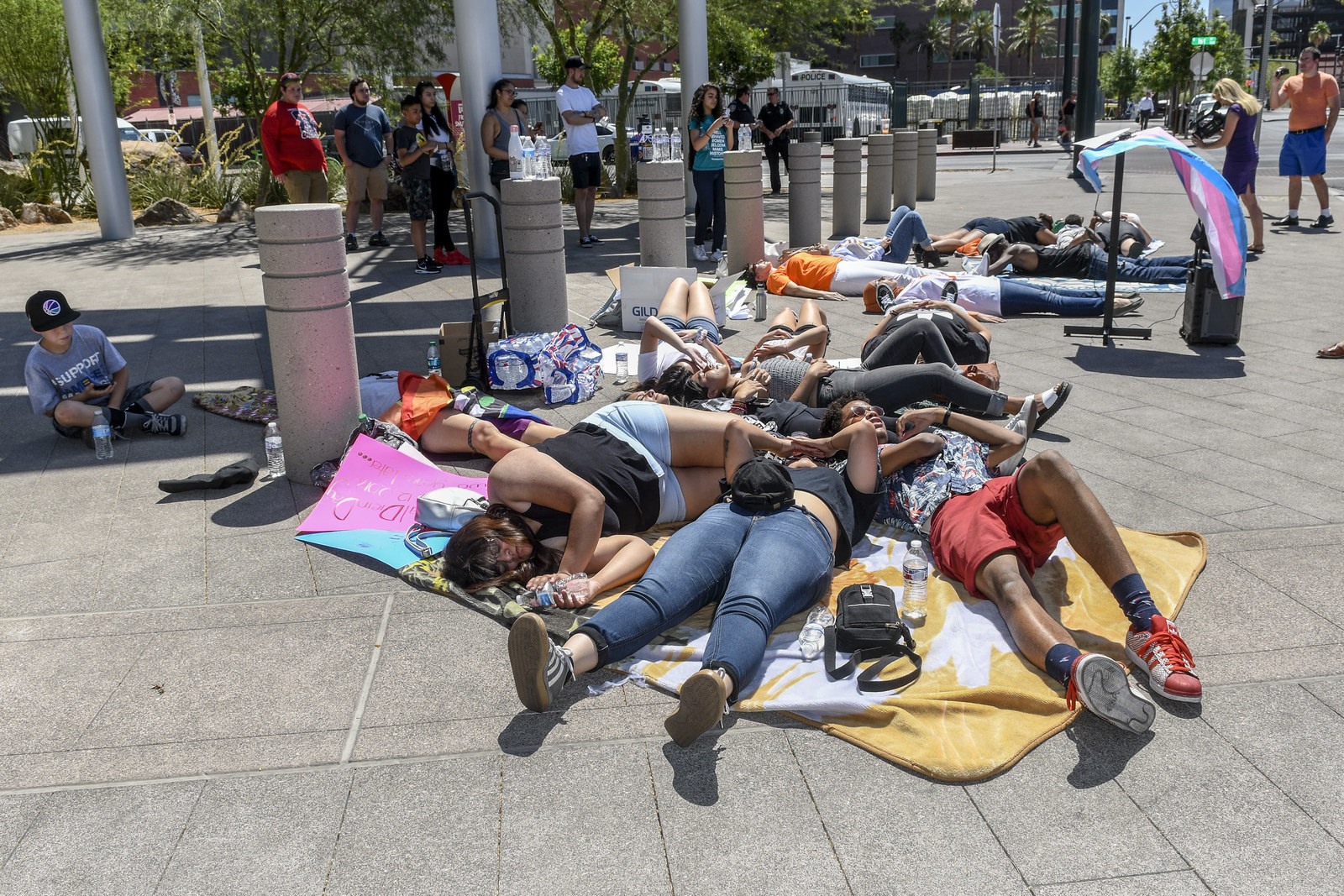 Meeting fellow teen shooting survivors was a "mixed" blessing, said Butler. "I'm glad I get to be friends with them now, I'm glad I know them, I'm glad to work with them — but I shouldn't have to know them," said the 18-year-old.