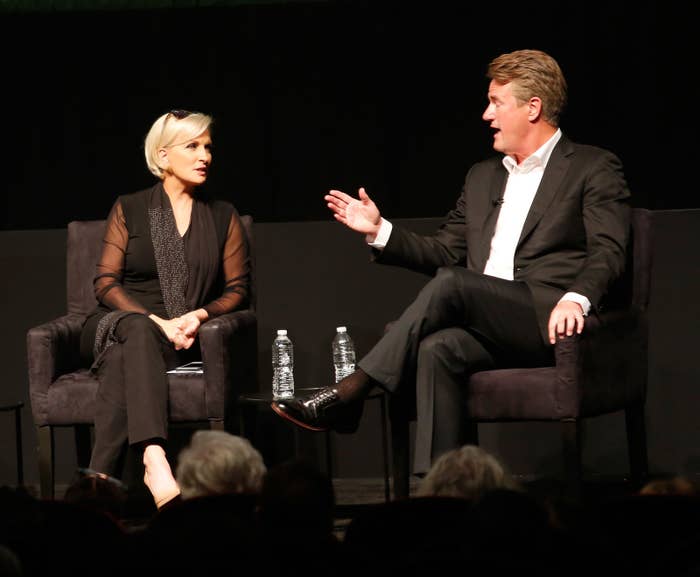 MSNBC's Morning Joe cohosts, Joe Scarborough and Mika Brzezinski, were married Saturday in the most DC way possible: by a member of Congress, while standing in front of the US Constitution.
Vanity Fair covered the wedding at the National Archives in Washington, DC, and reported that it was the first wedding to ever be held there.

The politics nerds chose the rotunda of the archives, in front of the country's most famous and important political documents: the Constitution, the Declaration of Independence, and the Bill of Rights.
"It makes sense now more than ever, given what we stand for as a couple, what we do for a living, and what we're worried about as a country," Brzezinski told Vanity Fair.
Scarborough and Brzezinski have cohosted Morning Joe together since 2007. They announced their engagement last May (also in Vanity Fair) after Scarborough proposed marriage on a trip to France to celebrate Brzezinski's 50th birthday.
The wedding celebration was small: just family and close friends, held on Thanksgiving weekend to ensure that DC was mostly empty.
"We wanted it to be really small and simple and not what you expected from Mika and Joe," said Brzezinski, who will be taking her husband's name.
The president had once offered to marry them, but Scarborough and Brzezinski have a bitter relationship with Donald Trump, whose policies and behavior they regularly criticize.
In turn, Trump tweeted that they were "Crazy Joe" and "Psycho Mika."

Scarborough, who used to serve in the House of Representatives as a Republican representing Florida's 1st District, quit the Republican Party in protest last year.
Instead of Trump, Rep. Elijah Cummings, a Democrat from Baltimore, officiated the traditional ceremony. Cummings is about to become chair of the House Committee on Oversight and Government Reform.
"He's a representative of the movement forward, of getting the country back," said Brzezinski.
Vanity Fair reported that the couple served "caesar salads, an acorn squash velouté, and red wine poached eggs, followed by joue de boeuf, sautéed trout, roasted chicken breast, and [gnocchi] Parisienne" at the reception at Chez Billy Sud, a French restaurant in Georgetown.
Neither Scarborough nor Brzezinski posted photos from their wedding on social media.
But Brzezinski put up a photo of a frog late Saturday night with the caption "I kissed the frog."