A survivor of the Missouri duck boat sinking that killed 17 people during a severe storm Thursday said the captain told passengers they didn't need to wear life jackets even as conditions grew more perilous.
Tia Coleman lost nine members of her family, including her husband and children, in the incident on Thursday night in Branson.

Speaking from her hospital bed to Fox 59 News, Coleman said that while they were on the boat, the captain told passengers not to worry about putting on life jackets.
"You don't need 'em," she recalled him saying. "So, nobody grabbed them."
"However, in doing that, when it was time to grab them, it was too late," Coleman continued. "And I believe that a lot of people could have been spared."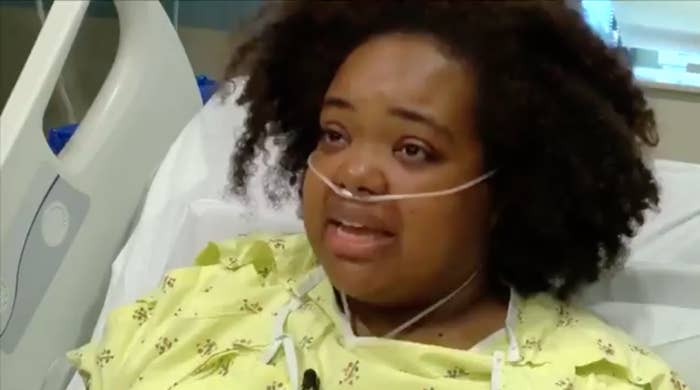 The boat was part of Ride the Ducks, a boat company owned by Ripley Entertainment, the company that owns Ripley's Believe It or Not attractions.
The driver of the boat, Robert "Bob" Williams, was among those killed.
Coleman told local station KOLR that when the passengers first boarded the duck boat, staff told them where the life jackets were, but said they would not need the floatation devices.
"So when the captain took over, I thought that at some point he would say grab the jackets now. But we were told to stay seated, and everybody stayed seated," Coleman said. "Nobody grabbed them."

"When that boat is found, all those life jackets are going to be on there because nobody pulled one off."
During an emotional press conference Saturday, Coleman said she believes her children would have survived if they had been wearing life jackets. "They could have at least floated up to the top and somebody could have grabbed them," she said.
Karen Abbott, who lost her brother and sister-in-law, William and Janice Bright, in the boat sinking, also spoke out against the boat company's practice of making life jackets optional.

"It's ridiculous," Abbott told reporters, adding that she had gone on the same boat ride years ago with her son.
"They don't make you wear life jackets," she said. "They say, 'Oh, they're available if you want to put them on,' but they don't make you wear it."
Twenty-four other people have died in duck boat incidents in the US.

"I think this company has made mistakes since 1994," Abbott said. "And they have consistently done the same thing: They take people on water where no one knows how deep it is in a vehicle that goes on land and on water."
When asked by reporters what message she wanted to tell Ripley Entertainment, the owners of the boat company, Abbott replied: "Beware."