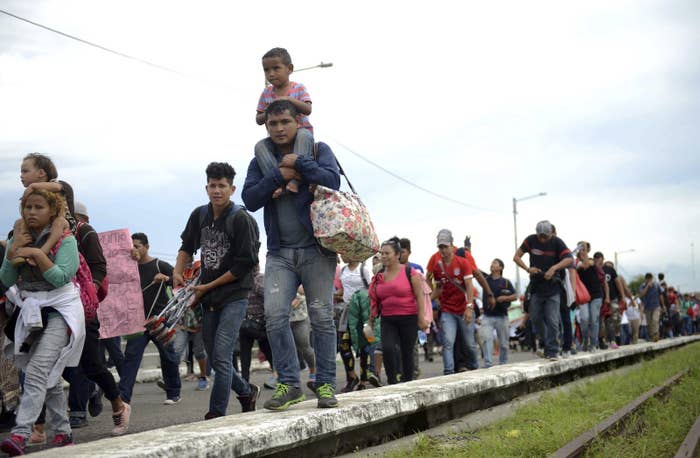 President Trump admitted on Tuesday he had "no proof" to back up his claim that "Middle Easterners" are part of the migrant caravan of thousands of people traveling from Central America to the United States after he twice made the unsubstantiated claim.

"There's no proof of anything," Trump told a reporter in the Oval Office after being asked if he had any evidence to back up his claim. "There's no proof of anything," he repeated. "But there very well could be."
Currently around 7,000 people — two-thirds of whom are women and children — are traveling as part of the caravan walking through southern Mexico on their way to the United States. The majority of those in the caravan are from Honduras and Guatemala.
Yet on Monday, Trump tweeted that "criminals and unknown Middle Easterners are mixed in," as part of the group, calling it a national emergency.
Trump later told reporters on Monday, "Take your camera, go into the middle [of the caravan], and search. You're going to find MS-13; you're going to find Middle Eastern [sic]; you're going to find everything."
The right-wing media and the Trump administration has seized on the migrant caravan this week, framing it as a political issue ahead of the midterm elections. Conspiracies have been proliferating through media outlets and social media, claiming that terrorists in the caravan had been arrested by Guatemalan authorities and that members of ISIS are part of the group.

Trump's claim that people from the Middle East are in the caravan is linked to a misrepresented news story about Guatemalan President Jimmy Morales saying that his country arrested and deported more than 100 members of ISIS. Those arrests were not connected to the migrant caravan.
When asked Tuesday if he was insinuating that the caravan had terrorists from the Middle East in it, Trump replied: "There could very well be."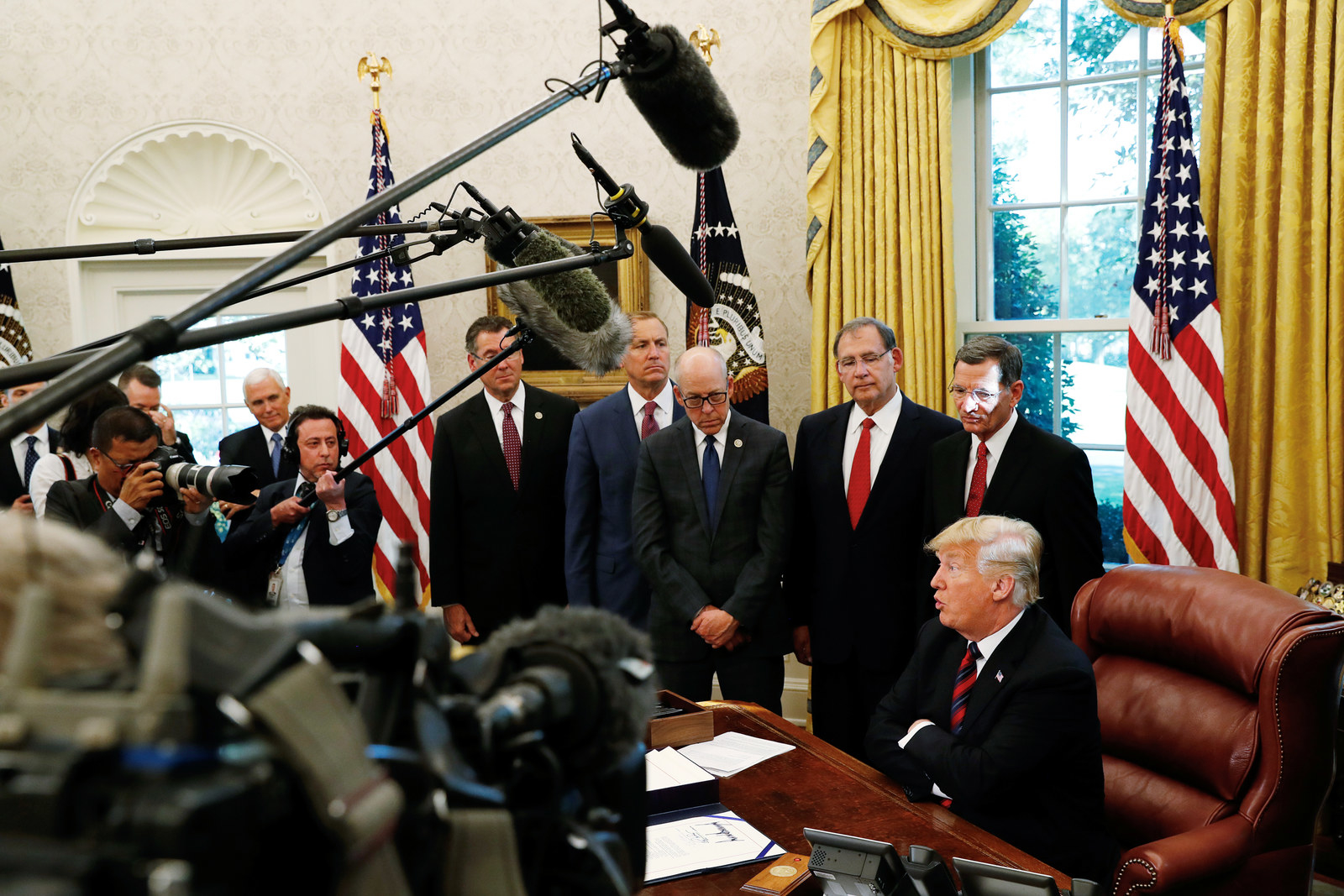 When asked if he knew for certain, the president said that he had "very good information," before calling on Vice President Mike Pence to speak.

Pence said he'd spoken with Honduran President Juan Hernández, who claimed the caravan "was organized by leftist organizations and financed by Venezuela."
"And the Democrats," added Trump.
There is no evidence that the caravan has been financed by the Venezuelan government or the Democrats. Caravans have been organizing annually for the past decade in Central America, but this one is unprecedented in size — just months after a caravan of more than 1,000 people drew Trump's ire in the spring.
Despite Trump's admission, his administration has continued to double down on claims that Middle Eastern terrorists are part of the caravan.
"The United States of America intervenes and prevents 10 terrorists or suspected terrorists from coming into our country every day. So it's— It is inconceivable that there would not be individuals from the Middle East as a part of this growing caravan," said Pence.
When a reporter noted that the president linking terrorism to the Middle East without any proof is harmful to Americans of Middle Eastern descent, Trump tried to clarify his comments by saying he'd spoken recently with Border Patrol.
"They have intercepted ISIS," said the president. "They have intercepted all sorts of people. They have intercepted good ones and bad ones. They have intercepted wonderful people from the Middle East. And they have intercepted bad ones."