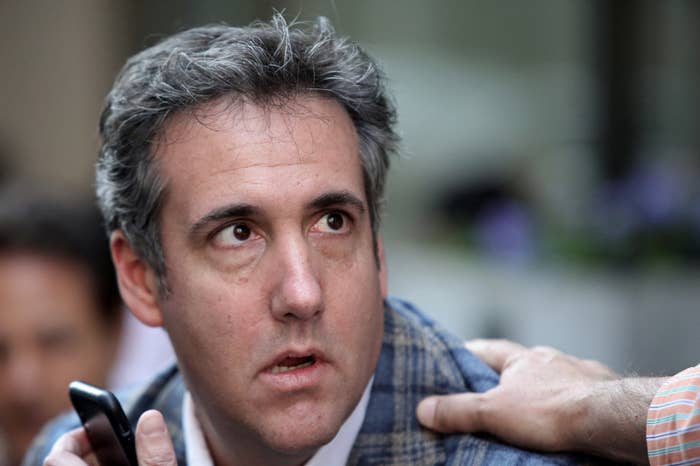 President Donald Trump's former personal lawyer Michael Cohen was sentenced Wednesday to three years in prison after pleading guilty to tax fraud, campaign finance crimes, and lying to Congress. Prosecutors said some of those crimes were done on Trump's behalf and others were directed by Trump himself.
At his hearing in lower Manhattan, an emotional Cohen told the judge that he covered up "dirty deeds" for Trump in acts of "blind loyalty."
"The irony of today is I'm getting my freedom back," Cohen said, calling his years of working for Trump as "living in a personal and mental incarceration."
US District Judge William Pauley ruled that along with the three years for tax crimes and illegal campaign contributions — followed by three years of supervised release — Cohen also will serve two months for lying to Congress, but that will be served concurrently with his other prison time.
"Mr. Cohen pled guilty to a veritable smorgasbord of fraudulent conduct," declared Pauley before announcing his sentence.

Pauley also gave Cohen a $50,000 fine to acknowledge the "gravity" of lying to Congress in matters of national importance, he said, and ordered that he pay $1.39 million in restitution for his tax violations.
In the aftermath of the sentencing, the US Attorney's Office for the Southern District of New York — which initially served the search warrants on Cohen's properties this spring and reached the first guilty plea deal with Cohen — also announced that it had reached an agreement not to prosecute AMI, the publisher of the National Enquirer, in conjunction with one of the illegal campaign contributions.
"As a part of the agreement, AMI admitted that it made the $150,000 payment in concert with a candidate's presidential campaign, and in order to ensure that [a] woman [who alleged an affair with Trump] did not publicize damaging allegations about the candidate before the 2016 presidential election," the news release from the US Attorney's Office stated, contradicting the company's prior statements to the media. "AMI further admitted that its principal purpose in making the payment was to suppress the woman's story so as to prevent it from influencing the election."
Cohen previously had told the court that he had helped to arrange that payment, for former Playboy model Karen McDougal's story, and had made the $130,000 hush payment to porn star Stormy Daniels "in coordination with and at the direction of" Trump.
In court, Cohen read a written statement, calling the sentencing "one of the most meaningful days of my life."
Dressed in funeral black, Cohen's family — including his wife, son, parents, in-laws, siblings, and a cousin — sat in the middle of the courtroom. His daughter sat just behind him.

Cohen painted the president as a person who had led him astray.
"Time and time again, I thought it was my duty to clean up his dirty deeds," said Cohen.

He said at first he'd been impressed by the business acumen of Trump the real estate developer, when he first started working with him in 2007.
"I now know there is little to be admired," said Cohen. "It was my own weakness and a blind loyalty to this man that led me to choose a path of darkness over light."
Cohen lied to the US Senate Select Committee on Intelligence and the House of Representatives Permanent Select Committee on Intelligence — which, like Mueller, is investigating Russian interference in the 2016 election — about pursuing a Trump Tower in Moscow in 2016.

The details of the Trump Tower Moscow deal were first revealed by BuzzFeed News in May.
[Read more: Trump Moscow: The Definitive Story Of How Trump's Team Worked The Russian Deal During The Campaign]
Cohen told both committees that the potential Moscow deal by the Trump Organization ended in January 2016 — but it was actually still being discussed within the Trump Organization in June 2016.
"My weakness can be categorized by a blind loyalty to Donald Trump," said Cohen.
"I take full responsibility for each act that I pled guilty to," Cohen said, "the personal ones to me and those involving the president of the United States of America."
Cohen had planned to travel to Moscow to work on the real estate deal and was arranging for Trump to visit, even though he told Congress the opposite last year. And he said he didn't know of any discussions with the Russian government over the tower. Russian officials offered to organize for Cohen to meet with either Russian President Vladimir Putin or Prime Minister Dmitry Medvedev, prosecutors said.
Cohen lied, prosecutors said, to reduce the links between Trump and Moscow, and to limit investigations into links between Trump's campaign and Russia.
"As Cohen well knew, Cohen's representations about the Moscow Project he made to [Congress] were false and misleading," special counsel prosecutors wrote. "Cohen made the false statements to (1) minimize links between the Moscow Project and Individual 1 and (2) give the false impression that the Moscow project ended before 'the Iowa caucus and ... the very first primary,' in hopes of limiting the ongoing Russia investigations."
Mueller's filing in this case revealed significant information about his investigation into Trump campaign ties to Russia's efforts to interfere with the 2016 presidential election.
[Read more: 5 Big Things That Robert Mueller Just Told Us About The Russia Investigation]
In that filing, for example, Mueller for the first time directly said that Trump was aware of activity during the campaign that is relevant to his investigation. He noted that the Moscow tower discussions came during "sustained efforts by the Russian government to interfere" in the general election.
Cohen spoke about his relationship with Trump, noting that "one of the most powerful men in the world publicly mocks me and calls me a 'rat' and a 'liar.'"

He also called out the president for creating a "false sense" that he can "weigh in on judicial proceedings that involve him."
"History will not remember me as a villain of his story," said Cohen.
Cohen apologized to the US public, saying, "You deserve to know the truth, and lying to you was unfair."
"The faster I am sentenced, the sooner I can return to my family," said Cohen. As he spoke about the impact of his criminal act on his family, his children started openly sobbing. A reporter passed a tissue to his daughter, Samantha.

"I am truly sorry and I promise I will be better," said Cohen, concluding his statement.
Pauley called Cohen's generosity to his family and friends laudable but noted, "somewhere along the way Mr. Cohen has lost his moral compass."
Federal prosecutors in New York, who charged Cohen with some of the crimes, said he should spend about 3.5 years in prison — the judge found that sentencing guidelines recommended 51 to 63 months. Special counsel Robert Mueller, who is prosecuting Cohen for lying to Congress, didn't suggest adding on to that considering Cohen had assisted his investigation.
Guy Petrillo, Cohen's lawyer, argued on Wednesday for leniency, telling the judge that Cohen "knew that the president might shut down the investigation." Cohen had asked for no additional prison time beyond that already served.
Nicholas Roos, who spoke on behalf of the US Attorney's Office of the Southern District of New York, asked the court to promote deterrence and said "even powerful and privileged individuals cannot violate these laws without impunity."

Jeannie Rhee, a prosecutor for the Mueller investigation into Russian interference in the election, also spoke on Wednesday morning in court, noting that Cohen had provided "credible" and "helpful" information to the special prosecutor.
Rhee said while Cohen had initially "intentionally repeated false statements to us," he had in meetings in September and on other occasions "sought to tell us the truth, which is invaluable to us as we seek to investigate what occurred."

Federal prosecutors in New York previously wrote that Cohen had assisted with the payments to McDougal and Daniels "so as to suppress the stories" and "to influence the 2016 election."
Michael Avenatti, the lawyer representing Daniels in her legal disagreements with the president over the hush payment (at which point she was represented by a different lawyer), sat in the back row of the courtroom. While waiting outside the courtroom, Avenatti joked that he was just "out for a holiday stroll."

Addressing Cohen's actions, Pauley made clear that Cohen's status as a lawyer meant that "should have known better." Despite Cohen's cooperation with the special counsel's investigation, Pauley noted that "that does not wipe the slate clean" and a "significant" prison sentence was appropriate.

"Each of these crimes is a serious affront against the United States," said Pauley.
As Pauley read the sentence, one family member said "shit" audibly. Cohen's wife and son held each other, crying. His parents sat stone-faced and held hands, his father in a wheelchair.
Cohen has until March 6 to voluntarily surrender to begin his prison sentence.
Chris Geidner contributed to this report.