MIAMI — Residents of Miami and surrounding areas breathed a small sigh of relief on Saturday, as the direct path of Hurricane Irma was forecasted to head to the west of Florida.

The city is still facing destructive weather conditions as a result of the powerful storm, with curfews due to be imposed later on Saturday.

But after days of fearing the eye of the hurricane would strike their city directly, the storm's westward motion was met with relief from locals.
"I'm relieved we are going to be OK," said Claudia Londono, 40, a housewife, who lives in Mid-Beach in a seventh floor condo on the water. She'd evacuated with her chihuahua to a hotel near Miami International Airport, away from storm surge and closer to authorities.
"We were very worried about our home," Londono said, noting that their building doesn't have shutters, just impact windows, and storm predictions originally suggested impact windows would not hold up under Irma's winds.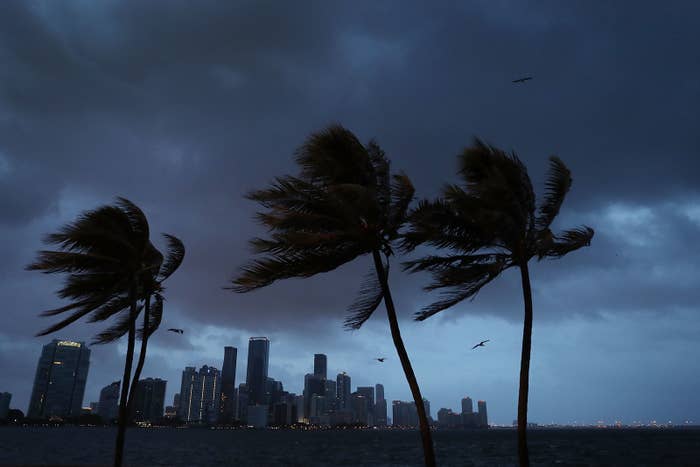 The outer bands of Irma began to hit Miami-Dade County on Saturday morning, with the wind picking up and rain beginning.
"The storm is here," Gov. Rick Scott told reporters. "Hurricane Irma is now impacting our state."
But forecasters predicted the more destructive eye of the storm would move west.
"If it comes this way it would be much more catastrophic," said Claudia's sister Ana Londono, 35, "because here we have more buildings, more people, more everything.

"Fort Myers is going to be awful as well, but they don't have as much population as we have," she said.
But Ana Londono was hesitant to be too relieved over the fact that, unlike earlier predictions had suggested, they likely wouldn't take a direct hit from the storm.
"I think we should still be cautious," she said. "If we get the triangle they are talking about...that quarter brings tornados," she said.
Although it is is not forecasted to take a direct hit from the hurricane's eye, Miami, like all of Florida, is likely to suffer heavy rains, destructive winds, and deadly storm surges.
Miami Beach Mayor Philip Levine told CNN he feared residents would return to their homes.
"We hope not," said Levine. "We want them to stay safe, stay inside, because this is still a highly serious situation and dangerous."
Some local residents were happy to adhere to the mayor's request, glad they'd evacuated off the coast to hotels further inland.
"I would leave again. I wouldn't sit through a Category 4 even if it doesn't come, and even if the storm surge didn't hit," said Sandy Campbell, 64, from Cutler Bay. "I mean, you know, that's just lucky for us, but we still don't know... we won't know until we go home."
Campbell, who said she stayed home during Hurricane Andrew, evacuated to a hotel near Miami Airport over concerns about the storm surge.

Others, like Bridgette Cortes, evacuated to hotels for a different reason: her three young children.
"I have to keep them safe," Cortes said. "If it was just me and my husband, I wouldn't care, I'd stay in the house, but we have small children."
Cortes added they were treating the evacuation like a "vacation" because they were staying away from the house. Among their supplies, they had books, games and cards to pass time during the storm.
But most people are still fully aware of the potential the storm still has to bring to the area.
"We are still going to have high winds, rain, flooding and surge," Sandra Johnson of Ft. Lauderdale told BuzzFeed News in a text. "What has happened is that we have gone from catastrophic to bad. Forty hours of bad, detrimental weather. We are just not in the cone as badly as the west coast now.

"I pray for all of us," Johnson said. "I have been in four hurricanes. None as strong as this one."

Marcus Jones contributed reporting.
Live Updates: Outer Bands Of Hurricane Irma Begin To Lash Florida As It Batters Cuba
None