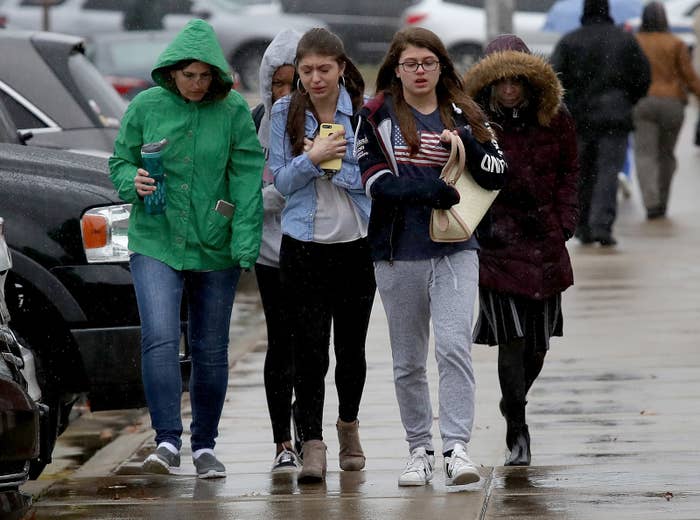 Two students were shot, one fatally, at a high school in Great Mills, Maryland, on Tuesday. The 17-year-old gunman died after shooting himself in the head during a confrontation with a school resource officer, authorities said.
Jaelynn Willey, a 16-year-old girl who was shot in the head in a hallway, died Thursday after she was taken off life support. A male student, 14, is recovering after being shot in the leg.
The gunman, identified by authorities as Austin Wyatt Rollins, died at a medical center a few hours after the shooting, according to St. Mary's County Sheriff Tim Cameron.
"If you don't think this could happen at your school, you are sadly mistaken," James Scott Smith, the superintendent of St. Mary's County public schools, told reporters. "What we had this morning is truly our worst fear."

Until Monday, it had not been clear whether Rollins was killed by the shot fired by the school resource officer on duty, Deputy Blaine Gaskill. But the sheriff's office confirmed that Austin fired one fatal shot to his head, and that, almost simultaneously, Gaskill fired one non-fatal shot that struck the Glock semi-automatic handgun Rollins was holding in his hand.
Cameron said Gaskill heard shots being fired and then pursued the shooter. A timelines released by the sheriff's office Monday laid out the path the two took inside the school before the confrontation.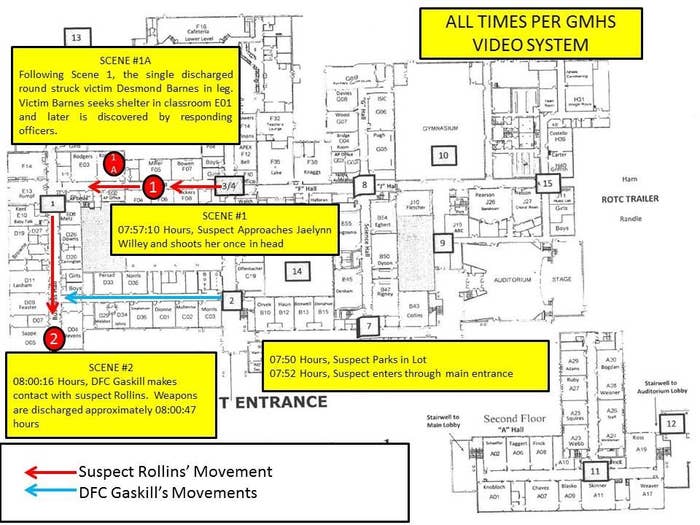 As for the motive, Cameron said there was a prior relationship between Rollins and the female victim, although no further details were given.
"We need more than prayers… we've got to take action," Gov. Larry Hogan told reporters after the shooting, adding that he wants longer sentences for repeat violent behavior and guns kept away from those with a mental illness.
"It's outrageous we haven't taken action yet on something as important as school safety," Hogan added.
Great Mills High School student Mollie Davis, 17, spoke to BuzzFeed News via text from inside her math classroom, where she was in lockdown after the shooting.
"I was in my classroom upstairs, which is next to the stairs. I heard what sounded like a balloon pop and commotion. I thought it was a fight as did my class. A few of them ran out to see and then ran back in saying someone yelled 'gun' and people were running out of the school," said Davis.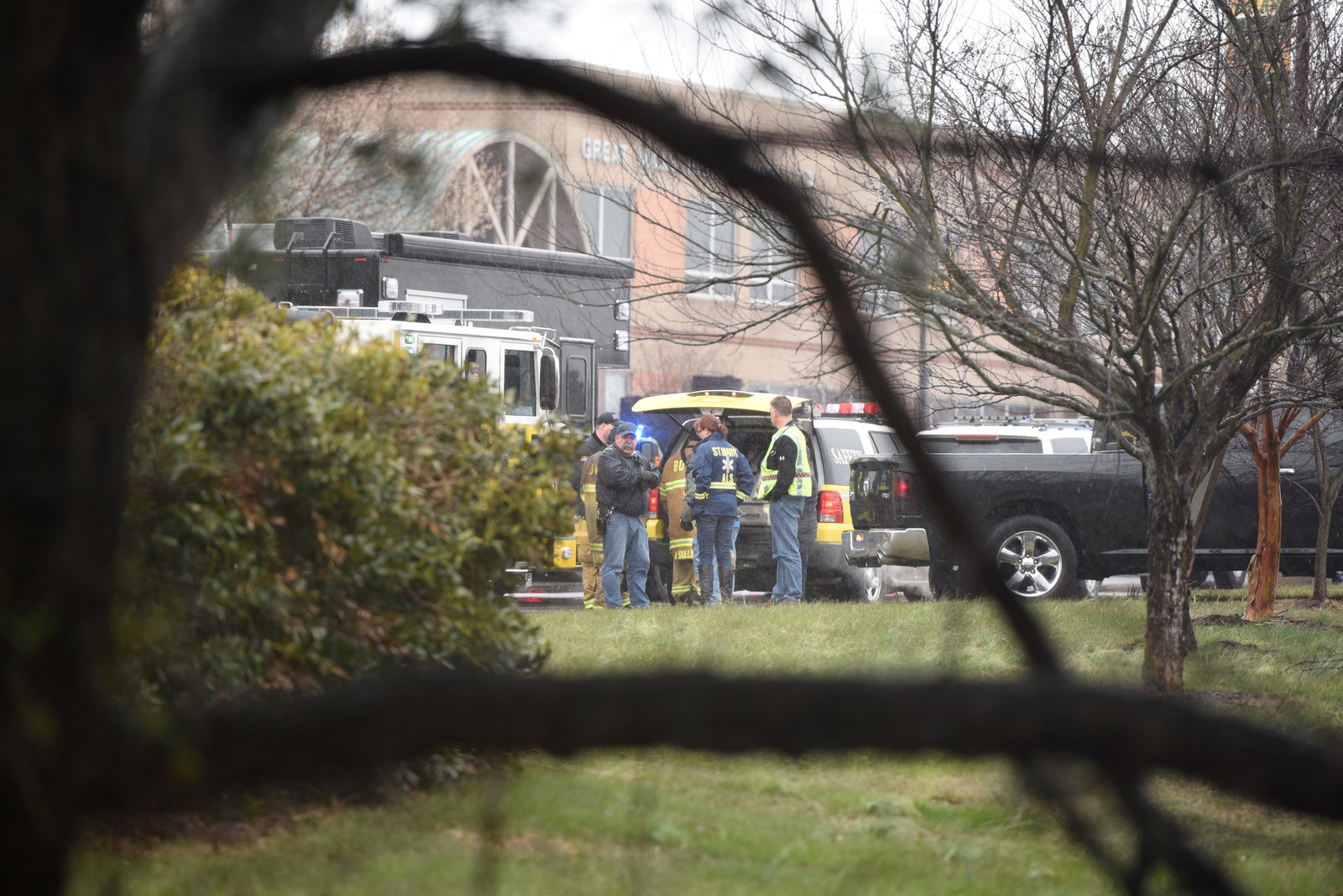 "Our teacher came in [and] closed the door," said Davis. "Someone in my class said that someone popped a balloon behind a girl and she dropped to the ground, so for a moment we all thought it was an elaborate prank."
Davis said that the school principal then spoke via the loudspeaker, telling students there was no immediate threat but to go on lockdown.
"Even though he said there was no threat we could all tell from his tone of voice something was very wrong," Davis told BuzzFeed News.
Senior Terrence Rhames, 18, spoke to BuzzFeed News from his home, where he'd gone after the shooting, as he'd instantly recognized the sound of the gun shot.
"Me and a few other friends always meet up in the same area in the morning at school and we were talking and out of nowhere we hear a shot and instantly start running to an exit to get away from the school," he said.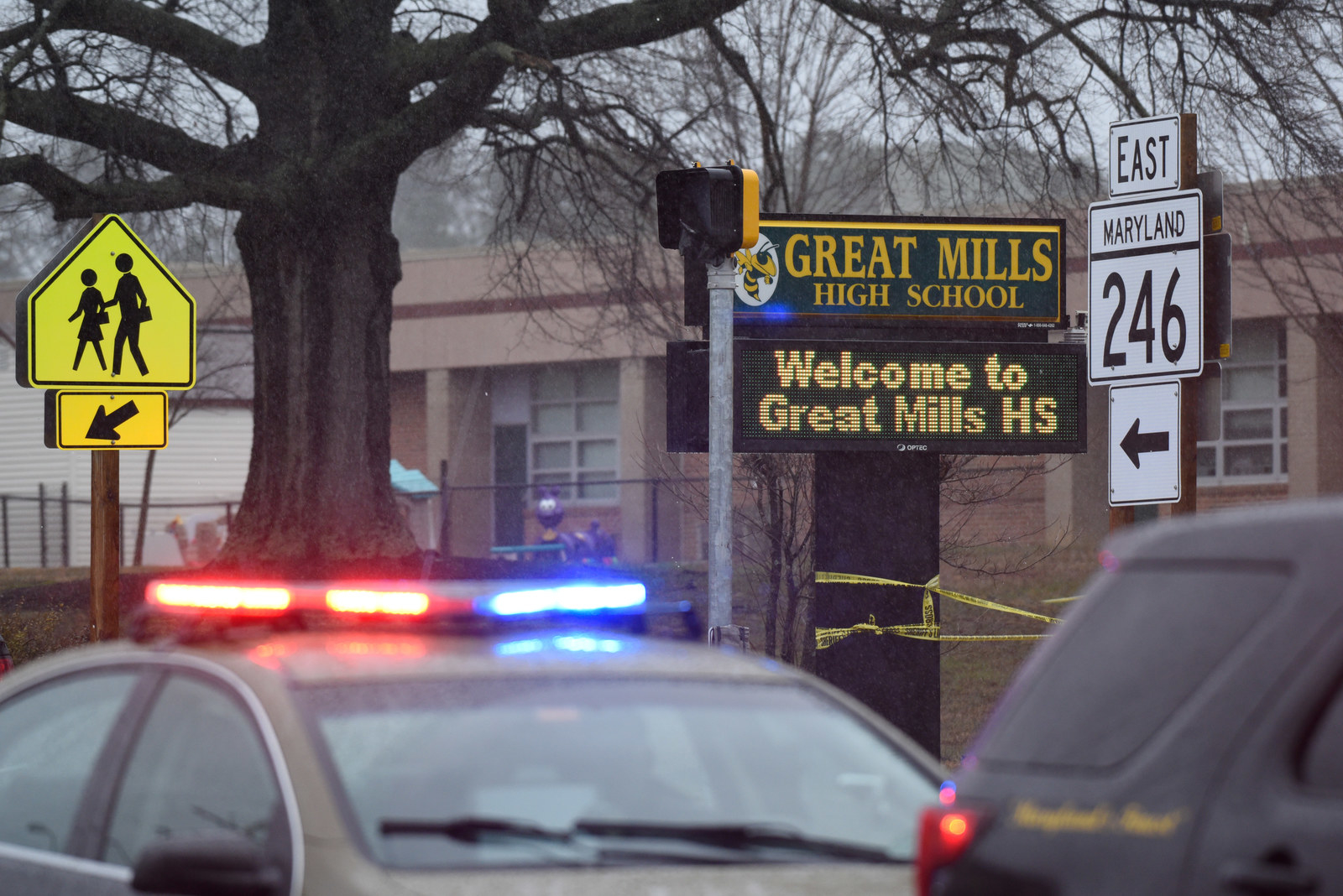 Rhames told the Baltimore Sun he was outside his first period class at 8 a.m. when he heard a shot. He said he started running to a bathroom, before realizing it was a dead end, and then ran for an exit. He told the Sun he saw a girl fall out of the corner of his eye.
Another student, Jonathan, spoke to CNN from inside his math class where he was in lockdown after the shooting.

"Right now the police are going through classrooms and checking, making sure students are safe. Soon we're going to be escorted out of the school," he said.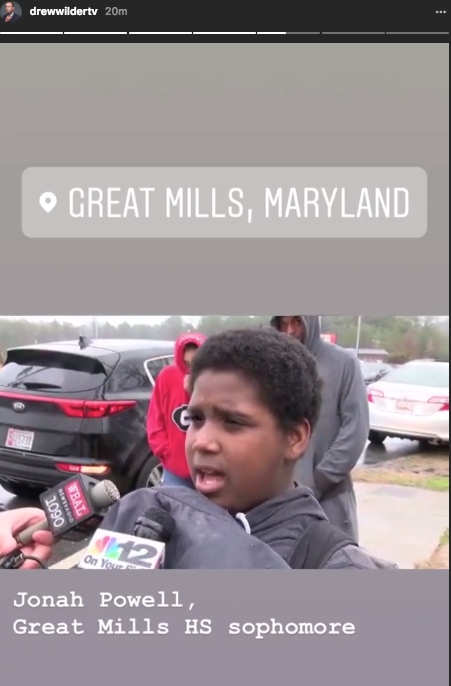 Jonah Powell, a sophomore at the school, told NBC 12 he had witnessed a male student with a gunshot wound to his leg.

"They were bleeding. And then one of my teachers helped them onto the floor and started applying pressure to his gun wound," said Powell, in an Instagram Story published by a NBC 12 reporter.
Eighth-grader Maggie Wood said she was not surprised by the school shooting.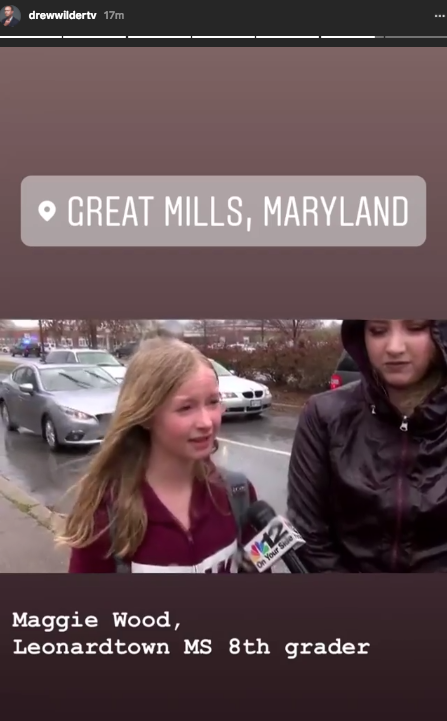 "I expect it to happen... although what's happening with Parkland and all that, I just expect it to happen," she told NBC 12.

Last month, police investigated a possible school shooter threat at Great Mills High School, after a Snapchat photo threatening a school shooting circulated.
Principal Jake Heibel released a statement to local media on Feb. 21 about the then-possible shooting risk:
Yesterday we received a report that a student in the hallway during transitions overheard two students mention "shooting" and "school". We interviewed the student with our SRO, viewed video, interviewed other students, and contacted central office. The threat was not substantiated. Late last night, additional information was circulated quite extensively on social media about a potential threat at school today. Law enforcement was contacted and an investigation was conducted, which included interviews with students and parents to determine the validity of the potential threat. The threat to Great Mills High School has not been validated at this time. However, we will have additional security today and we will continue to investigate the source of the postings.
Cameron said on Tuesday that authorities were investigating if the threat was connected to the shooting. At a lunchtime press briefing, when quizzed about if the Snapchat threat was connected to the shooting, Cameron appeared to indicate they were likely not related.
"We had a spate of social media threats… it was a whole spate of those hoax threats throughout the state," said the Sheriff.
Last Wednesday, local media covered a group of students who walked out of Great Mills High School for the National School Walkout in protest of gun violence.

Davis was one of the organizers of the school walkout and after she'd been evacuated from her maths classroom, she told BuzzFeed News that Tuesday's shooting felt "unreal."
"I never in a million years thought this would happen to us. When we were walking out of the school to the bus, seeing 'all clear' on all the classroom doors in marker and seeing all the huge guns the police were holding, felt like a fever dream," she said via text.
On Tuesday morning, students inside the school building tweeted their fear and sadness about the shooting.
Snap Map, the location-based feature on Snapchat, showed Snaps grouped together as the "Great Mills HS Shooting." One showed a carpet with the words "I love you all."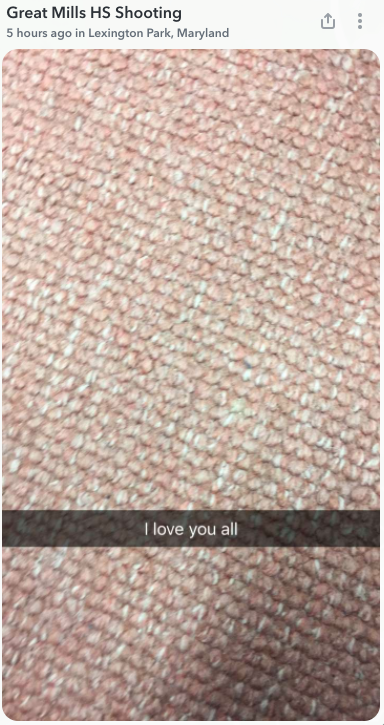 Another seemed to show a student in a bus leaving the school, with the words "Can we just thank the cops, teachers and bus drivers that are making sure that we are safe."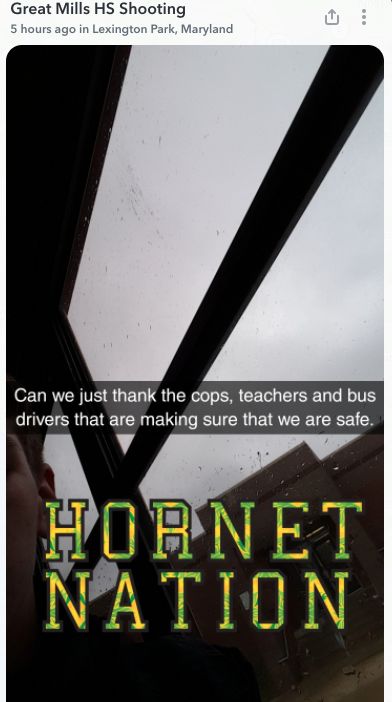 Students were bused to Leonardtown High School to meet their families.

The shooting occurred just four days before March for Our Lives, a nationwide movement with marches planned all around the country and thousands of students expected to protest against gun violence and mass school shootings.