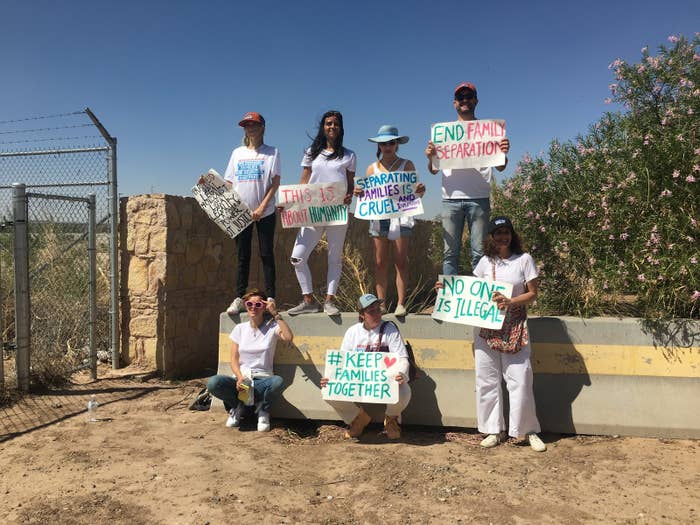 A group of Hollywood stars traveled to the southern border Sunday morning to protest the Trump administration's immigration policies outside the Tornillo detention center in Texas, where children are being housed in tents.
The celebrity bus — including writer Lena Dunham, singer Sia, and actors Mira Sorvino, Constance Wu, Amber Heard, Joshua Jackson, Connie Britton, and Bella Thorne — arrived just after 9 a.m at the Tornillo Port of Entry, located about 30 miles from El Paso.

The #EndFamilyDetention protest (originally called "Stop Separation" until the change in government policy this week) was arranged by the organization Voto Latino.

Hundreds of demonstrators, many wearing white clothing, came to support the protest, with cars lining the road leading to the border crossing.
Speakers included Mexican civil rights icon Dolores Huerta, former US secretary of housing and urban development Julian Castro, and Kerry Kennedy, daughter of Robert F. Kennedy.
The protesters, some of whom traveled thousands of miles to reach the site, said they felt compelled to go to the border after seeing reports of detained children and separated families.
Actor Connie Britton of the TV series Friday Night Lights was among them.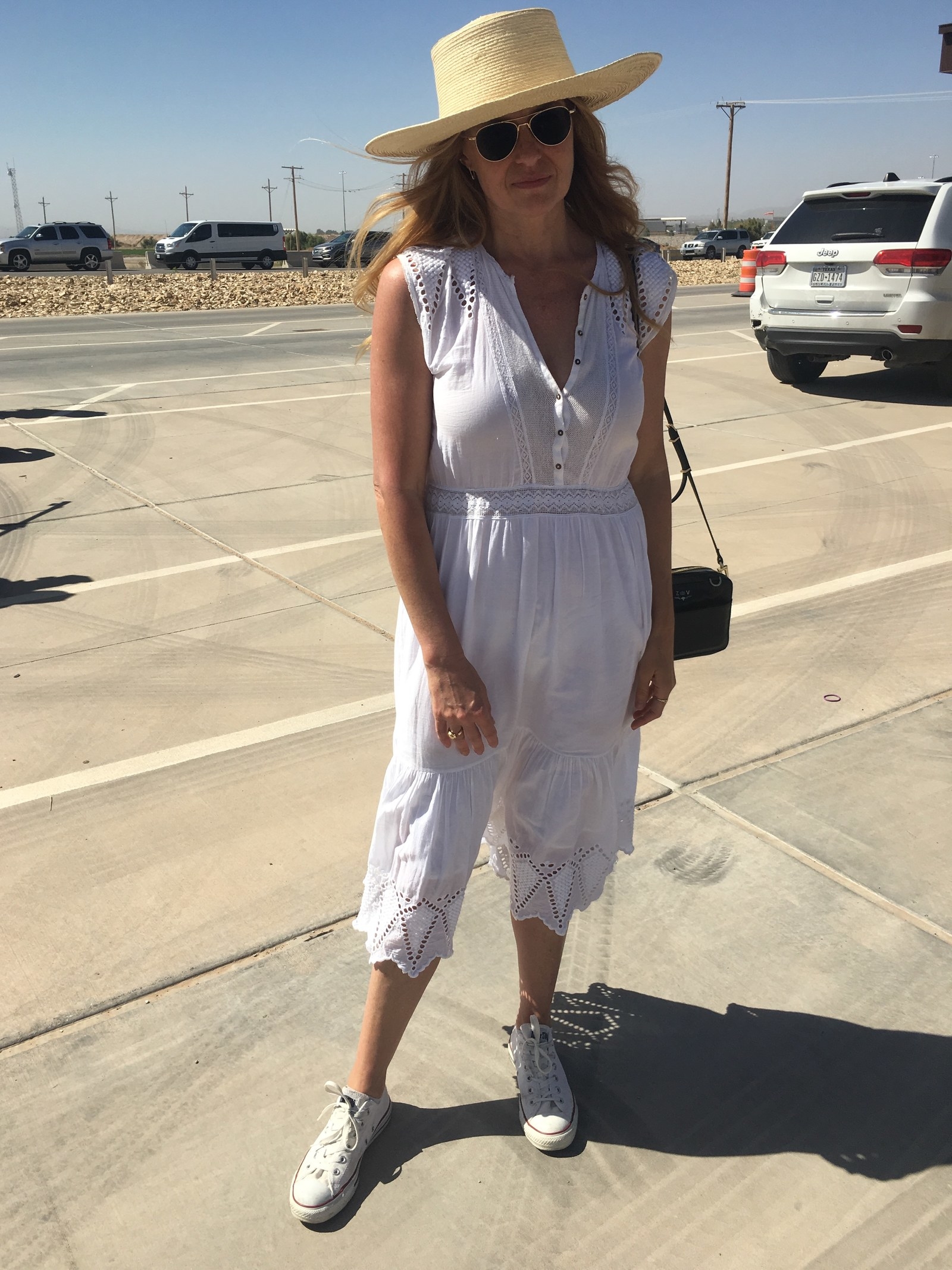 "I've just been really horrified by the reports I've been hearing, by what's happening at the border," Britton told BuzzFeed News. "I kind of reached a moment this week where I was like, 'I need to go see for myself.'"
The group of celebrities chartered a flight Sunday morning from Los Angeles to El Paso.
"I'm here 'cause this is a humanitarian crisis and it's deeply important that we as Americans stand up and say, 'This is not who we are, this is not what we believe in, we do not believe in the separation or detention of families,'" Dunham, who helped organize the famous rally attendees, told BuzzFeed News.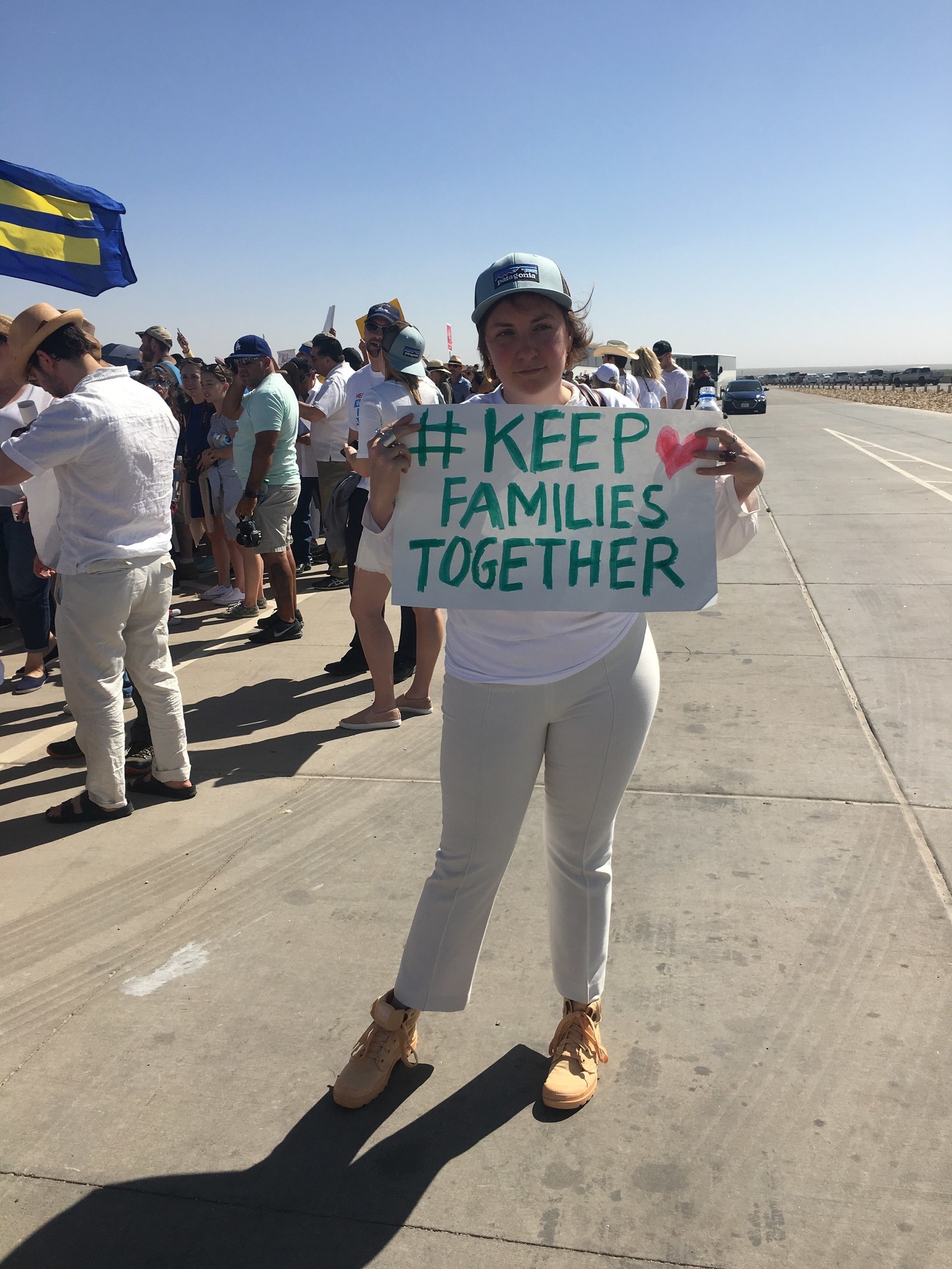 Constance Wu, who starred in Fresh Off the Boat, agreed with Dunham.
"This is beyond politics. This is about humanity and the values that we hold close to us as Americans, which is largely family," Wu told BuzzFeed News. She held a sign that read "separating families is cruel and inhumane."
Joshua Jackson (of The Affair, Dawson's Creek, and The Mighty Ducks fame) served as cameraman for families taking pictures with Dunham.

Jackson, who was born in Canada and later became a US citizen, said he traveled to Tornillo because he believes that as an American he is "complicit in this policy."
The actor made reference to Fox News host Laura Ingraham's comment about child detention centers being like "summer camps" as he looked at the tent facility located a few hundred feet away.
"I think that would be the shittiest summer camp of all time," Jackson told BuzzFeed News.
The stars did not address the crowd, apart from filmmaker Rob Reiner, leaving it to local activists and politicians to speak.
"We have a racist in the White House," Reiner told news reporters after leaving the stage. "Make no mistake about it; he'd rather keep brown people from their kids."

Bella Thorne hung out with her older sister, musician Dani Thorne, both saying they were very concerned about the separated families.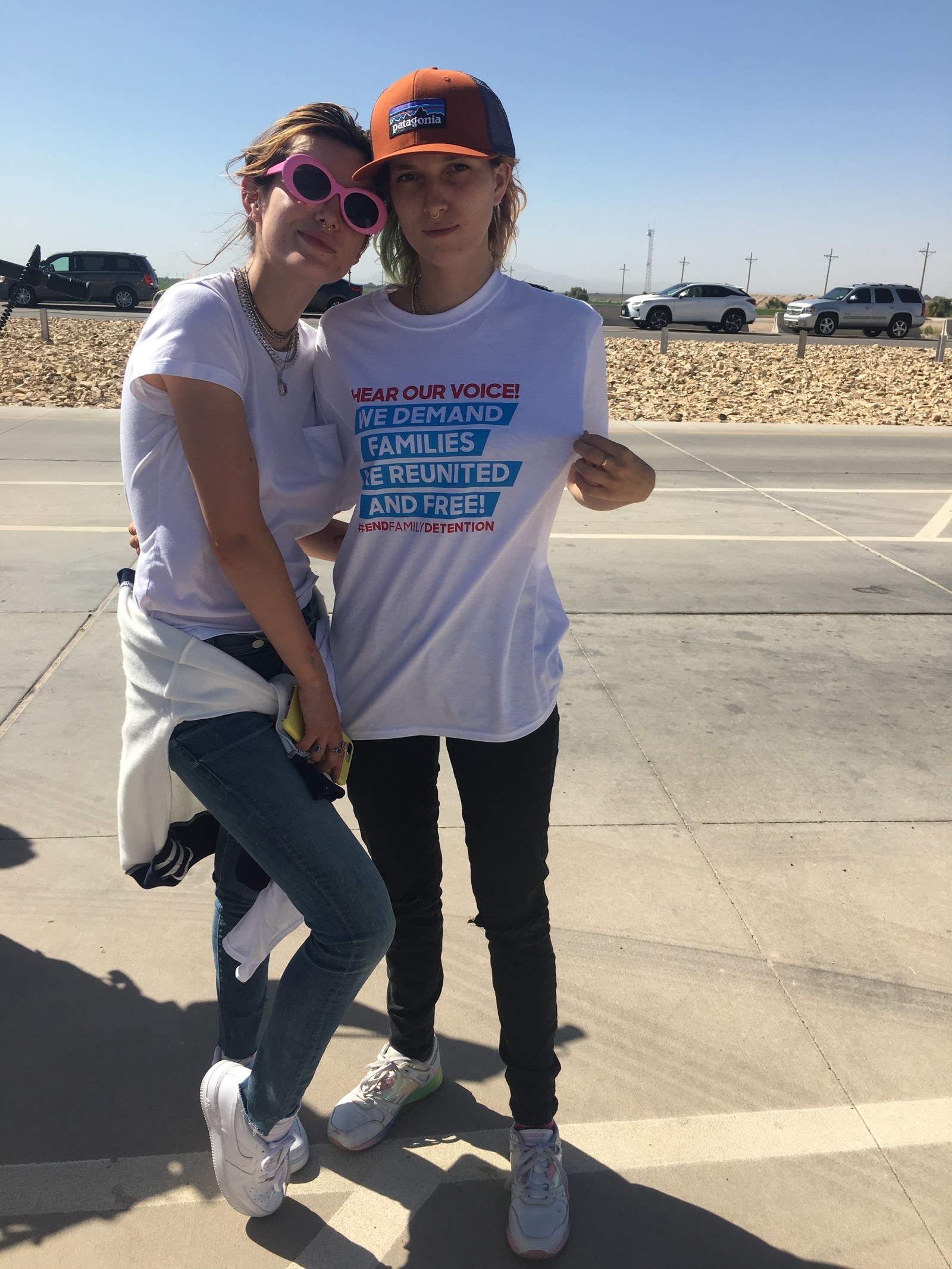 "I wanted to see it for myself," Bella told BuzzFeed News. "I know there's been a lot of crazy rumors going around the internet of what is or what isn't happening."
When this reporter pointed to the tents housing children a few hundred feet in the distance, Bella responded, "So fucked up. This whole American dream idea is kind of a lie."
Unlike most celebrity events, there were no obvious publicists or other handlers around to keep the stars at a distance.
Comedian Travon Free noted that Trump's immigration policy traces back to US traditions of separating Native Americans and African Americans from their families.

"The notion that this country is still doing something that it's done for almost the entirety of its existence, which is separating people from their families, is an atrocity," said Free, who recently wrapped writing for Camping on HBO and previously wrote for Full Frontal With Samantha Bee.
"Being a black man in America we know a lot about incarnation, what it's like to spend time in facilities like that," he said, standing in front of the detention facility.
While most of the celebrities were visiting the area for the first time, actor Amber Heard called the US border her home, noting that she'd grown up in south central Texas and had regularly crossed the border as a child.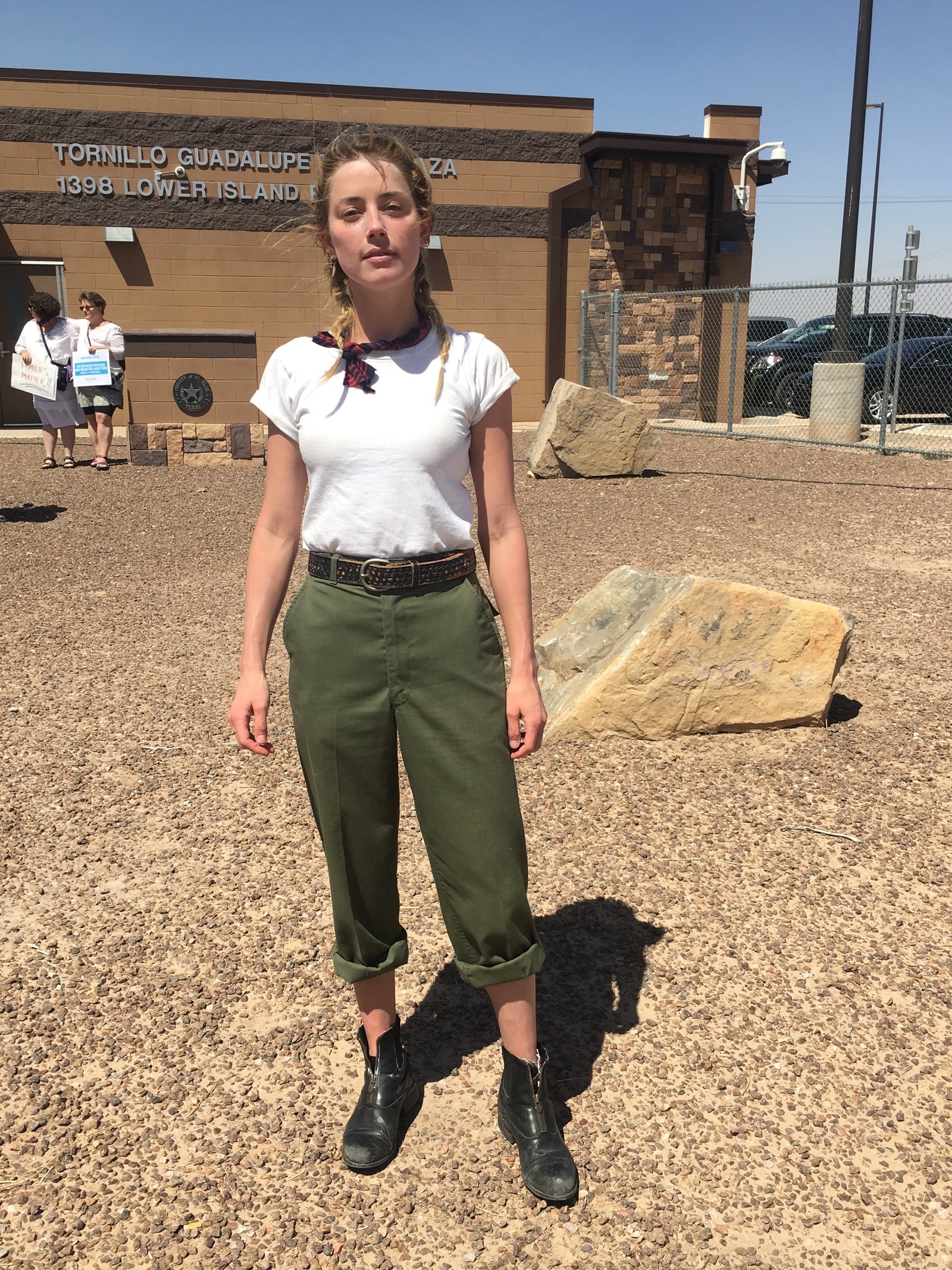 "I was literally and figuratively raised by and with immigrants in my home and heart and life," she said in tears.
"Trump's policy of enacting institutionalized trauma and human rights abuses in order to push a political agenda, at best — at worst, out of apathy — and I can't support it," she continued.
News media, including BuzzFeed News, will be allowed into the Tornillo facility for the first time on Monday morning.
CORRECTION
Travon Free previously wrote for Full Frontal With Samantha Bee. An earlier version of this article said he was currently writing for the show.