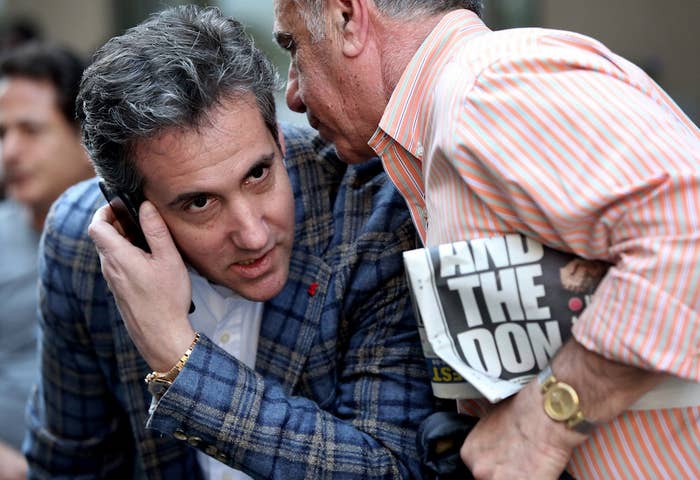 President Donald Trump's longtime personal lawyer, Michael Cohen, "is under criminal investigation," federal government attorneys stated on the record for the first time on Friday.

Cohen was the subject of widely publicized search warrants that were executed at his office, home, and Manhattan hotel room on April 9.

The prosecutors from the US Attorney's Office in the Southern District of New York also revealed in a Friday court filing that search warrants on multiple email accounts "maintained by Cohen" also had been previously executed and the emails reviewed by federal investigators as part of a "months-long investigation into Cohen."
The news came as lawyers for Cohen were in court Friday asking a federal judge to halt government review of the evidence seized in the searches against Cohen earlier this week. Cohen is seeking a temporary restraining order (TRO) to that effect.
The concerns raised by Cohen surround claims of attorney–client privilege and how items seized in those searches should be reviewed, and by whom. The explosive government filing was an opposition to Cohen's TRO request.
Lawyers for Trump also appeared in court Friday, seeking to intervene in the case to argue for his interests in any of the documents for which Trump is the client at issue and could claim protection through attorney-client privilege — a request US District Judge Kimba Wood granted later Friday.
"The dispute before the court is who should make the determination" on attorney–client privilege, Wood noted as the morning hearing began, but matters quickly got delayed when an attorney for Trump intervened and asked for more time to review the government's filing in the matter.
After several hearings were held on Cohen's request and related issues throughout the day Friday, however, the matter was continued over to a 2 p.m. Monday hearing. In particular, Cohen's lawyers were unable to answer several key questions on Friday, leading Wood to order Cohen to attend Monday's hearing.
Before Monday's hearing, Wood has asked Trump's lawyers to present any additional arguments on his behalf by 9 p.m. Sunday and Cohen's lawyers are to present their final arguments — and a list of Cohen's clients (more on that to come) — by 10 a.m. Monday.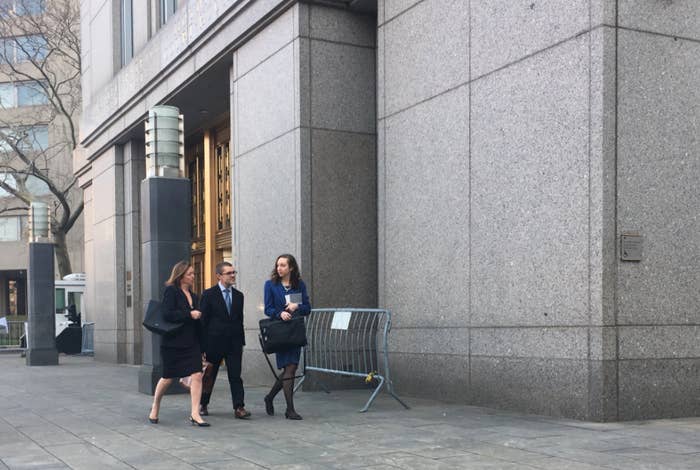 Attorneys from the Southern District of New York US Attorney's Office represented the prosecution in the hearing before Wood on Friday, the first official confirmation that SDNY was running the investigation that led to the warrants against Cohen.

Shortly before the hearing, prosecutors provided Cohen's lawyers with the opposition filing — but it was not posted on the public docket until later Friday.
In the filing, the SDNY attorneys also acknowledge that the case began as a referral from special counsel Robert Mueller's office — which Cohen's lawyer had said previously — but the filing goes on to state that the SDNY investigation of Cohen has "proceeded independent" of Mueller's office. Robert Khuzami, the deputy US attorney for the office, is the senior name on the filing; it has been reported previously that the interim US attorney, Geoffrey Berman, is recused from the matter.
In the morning hearing, the prosecutors made clear their preference to review the seized materials for privilege by using a "taint team" — lawyers from the US Attorney's Office who are uninvolved in the investigation or prosecution of the matter — to review them. (The SDNY filing calls it a "filter team.")
The prosecutors argued that the team is a "common procedure" used in the Southern District of New York to protect possible privileged material and that, in any event, "it is [not] apparent ... that Cohen, in his capacity as an attorney, has many, or any, attorney-client relationships other than with President Donald Trump (indeed, he does not specifically identify any in his motion and thus far has refused to identify any to the USAO-SDNY)."
Cohen, on the other hand, is asking to allow his counsel to review the documents first or to have the court to appoint a special master to review the materials for attorney–client privilege — before anyone from the US Attorney's Office would do so. Cohen was represented at the hearing by Todd Harrison, one of his lawyers from McDermott Will and Emery.
In their initial filing, Cohen's lawyers argue that there is a "substantial risk" of the government "infringing" on privileged communications, citing two categories of documents — those "relating to privileged communications between Mr. Cohen and his clients" and those "relating to privileged communications between Mr. Cohen and his own lawyers."
At Friday's hearing, Trump's lawyer was primarily just asking for more time. Joanna Hendon, a partner at Spears and Imes, said that she had only been retained by Trump on Wednesday evening.
"This is the president of the United States," Hendon told Wood, arguing that, as the privilege-holder, he should be involved in the proceedings. "These interests are so weighty. Ultimately, in my view, this is of most concern to him, I think the public is a close second, and I think anyone who's ever hired a lawyer a close third."
Assistant US Attorney Thomas McKay complained about the "last-second intervention" by Trump's lawyer, arguing that Trump's intervention isn't necessary because there would be "no difference between the arguments he would make" and those Cohen's lawyers would make.

Before the judge halted the morning hearing, Wood had a sidebar discussion — a discussion between the lawyers and the judge but not open to observers — regarding, as Wood put it, "potentially innocent individuals and their privacy being invaded if made public."

A hearing on whether the transcript of that sidebar discussion should be made public began at 2 p.m., but quickly devolved when Wood questioned how Cohen's attorney, Harrison, could claim that "thousands" of documents would be covered by attorney-client privilege.
"How do you as an officer of the court have basis to tell me there are thousands of documents?" she asked, prompting a response that he was making an "estimation" and that it could be fewer documents.
Wood then adjourned the hearing, demanding that Harrison have a list of all of Cohen's clients between 2006 — when he started representing Trump — and 2017 when the court reconvened at 4 p.m. Friday. He was not, however, able to pull together a full list — leading Wood to give him until 10 a.m. Monday.
Michael Avenatti, the lawyer for adult film star Stormy Daniels (whose given name is Stephanie Clifford), asked to also be heard in this afternoon's discussion, which the judge agreed to. "We have every reason to believe some of the documents received relate to my client and privacy issues you speak about," he told the court.
This is a developing story. Please check back at BuzzFeed News for the latest.