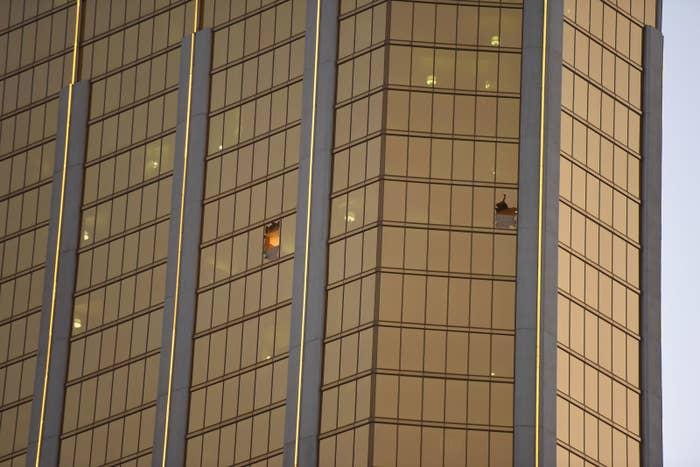 The man who opened fire from a high-rise casino in Las Vegas, killing 58 people and injuring hundreds more, had lost $1.5 million in the two years before the Oct. 1 shooting and may have had bipolar disorder, but authorities on Friday said they are closing their investigation without determining a clear motive.
"What we have been able to answer are the questions 'who,' 'what' 'when' and 'how.' What we have not been able to definitively answer is the 'why' Stephen Paddock committed this act," Clark County Sheriff Joe Lombardo said at a press conference.
Paddock, 64, opened fire from the 32nd floor of the Mandalay Bay hotel onto a crowd of thousands gathered for the Route 91 Harvest country music festival, marking the largest mass shooting in modern US history. In addition to the 58 deaths, 869 people were injured after Paddock fired a total of 1,057 shots.
Lombardo confirmed that all evidence shows Paddock acted alone and was the sole shooter, and that there was nothing indicating any radicalization or links to a specific ideology.
"By all accounts, Stephen Paddock was an unremarkable man whose movements leading up to Oct. 1 didn't raise any suspicion," Lombardo said.
A primary care physician told investigators that based on an appointment in late 2016, he believed Paddock may have had bipolar disorder, but that he did not want to discuss it. The physician also said Paddock refused antidepressant medications.
"An interview with his doctor indicated signs of a troubled mind, but no troubling behavior that would trigger a call to law enforcement," Lombardo said. "Without a manifesto, or even a note to answer questions, the totality of the information that has been gathered leaves us to only make an educated guess as to the motives of Stephen Paddock."
The information gathered over the nearly 10-month investigation included 2,000 leads, 22,000 hours of video, 252,000 images obtained, and about 1,000 served legal processes, according to the criminal investigative report. Las Vegas police have also been releasing bodycam footage and other records related to their response.
In addition to concerns about Paddock's mental state, investigators found that his bank accounts had dropped by roughly $1.5 million between September 2015 and September 2017, and surmised that his diminishing wealth "could have been a contributing factor," the sheriff said.

There were also indications that Paddock had long been planning a mass shooting.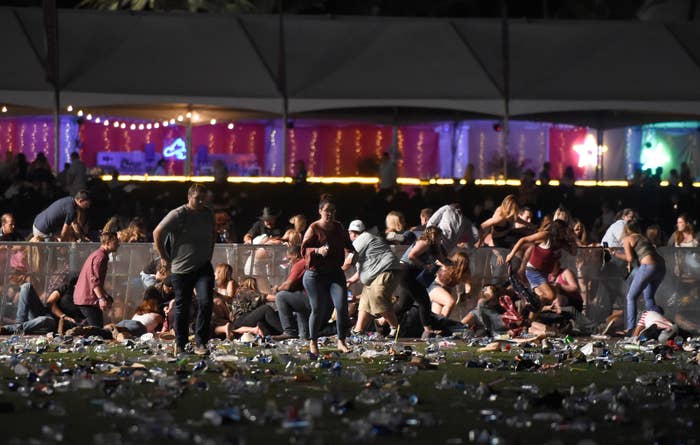 In the year leading up to the Oct. 1 massacre, he purchased 55 firearms, mostly rifles, and his internet searches included "Biggest open air concert venues in USA" and "How crowded does Santa Monica Beach get."
Paddock stayed at another Vegas hotel, the Ogden, just weeks before the shooting, and that visit coincided with the Life Is Beautiful festival. Security footage shows Paddock bringing many suitcases into the hotel, as he later did at Mandalay Bay, presumably to transport the weapons.

Paddock also had a booking at a hotel next to the Chicago Lollapalooza festival, which he canceled days before the event.
In the days leading up to the shooting, Paddock gambled, returned to his home in Mesquite, Nevada, and continued to bring more suitcases into his hotel room.
The report also includes a summary of multiple interviews with Marilou Danley, Paddock's partner, who was initially identified as a person of interest in the shooting (she had traveled to the Philippines to visit family shortly beforehand).
According to Danley, Paddock was an atheist who supported President Trump and his immigration policies, but had no strong political opinions around gun control. She also described Paddock as nonviolent and said she was unaware of his plans.
The FBI's Behavioral Analysis Unit, meanwhile, is continuing to work on a report examining the psychopathology of Paddock, which is due to be released at the end of the year. However, Lombardo said he did not want to give any notoriety or attention to Paddock.
"I don't want to remember this individual," he said. "I will remember the act and the victims, but I will not remember the suspect."
CORRECTION
Mesquite, Nevada, was misspelled in an earlier version of this post.