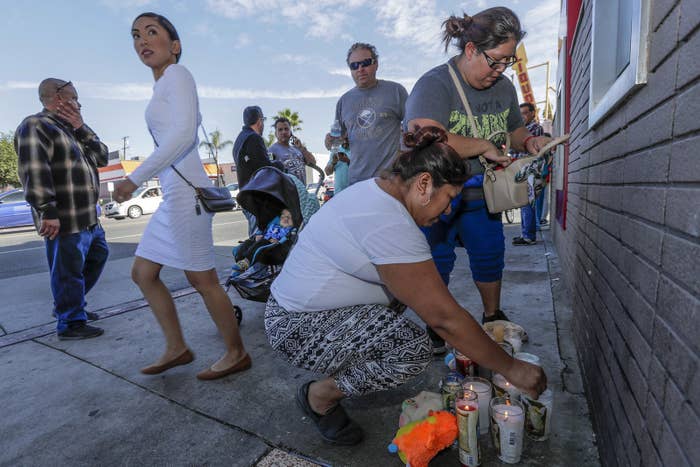 A Los Angeles Sheriff's Department car, responding to an emergency call, jumped a curb and fatally struck two children walking home from school with their mother Thursday.

Jose Luis Hernandez, 7, died at the scene, while his older brother, 9-year-old Marco Antonio Hernandez, was pronounced dead at the hospital, according to the Los Angeles Police Department. The boys were identified by relatives who spoke with the LA Times.

The deputies were responding to an emergency call when their vehicle collided with another at Whittier Boulevard and Indiana Street in the Los Angeles neighborhood of Boyle Heights, causing a three vehicle pile-up. In addition to the two boys who were killed, three other pedestrians, including the boy's mother, were injured in the accident.
"The force of the collision caused the deputy's patrol vehicle to run off the roadway and hit three pedestrians, a mother and her two children," said the Los Angeles Police Department in a press release.
"The second car struck a third vehicle, causing injury to two additional adult pedestrians in the crosswalk," it continued.
Witnesses at the scene said the sheriff's deputy car did not have its sirens on and may have only turned its lights on moments before the crash.

"You're supposed to turn on your lights, sirens, and check before taking off," said Hector Lopez, who had heard the crash.

"The sheriff's SUV may not have taken the proper precautions before entering the intersection, which may have caused this collision and ultimately led to the serious injuries of my client," Carlos Gomez, an attorney for Adolfo Robles, a 56-year-old man injured in the crash, told KTLA.

The LAPD said the crash is being investigated. LA County Sheriff Jim Mc Donnell told KTLA that the driver was a female deputy who was in training for patrol duties.

"I got the call and I didn't believe it," the victims' older brother Luis Hernandez told the LA Times, as he lit a candle at memorial at the crash site on Friday.

"I just didn't believe it," said Hernandez.
"LASD extends our deepest condolences to the families and all those affected by this tragic accident," tweeted the sheriff's department.