The organizer of the deadly white supremacist rally in Charlottesville, Virginia, on Friday said the death of a woman killed protesting the event was "payback."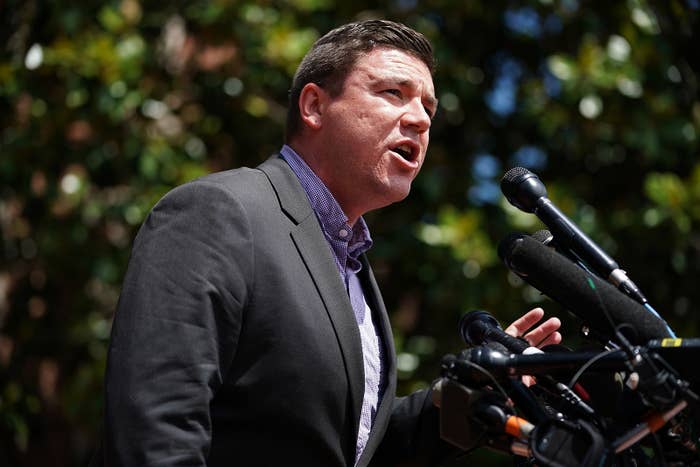 The Aug. 12 Unite the Right rally has dominated national headlines after a car drove into a group of anti-racist protesters, killing 32-year-old Heather Heyer and injuring 19 others.
President Donald Trump subsequently caused widespread, bipartisan outrage by saying there were "very fine people on both sides."

On Friday night, Kessler, who organized the rally, tweeted that Heyer "was a fat, disgusting communist."
"Looks like it was payback time," he wrote, linking to an article from Daily Stormer, a KKK website.
At first Kessler tried to say his account had been hacked, and a Daily Stormer administrator claimed it had been him.
But Kessler then tweeted Saturday morning that he had been drinking alcohol and taking Ambien and Xanax, and he did not remember posting the "heinous tweet."
"I repudiate the heinous tweet that was sent from my account last night. I've been under a crushing amount of stress & death threats," he wrote.
He later appeared to have deleted his account.
The day after the deadly protest, Kessler had said he disavows "political violence" and called the event "tragic."

Other so-called "alt-right" activists and organizers tried to distance themselves from Kessler, including white nationalist Eli Mosley:
As did alt-right leader Richard Spencer, who was due to speak at the Unite the Rally protest before police shut down the event.
"I will no longer associate with Jason Kessler; no one should," Spencer wrote on Twitter.

When asked about Kessler's account, a Twitter spokesperson told BuzzFeed "we do not comment on individual accounts, for privacy and security reasons."
Heyer's mother, Susan Bro,
told Good Morning America on Friday
that she refused to speak to President Trump, who had left voicemails during her daughter's funeral, because of his comments following the Charlottesville protests.
"I saw an actual clip of him at a press conference equating the protesters like Miss Heyer with the KKK and white supremacists," said Bro.

"You can't wash this one away by shaking my hand and saying I'm sorry," added Bro. "I'm not forgiving for that."
At Heyer's funeral in on Wednesday, her mother spoke against the white supremacist protesters in Charlottesville.
"They tried to kill my child to shut her up. Well, guess what? You just magnified her," she said.