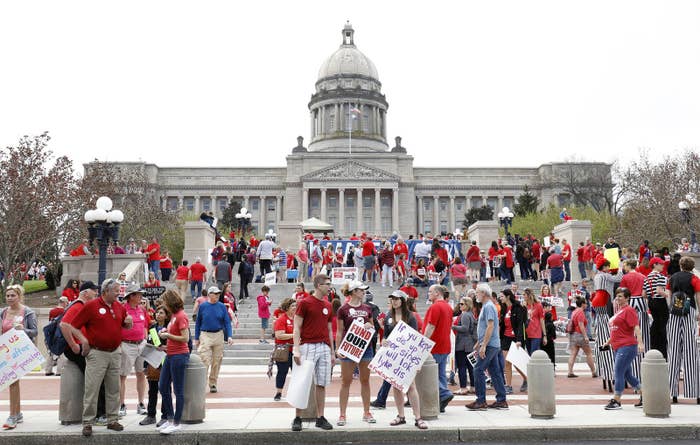 Kentucky Governor Matt Bevin apologized Sunday for comments he made two days earlier, in which he accused public school teachers protesting proposed education cuts of leaving children vulnerable to being "sexually assaulted" and "physically harmed."
"I guarantee you somewhere in Kentucky today a child was sexually assaulted that was left at home because there was nobody there to watch them," Bevin reporters Friday, after thousands of teachers protested across the state. "I guarantee you somewhere today a child was physically harmed or ingested poison because they were home alone because a single parent didn't have any money to take care of them."
On Sunday, Bevin issued an apology of sorts, saying in a four-minute video that his remarks had "unintended consequences."

"Many people have been confused or hurt or just misunderstand what it was that I was trying to communicate," Bevin said.
"For those of you who understood what I'm saying, thank you. But clearly a tremendous number of people did not fully appreciate what it was that I was communicating, and I hurt a lot of people," he continued. "I apologize for those who have been hurt by the things that were said. That was not my intent whatsoever."
"For those of you who have been hurt, it is my absolute, sincere apology to you," he said. "It is not my intent to hurt anybody in this process but to help us all move forward together. We need each other. We're in this together. We are Kentucky."
Bevin's initial remarks came as the Kentucky state Senate voted 20–18 Friday to override his the governor's veto of House Bill 366, a tax measure to increase funding for public schools following weeks of protests by teachers across the state.
Over 30 school districts closed on Friday as a result of the protests, and between 4,000 and 5,000 teachers demonstrated outside the state to voice opposition to the budget cuts, as well as a pension reform bill, the Lexington Herald Leader reported.
When asked by reporters what he thought of the protests, Bevin described it with disdain. "I saw a lot of people hanging out, shoes off — even early in the morning — hanging out smoking, leaving trash around, taking the day off," he said.

"You know how many hundreds of thousands of children today were left home alone?" said Bevin on Friday afternoon. "Children were harmed — some physically, some sexually, some were introduced to drugs for the first time — because they were vulnerable and left alone."
Bevin's office did not respond Saturday to a BuzzFeed News' request for comment, and his office did not reply to questions about whether the governor had evidence backing up his concerns.

Teachers unions immediately slammed Bevin for his comments.

"Is Governor Bevin out of his mind?" said Randi Weingarten, president of the American Federation of Teachers, in a comment to BuzzFeed News. "Who is he suggesting would harm kids in this way if they were home or not in school? Is that what he thinks happens to Kentucky kids at night or on weekends?"
Brent McKim, president of the Jefferson County Teachers Association, in Louisville, Kentucky, called the remarks "absurd."
"I don't think the governor's comments are in any way accurate," he told BuzzFeed News. "With his reasoning, it wouldn't be popular to have summer break, which lasts for weeks."
The president of the Kentucky Education Association, Stephanie Winkler, tweeted that she was "appalled" by the remarks.
Lily Eskelsen García, president of the National Education Association, the remarks were not only "irrational" but also "insulting to the educators and parents who are courageously and respectfully advocating for a better future for the Kentucky children."