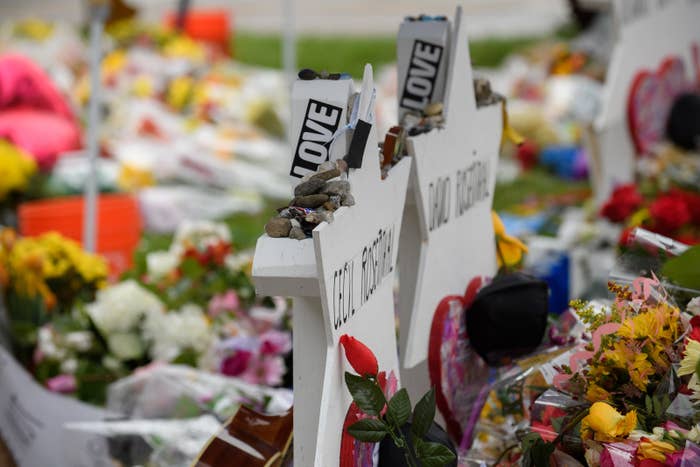 A white supremacist who fantasied about killing "Jews and blacks" was arrested last week after telling his family the 11 people killed at the Pittsburgh synagogue shooting "deserved" it.
Jeffrey Raphiel Clark Jr., 30, was arrested for unlawful possession of a firearm and possessing high-capacity firearms on Nov. 9. The criminal complaint against him was unsealed Tuesday.
The complaint reveals that Clark was "friends" with the Pittsburgh shooter on the social network Gab — known for being friendly to the alt-right — and played a video game called Ethnic Cleansing and posted in support of the white supremacist who massacred nine people in a black church in Charleston in 2015.

After the Pittsburgh shooting, Clark posted on Gab: "this was a dry run for things to come."
Clark's public defender didn't immediately return a request for comment.
He described himself on Gab under his username DC Bowl Gang ("bowl" is a reference to the bowl haircut of the Charleston shooter) as: "Meth-Smoking, Pipe Bomb making, mailman-murding,#Fed,#DemoKKKrat, Che Guevara of the altright."
Clark lived in DC with his father, sister, and brother, according to the criminal complaint, and the brothers both were active in the white nationalist community online. They attended the white nationalist Unite the Right rally in Charlottesville, Virginia, in 2017 and appeared in a photo holding the flag of Vanguard America, a white supremacy group.

Just hours after the Pittsburgh shooting on Oct. 27, Clark's younger brother, Edward "Teddy" Clark, committed suicide on Theodore Roosevelt Island in Washington, DC. Magazines of ammunition were found with his body.

On the day of the Pittsburgh shooting, Clark woke up around noon and found his brother wasn't home. He immediately called his mother to report his brother missing and said he was going to call police, despite his brother being 23 years old, according to court documents.
After Edward's death, Clark became "really riled up" and "agitated," telling family members that he and his brother "had both fantasized about killing 'Jews and blacks,'" the complaint said.
Two family members contacted the FBI out of fear that he'd hurt himself or others. The two anonymous family members also tried to confiscate his firearms, with Clark giving them boxes of gun parts he did not legally own, which are used to modify AR-15 assault rifles. He also has two legal firearms, which he did not give his family members.
Clark and his brother held up murderers Timothy McVeigh, Ted Kaczynski, and Charles Manson as heroes, according to the family members. They also told the FBI that photos online of the Clark brothers at the Charlottesville rally in 2017 show them next to the white nationalist who drove his car into counterprotesters, killing Heather Heyer.
HuffPost reported that in May 2017, the Clark brothers worked with Jack Posobiec, an alt-right personality who pushed the false Pizzagate conspiracy, on a film about the death of Democrat staffer Seth Rich. Rich's murder is a popular and unfounded far-right conspiracy, which his family has tried to quash.
Posobiec denied to HuffPost that he knew Clark or had been involved in a film, but HuffPost published photos it says are of the Clark brothers and Posobiec with cameras and microphones in hand.
After the Pittsburgh shooting, Clark told his family that the victims "deserved" it and that the actions were "justified," as he believed a homosexual Jewish couple were holding a bris ceremony for their baby at the time.
He posted on Gab after the shooting: "fucking kikes that got shot by the hero #RobertBowers were all active supporters of pedophilia… and every last one of them deserved exactly what happened to them and so much worse."
Clark sold marijuana and smoked it regularly, according to the complaint. He also posted about smoking meth.

The family members also told authorities that they feared Edward had been intending to harm others on the day he killed himself, which is why he was found with extra ammunition.