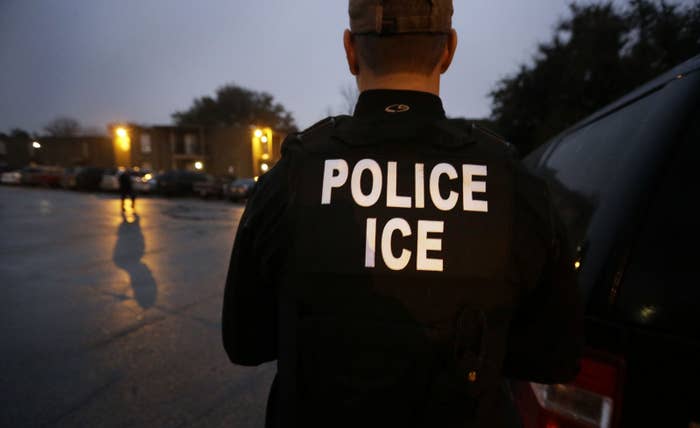 An Immigration and Customs Enforcement director from San Francisco apologized after sharing an offensive meme on social media.

David Jennings, a field office director for enforcement and removal operations, posted the meme of three large umbrellas, supposedly mistaken for women in traditional Islamic dress, on LinkedIn three months ago. The San Francisco Chronicle first reported that the image had been shared by Jennings.
The photo is accompanied with the words: "I spent 20 minutes talking to them to learn more about their culture until the barman told me they were umbrellas."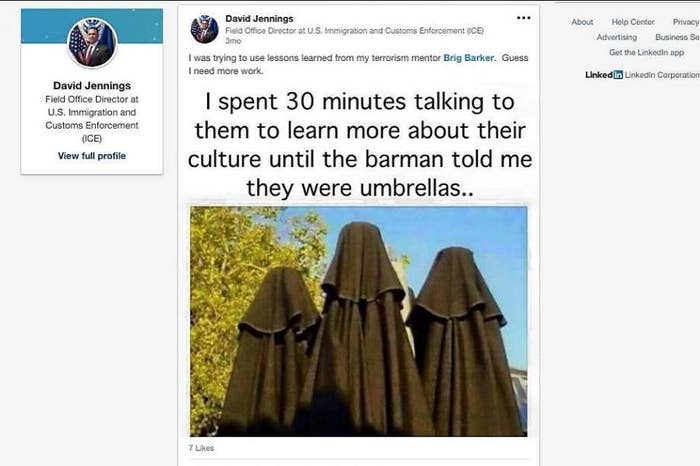 "The post was directed to a former co-worker and instructor in Arab culture and was meant to poke fun at myself and use me as an example to show that everyone can and should keep learning about people from different cultures, including people like me with extensive experience working with different cultures and traditions," said Jennings in a statement provided to BuzzFeed News by ICE.

In his original posting, now deleted, he did tag a person he called "my terrorism mentor."
"I am horrified that the post would be taken as anything other than a dig at myself, but upon further reflection, I understand how it could be interpreted otherwise and am truly sorry. It was not my intention to offend anyone and I hope that the explanation of my intent assuages any hurt the post may have inadvertently caused. I have removed the post to avoid anyone else being offended," said Jennings.
The Chronicle reported that another ICE officer "liked" the post. Other LinkedIn activity by Jennings shows him liking posts about border security news, including a story on the possible use of DNA testing to prove family relationships, and posts complaining about sanctuary states and cities.
The removal of the meme comes as ICE ramps up operations around the country, with more than 150 people arrested in Northern California in just three days during a sweep by ICE officers last month.
President Trump's tighter immigration orders called for the hiring of an extra 10,000 ICE officers to undertake arrests and deportation proceedings. In the 2017 fiscal year, arrests by ICE officers jumped 30% from 2016, according to data from the Pew Research Center.