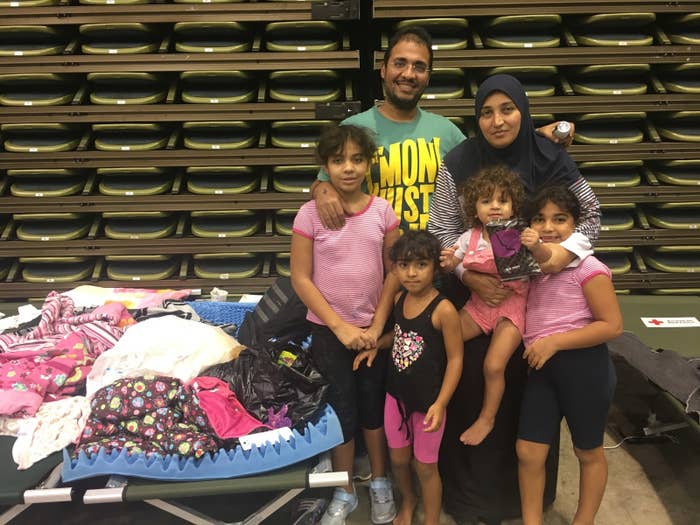 BEAUMONT, Texas — Over the past week the Dahab family has crossed Texas trying to escape Hurricane Harvey — fleeing their flooded home, a trapped car, and an evacuation center with no running water.

Four-year-old Zeina Dahab acted pretty nonchalant about her first helicopter ride, even though just hours earlier the Coast Guard had saved her and her family after a night spent in their stranded minivan, trapped by floodwaters, near Beaumont.
"It was loud," she told BuzzFeed News on Thursday, sitting in the dark at the Beaumont evacuation center, because the electricity had just gone out.
For her mother, Mariam, 32, the arrival of the Coast Guard chopper was pure relief.
"I felt finally safe," she said. "The last days, I was fighting all the time to save my kids' lives."
It's been a long week for the Dahab family, like many in Texas who've been affected by the devastating path of Harvey.
On Saturday, Mariam and her children — Zeina and sisters Hana, Farah, and Sofia, aged 9, 6, and 2 — slept in the bath after a tornado warning was issued for Katy, Texas.
The next day, the family fled their ground-floor home, moving to a friend's upstairs apartment in the same complex, The Retreat at Cinco Ranch.
Then on Monday morning, they all went to an evacuation center at Cinco Ranch High School, an hour before their apartment complex became inundated with water.
After four hours at the Cinco Ranch evacuation shelter, Mariam and the children were able relocate to a friend's home in Katy that wasn't under water.
Mariam, her husband Mohamed, 37, and their children moved to the United States from Egypt in February after Mohamed won the green card lottery.
"We thought it would be better. Hurricanes were the last thing I was thinking about," said Mohamed.

After six months of job hunting, he finally landed a job in Lake Charles, Louisiana, working as a project engineer at LACC, and started just two weeks ago.
With the children already enrolled and started at schools in Katy — summer vacation ended on Aug. 16 — the couple decided that Mohamed would go alone to Lake Charles at first and make the roughly 200-mile commute back and forth on weekends.
Mohamed was working the day the storm hit. He drove home to pick up his family from their friend's house in Katy, arriving on Tuesday from a trip that usually takes three hours but took seven because of the flooding and road closures.
On Wednesday the family packed up their few remaining belongings and headed off in their minivan from Katy, aiming for Lake Charles.
But their minivan became stuck as they drove toward the city, trapping them and three other cars on a bridge over Interstate 10, with all the exits flooded, around sunset.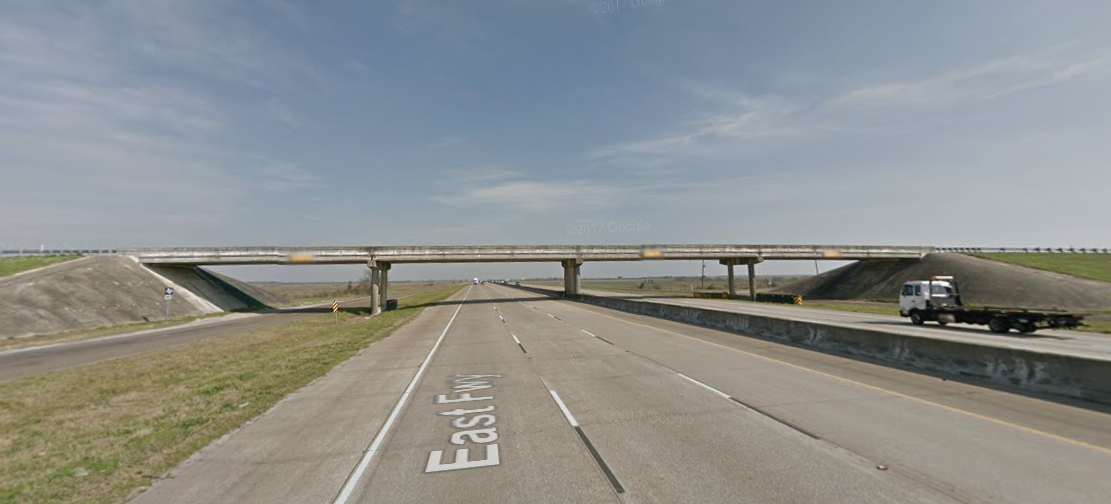 Unable to leave the bridge — and with darkness falling, floodwaters rising and four scared little girls — Mariam called 911 at 7:20 p.m. and again at 7:29 p.m.
An officer drove down the interstate underneath their bridge and said since the family was on the bridge and didn't have any medical emergencies, they should camp out for the night and wait for the water to recede — or turn around and go back the way they came.

Mariam, becoming increasingly scared for their safety, called again at 9:10 p.m.
"One of them comes and says, 'Do you have any emergency, like medical emergency or something,' and I say, 'No, but we are stuck,' and they say, 'OK, don't call 911 again," said Mohamed.
"He said, 'If you call back again we will take you to jail,'" said Mariam.
Texas State Troopers have not responded to a request for comment from BuzzFeed News.
"I told him, 'Please, I want you to help me, please. I want to save my kids' lives,'" said Mariam.
The family spent the night huddled in the minivan on the bridge, texting friends to let them know their location and what had happened. The kids watched a movie in the back. They went to the bathroom on the road outside.
Around 5 a.m., the Coast Guard, who'd been contacted by concerned friends of the Dahabs, called them to confirm their location but said they couldn't promise that they would be able to rescue them.
At 7:30 a.m, a helicopter arrived, accompanied by Mariam's grateful tears.
"When I saw it approaching, I prayed to God that they are coming for us," she said.
But their journey wasn't over yet. The helicopter dropped them off Thursday morning at the Beaumont Civic Center evacuation shelter. But Beaumont, which has been hit especially hard by Harvey, had lost its access to running water a few hours earlier.
At around 4:40 p.m, the evacuation center lost electricity and was plunged into darkness for around 30 minutes.
That's when BuzzFeed News met the Dahab family, sitting on their cots in the dark, holding one small black backpack with their documents and few possessions.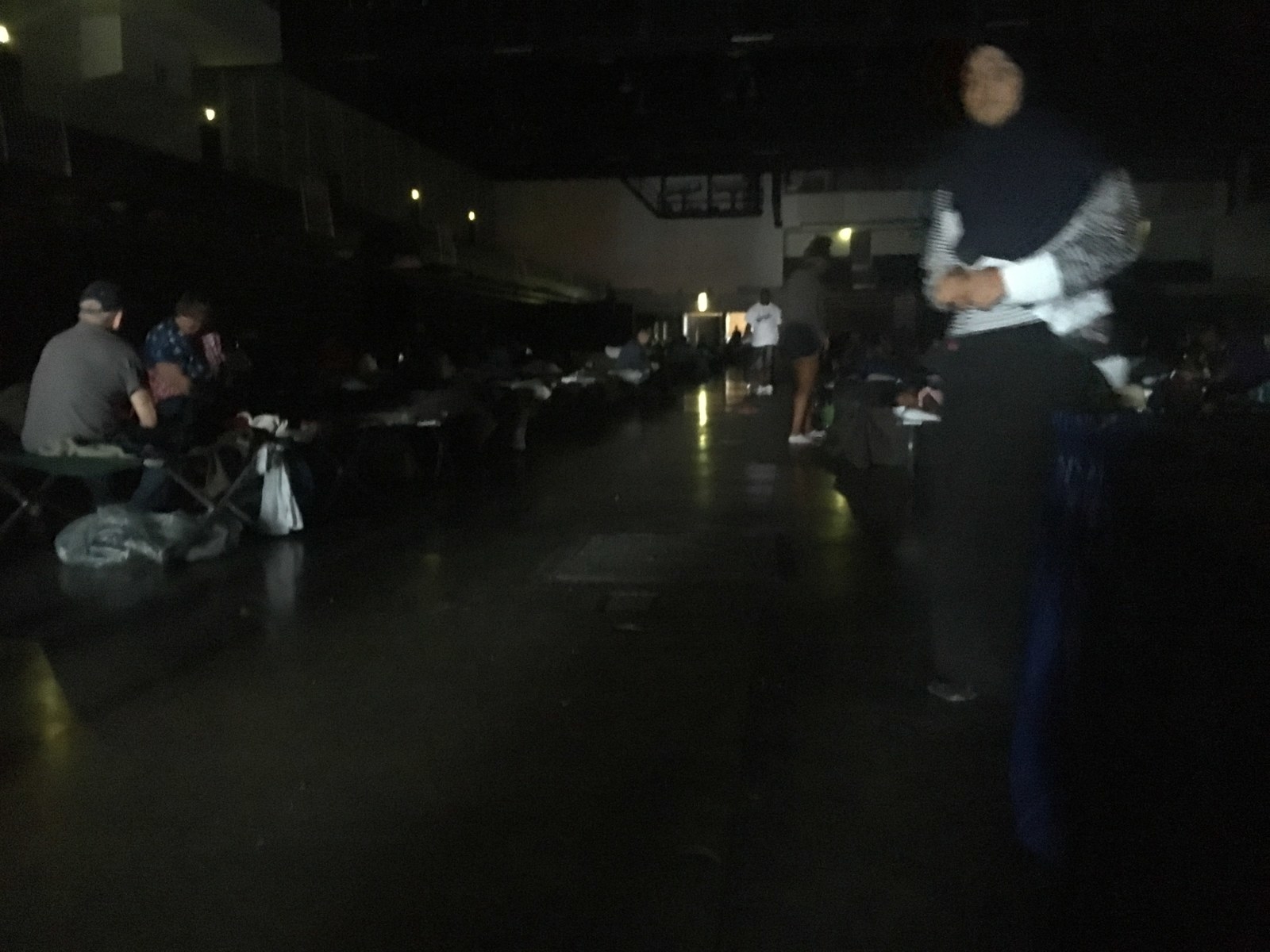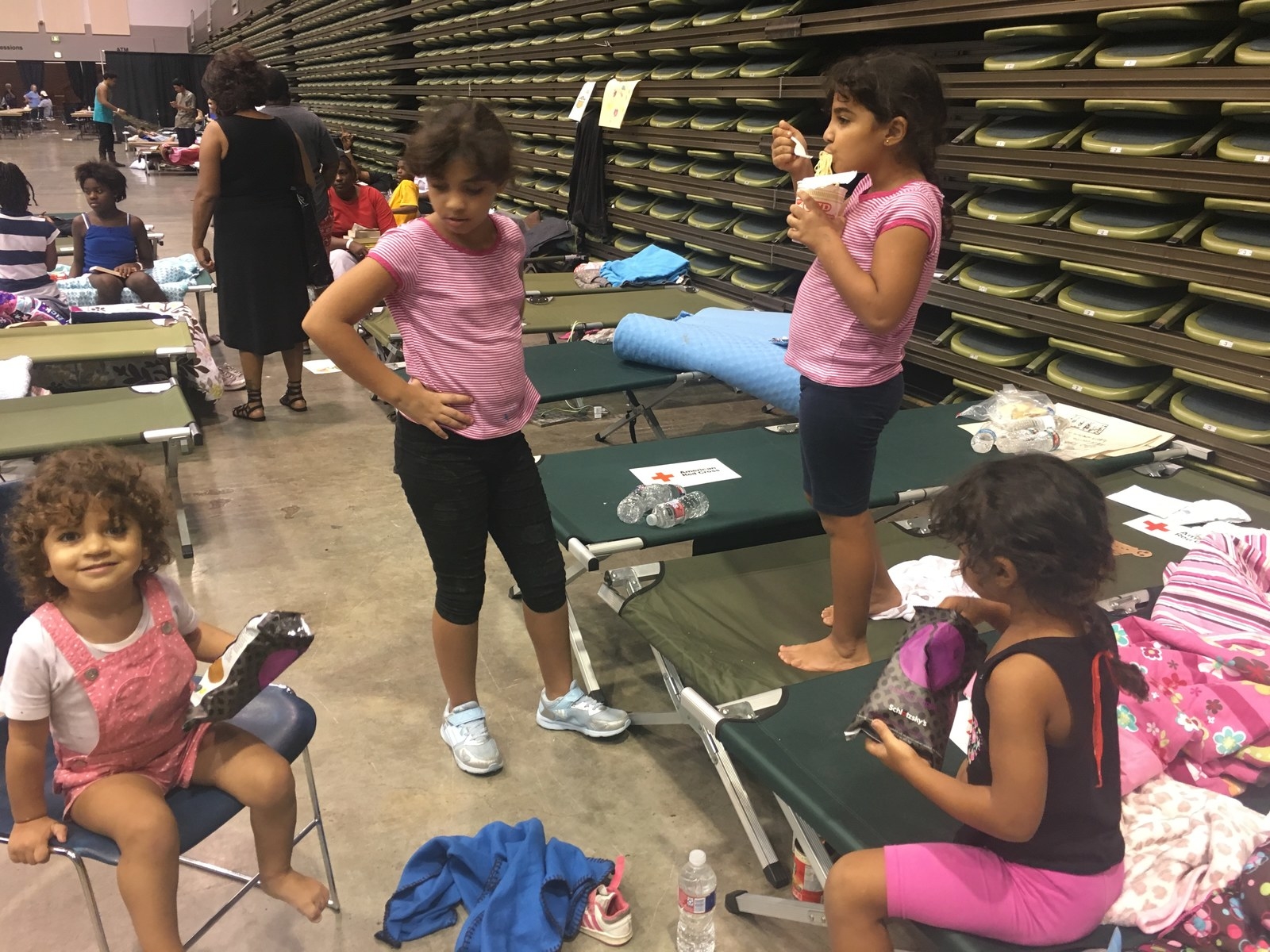 Mohamed was chipper about the prospect of another move. "Fine. What shall we do? This is the life," he said.
But Mariam struggled to stay positive. "Not for me. I'm feeling lost," she said.
Regardless, the family set off again. After realizing Beaumont was too flooded to bus people out, authorities decided to fly people to Dallas, where a 5,000-bed convention center shelter awaited.
The Dahabs, along with several hundred other evacuees from the two shelters in Beaumont, spent Thursday night sleeping on a bus outside the Jack Brooks regional airport in Port Arthur, Texas.
Friday was the celebration of Eid al-Adha, one of the holiest days of the Islamic calendar, and the family, who are Muslim, had planned to spend it feasting on beef and wearing new clothes (the new outfits left flooded in their Katy apartment).
Instead they sat on a bus, before flying to Dallas on an army cargo plane around 4:30 p.m.
Now Mohamed and Mariam are trying to figure out if their car is still sitting on the bridge, and if it's OK.

"We only have liability insurance — if we lost it we'll have nothing," said Mohamed.
If you've been impacted by the storm in Texas or have a tip about rescue, relief, government, or aid efforts, call the BuzzFeed News tipline at (646) 589-8598. Find us on Signal, email, SecureDrop, and more here.