In Everglades City, Uninsured Residents Don't Know How They Will Rebuild After Irma
In Everglades City, one of the south Florida towns hit hardest by Hurricane Irma, residents still lack running water, electricity, and sewage services.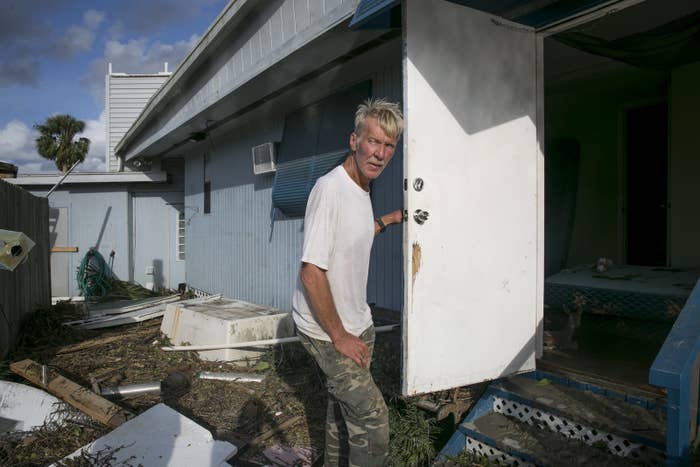 EVERGLADES CITY, Florida—It was when Hurricane Irma blew an entire room off of the south Florida mobile home, where Marlene Segein was taking shelter Sunday, that the 60-year-old became convinced she was about to die.

She tried phoning her daughter, but Segein hadn't paid her Verizon bill this month and wasn't able to make a call. She then thought to use wifi to text, to say she loved her. But the text didn't go through.
"Worst thing I've ever been through in my life," Seguin told BuzzFeed News. "I thought for sure I was going to die. I'm still shaking."
Segein lives in a trailer park on Plantation Island, just outside of Everglades City, where the swampy neighborhoods full of fishing boats and SUVs back onto Everglades National Park. When Irma arrived, she decamped to the home of her neighbor Kenny Crippen, 65, who runs a lawn-care business, to weather the storm.
Everglades City, along with the Florida Keys and nearby Naples, was one of the hardest hit by Hurricane Irma. The storm devastated the small town of 400 with hurricane force winds, and left behind a storm surge that locals estimated was about seven-feet high, filling many homes with floodwater, mud, and the promise of future mold problems.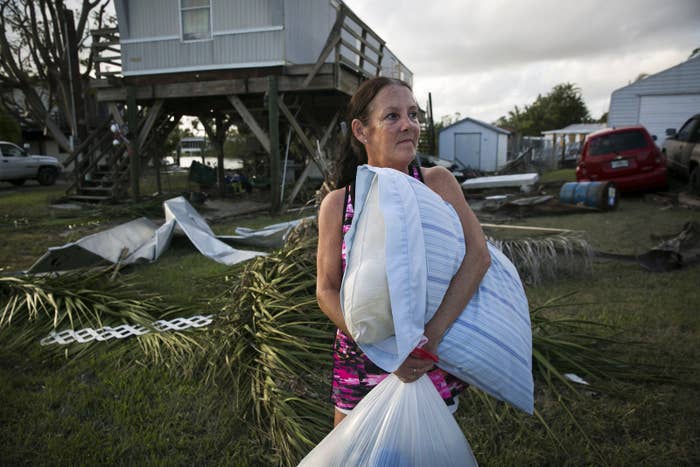 By Monday, there was still no running water, power, or sewage services. Whole streets remained underwater, looking more like rivers than roadways. Boats sat strewn across roads and parking lots. Random debris – a sofa, a washing basket, a bucket, a body board, a kayak – had washed up along the banks of Chokoloskee Bay.

On Plantation Island, a community of mostly working-class families living in mobile homes, with limited, if any, insurance coverage, people were unsure how they could afford to rebuild.
Crippen, who lives with his brother, Duane, 56, their 85-year-old disabled mother Virginia, and his beagle Bonnie, had stayed at home during other infamous Florida storms, and refused to evacuate for Irma, even as forecasts showed the Category 5 hurricane barreling into his part of the state.
"Where am I going? I don't have nowhere to go," Crippen told BuzzFeed News. His mother, he said, has bladder issues and didn't want to travel or stay in a shelter. So instead, they hunkered down until Irma's winds blew off the adjoining sunroom and parts of the roof.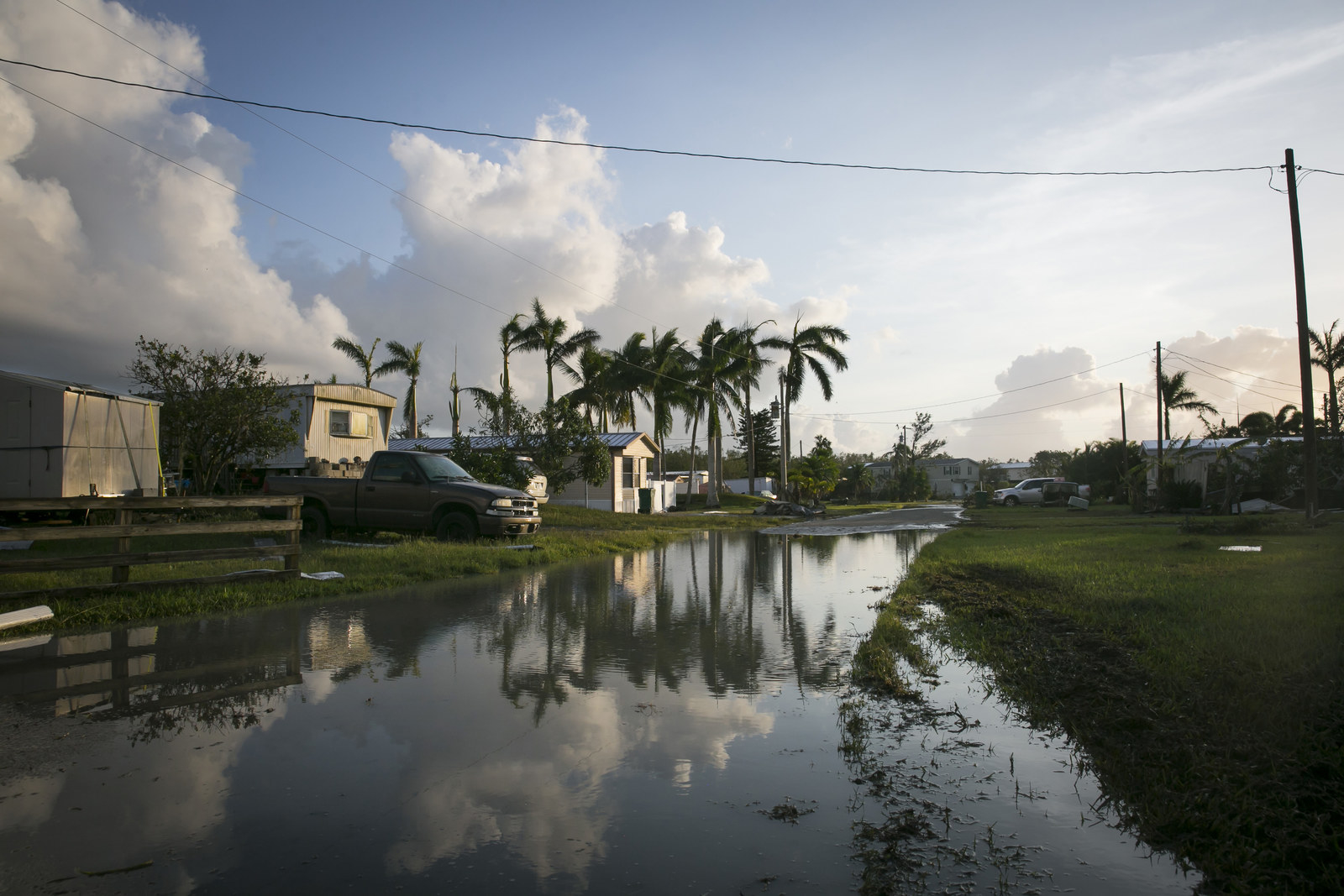 "I thought I was going to die, especially when the glass sliding door was open and you're looking at the floor disappear," said Seigen, of the moment the room blew away.

The group then moved to another mobile home, on the same property, that was unoccupied. After the storm surge brought several feet of water into that building, Crippen carried his mother in his arms through waist deep water—Duane and Seigen picked up the dogs—and used a screwdriver to break into a neighbor's home, where they all remained on Monday.
"I went into survival mode. Catastrophic disaster. You've got to do what you've got to do," Crippen said. When the owner returned Monday, he gave Crippen permission to stay as long as needed.
Crippen estimated that he lost $90,000 worth of belongings in the storm and flooding — including the lawnmowers he uses for his business, two Harley Davidsons, two Chevy trucks, and a Chevy HHR station wagon.

"There's no money. A couple of hundred dollars," he said. "I don't know what to do. The guy next door says, if we have to, we'll build me a place."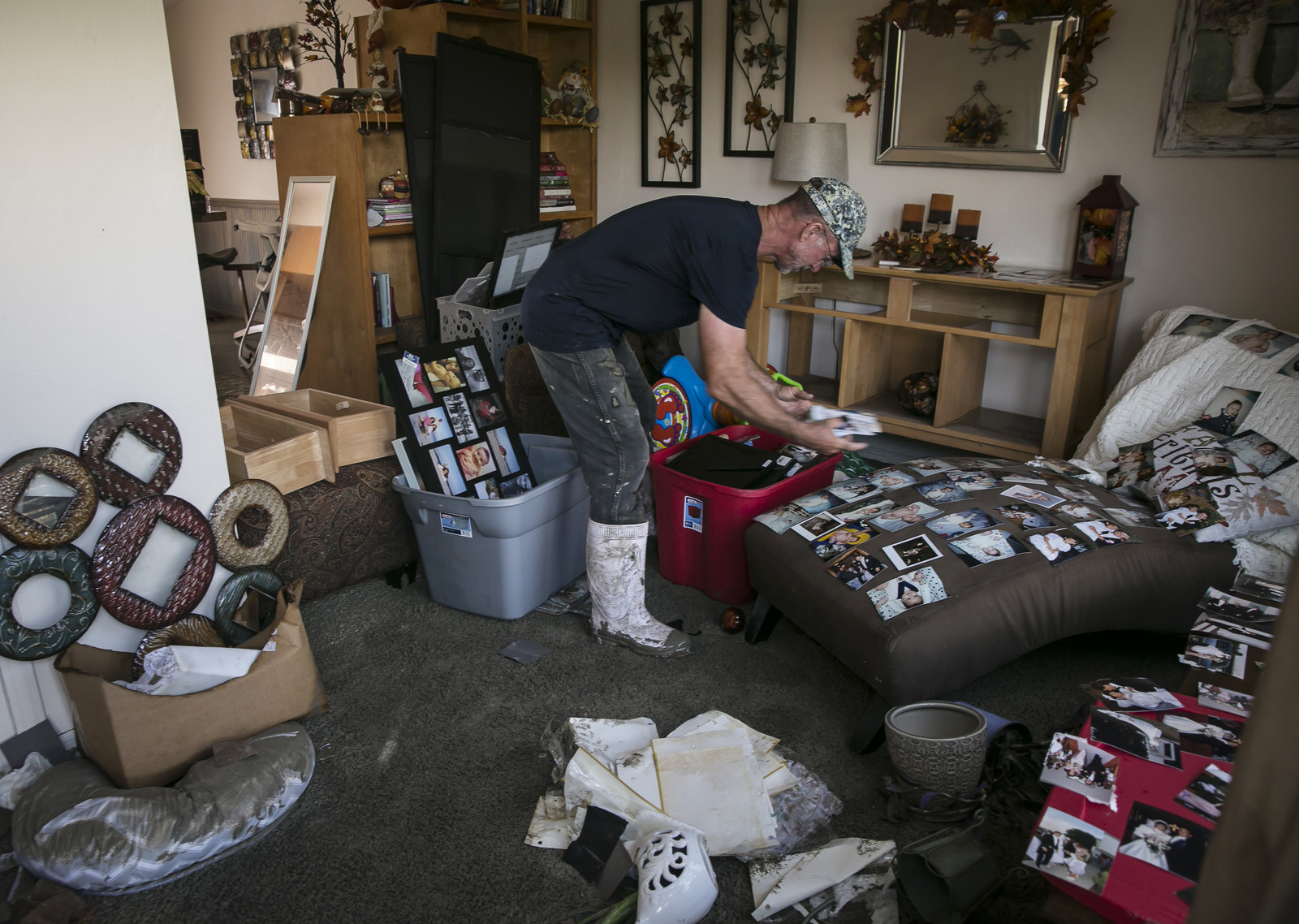 Nearby, another neighbor, Derrick Daffin, spent Monday cleaning out flooded belongings from the home he shares with his wife, daughter, and infant grandchild. He had stayed with a friend in another part of Florida during the storm, and returned to find the roof of the home blown off, downing a power pole. On Monday, a group of locals used a truck to help tow the debris out of the middle of the road.
Daffin had evacuated with his clothes, guns, fishing pole, ammunition, and a brand new air-conditioning unit. Left behind were family photos, including those taken at his wedding, which his friends were now desperately trying to collect and dry out.
"I lost everything," Daffin said. "We probably have to rebuild. Because it's bad."
Still, he acknowledged, it could have been worse. His brother had gotten trapped on Plantation Bridge as the storm surge came in, washing his SUV up against a barrier. Luckily, a friend had been able to save him via boat.
For local Jacob Pennell, 39, who described Everglades City as his favorite place in the world, watching his family and town struggle with the storm's aftermath was deeply distressing. Pennell said that he'd previously cried just three times, over the deaths of his father and grandparents, but was in tears on Monday over the destruction.
"It ain't as big as Houston," he said, "but it's just as bad."