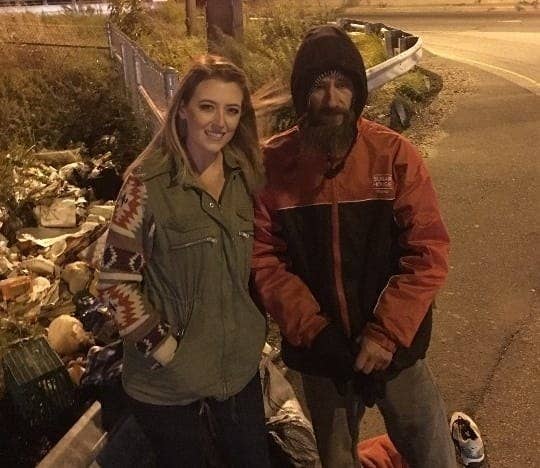 A couple and a homeless man who went viral in 2017 for a heartwarming story — where he used his last $20 to help a woman with car trouble, and she started a massive GoFundMe campaign to help him — have been charged with concocting the whole story to scam people into donating money.
"The entire campaign was predicated on a lie," said Burlington County Prosecutor Scott A. Coffina on Thursday. "They put out a story that hoodwinked an awful lot of people."
The trio became famous after the couple raised $400,000 for the man, Johnny Bobbitt Jr., on GoFundMe — and then refused to give him all the money. Officials now say all the money has been spent, and over $100,000 was withdrawn in and around casinos.
In November 2017, Katelyn McClure said that Bobbitt used all his cash to help her when her car ran out of gas on Interstate 95 last November. Her boyfriend, Mark D'Amico, launched a GoFundMe for Bobbitt, which attracted over 14,000 donors moved by the fake act of kindness.

"D'Amico, McClure, and Bobbitt conspired to pass off a fake feel-good story that would compel donors to contribute to their cause. And it worked, in a very big way," said Coffina. "But it was fictitious and illegal and there are consequences."
Bobbitt was arrested in Philadelphia on Wednesday by US Marshals. McClure and D'Amico handed themselves into the Burlington County Prosecutor's Office on Wednesday. They have all been charged with second-degree theft by deception and conspiracy to commit theft by deception.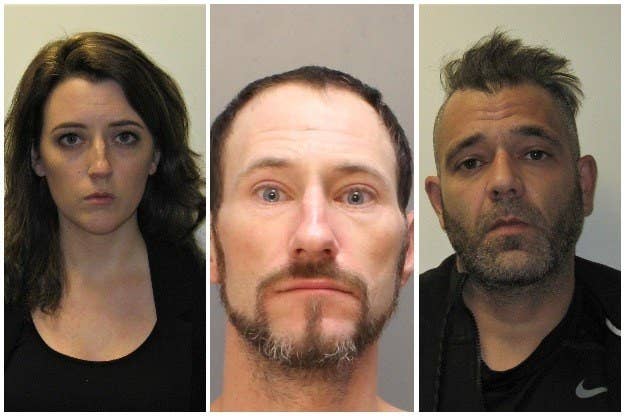 Coffina explained that the trio had known each other about a month before launching the GoFundMe campaign. D'Amico and McClure were struggling with financial issues and rising debt. Bobbitt was homeless and spent time at an interstate offramp near the SugarHouse Casino in Philadelphia, which the couple regularly visited.
All three "joined in" to the plan. Coffina noted that back in 2012, Bobbitt — who has long struggled with drug addiction and homelessness — posted on Facebook that he'd helped a woman who had run out of gas and also had a flat tire, a similar story to the one they told the world.
"I don't think that's a coincidence," the prosecutor said.
McClure originally claimed that Bobbitt saw her pull over, told her to lock her doors, then returned with a can of gas to get her moving again.
"Johnny did not ask me for a dollar, and I couldn't repay him at that moment because I didn't have any cash, but I have been stopping by his spot for the past few weeks. I repaid him for the gas, gave him a jacket, gloves, a hat, and warm socks, and I give him a few dollars every time I see him," wrote McClure on the GoFundMe page.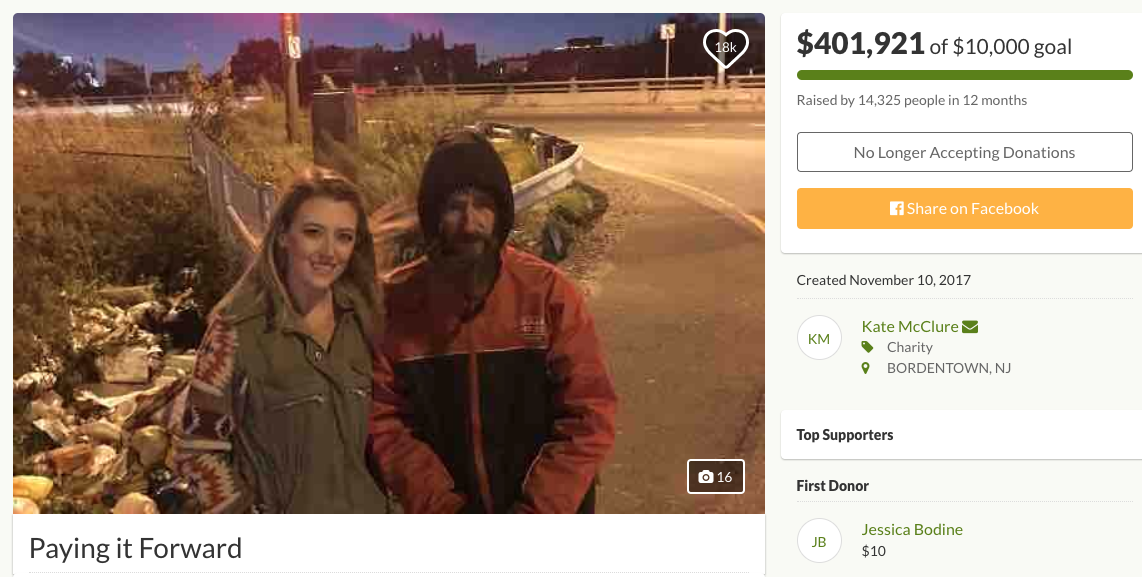 But the prosecutor revealed that less than an hour after the fundraiser went live, McClure texted a friend and admitted the story — complete with a posed photo of her and Bobbitt at the interstate ramp — was a lie.
"Ok so wait, the gas part is completely made up, but the guy isn't. I had to make something up to make people feel bad. So shush about the gas stuff," she texted a friend, according to Coffina.
Then, in August, Bobbitt came forward alleging that the couple was refusing to give him the money raised on his behalf, and that he was once again homeless. He sued in a civil suit. Bobbitt received $75,000 of the $367,000 total the couple got after fees from GoFundMe.
"Giving him all that money, it's never going to happen. I'll burn it in front of him," D'Amico told the Inquirer at the time, alleging that the money was in a savings account and wouldn't be given to Bobbitt until he was employed and not using drugs.

But a few months earlier, while venting via text to a friend, McClure expressed frustration that Bobbitt wasn't going to rehab.

"I'll be keeping the rest of the money, fuck you very much," she wrote. Her friend replied, "He could out you."
Bobbitt did accuse them of spending his money. The couple paid back $9,800 in debts to family members, roughly the amount they'd originally set as the goal of their GoFundMe. They spent $24,000 on a BMW, $11,000 on designer handbags, $20,000 on vacations in Las Vegas, Disneyland, and Disney World, and also spent more than $12,000 on cryptocurrency.
The couple "squandered the vast majority of the money," said Coffina, noting that they'd "hit the casinos, hard."
Over $20,000 was used specifically for casino play and another $89,000 was withdrawn as cash in and around casinos.
But Bobbitt's frustrations at not getting his fair share, or all the money, made the scheme fall apart. Asked if the trio may have gotten away with the scam if Bobbitt hadn't sued for his share, Coffina replied there was "a good chance they might have."

The couple spent about $2,000 for Bobbitt to stay at a hotel in December, then purchased a trailer he lived in on their property. By June, McClure had sold the trailer for $10,000, and Bobbitt was back to panhandling.
But the couple remained hopeful they could get another payday via a book and movie deal. They had in December met at a publisher's office and had a contract with a literary agent, and continued to meet and exchange messages over the following eight months.
"In a year you'll be laughing about when you blew hundreds of thousands," D'Amico texted McClure after she said she couldn't believe the money was almost gone.
In September, following the lawsuit and inconsistencies in their stories, police searched the home of McClure and D'Amico and said it was part of a criminal investigation.
GoFundMe said in September it was "committed" to ensuring that Bobbitt received the money. On Thursday, it confirmed that all donors to the campaign will receive a full refund and it was working with prosecutors.
"While this type of behavior by an individual is extremely rare, it's unacceptable and clearly it has consequences. Committing fraud, whether it takes place on or offline is against the law," said GoFundMe spokesperson Bobby Whithorne.