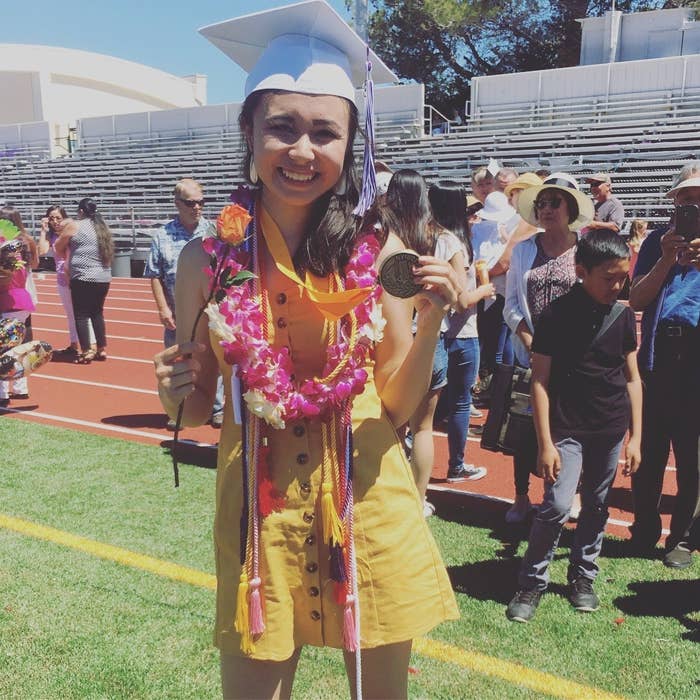 A California high school valedictorian was inspired by Martin Luther King Jr. to ignore school administrators and speak out publicly against the treatment of sexual assault victims, including herself, during graduation.
But that's when Petaluma High School officials cut the microphone in the middle of her speech Saturday, prompting cries of "let her speak" from the audience.
"I was disappointed in them," said 17-year-old Lulabel Seitz, who ended up recording her speech and publishing it on YouTube as "valedictorian speech uncensored."
Lulabel, who said she wasn't surprised "because they do this a lot, they make students be quiet," found out she would be valedictorian several months ago and had long planned to discuss both the good and bad experiences of the class of 2018. For her, that included being sexually assaulted by a fellow student during school hours on multiple occasions last fall.
Lulabel said although Petaluma High School was aware of the assault and police took action, the boy continued to be allowed on campus and to attend graduation. The school's response frustrated her, she said.
"They don't really do anything to the perpetrator," she told BuzzFeed News.
She added that other girls had experienced the same treatment.
School officials, citing student privacy, did not respond to BuzzFeed News' specific questions and instead sent a press statement from the school district.
"Administrators and staff in Petaluma City Schools care deeply about the safety and well being of our students. Due to student privacy issues, we cannot and should not respond with specific information," the district said. "We can say that when issues of sexual assault come to our attention, local law enforcement has initial jurisdiction and determines the course of action.
"If an alleged event happens off campus or on, we work to support our students with appropriate discipline, extensive counseling, and whatever measures we can take to protect our students while they are in our learning environment."
Lulabel said administrators told her they had to approve her speech in advance and if there was anything negative in the draft, she wouldn't be allowed to speak. School administrators had apparently been tipped off that she had been planning to mention the sexual assault issue.

"They pulled me out of my last class in high school to say 'You can't speak about how we treat sexual assault victims,'" she said.
But Lulabel added that she was able to negotiate her being able to mention a teachers strike that affected the school last year.
On Friday, the night before graduation, Lulabel — who often participates in speaking competitions — was searching speeches online and came across a quote by King that resonated: "The ultimate tragedy is not the oppression and cruelty by the bad people but the silence over that by the good people."
"I thought about that a lot, if I'm going to be quiet about this, that's really sad...because it'll just keep persisting," she said.
Lulabel didn't plan to specifically mention the boy who harassed her, or speak about what had happened, but wanted to address the school's treatment of assault victims.
"I wasn't going to do it because they kept scaring me and threatening me. But I thought, if I don't stand up for me and the other girls, then who is going to do it?" she said. "It was just a kind of a moral decision I had to make."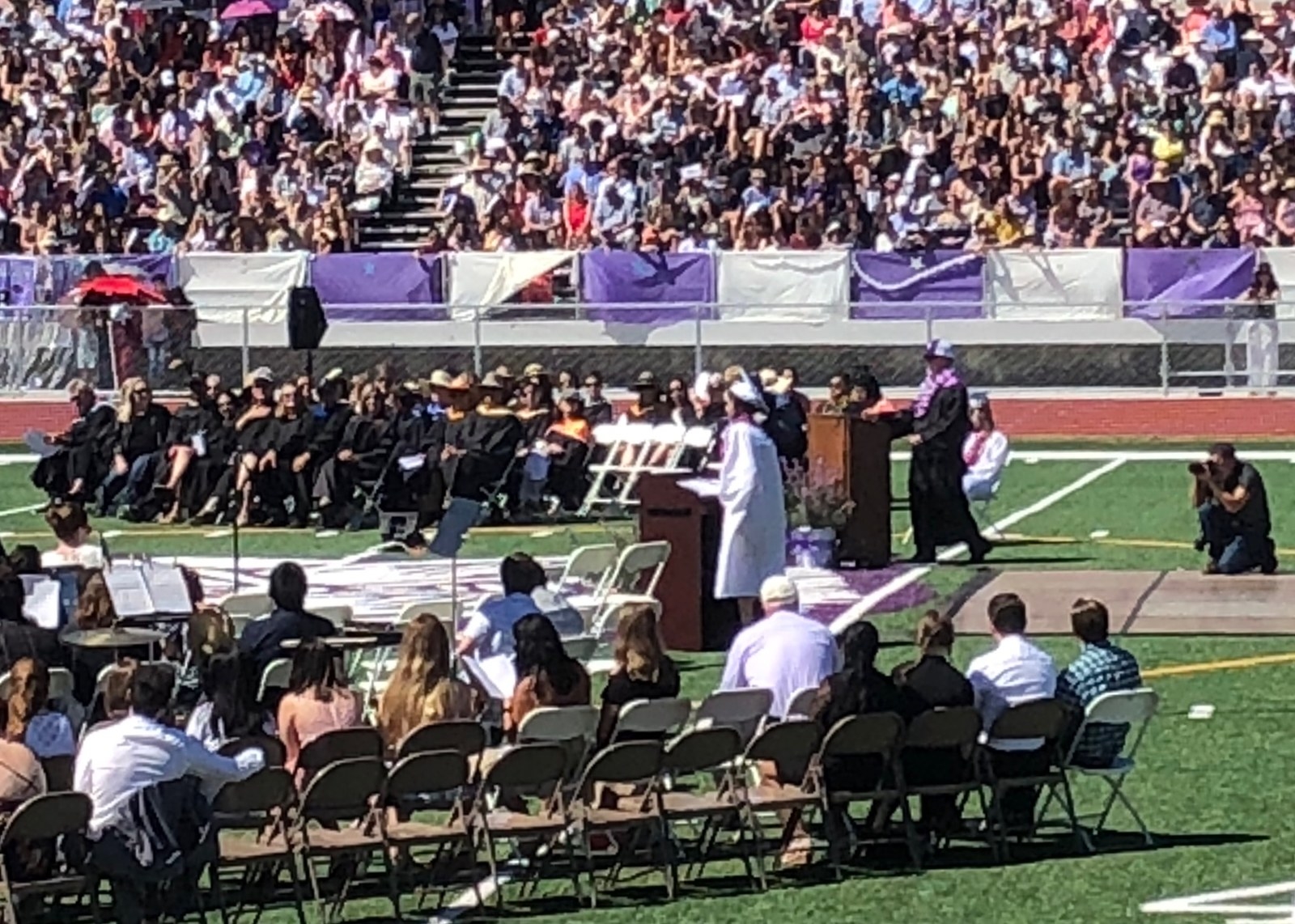 On Saturday, the speech didn't go completely as planned. When Seitz walked up to the podium, the written speech was not there as she had been told it would be. Instead, she started reciting as much as she could from memory.
"I thought they would cut me a lot earlier, I was doing that on the fly," she said.
After nearly four minutes, just as Lulabel started to move into the section where she planned to mention sexual assault, the microphone was cut.
"The class of 2018 has demonstrated time and time again that we may be a newer generation, but we are not too young to speak up, to dream, and to create change. Which is why, even when some people on this campus, those same—" Lulabel said before the sound ended.
That's when the audience began cheering "let her speak."

Lulabel said the school principal told her she wouldn't be continuing her speech, to which she retorted with a Malcolm X quote: "A man who stands for nothing, will fall for anything."
However, a school official, while not going into detail, told BuzzFeed News Lulabel's version of events don't match with their own.
"Many of the assertions that Ms. Seitz is making do not match our perspective," David Rose, the assistant superintendent for student services at Petaluma City Schools, said.

In the video she later recorded, this was the next line as she intended to say it:
"Learning on a campus in which some people defend perpetrators of sexual assault and silence their victims — we didn't let that drag us down."
Lulabel is heading to Stanford University next year.