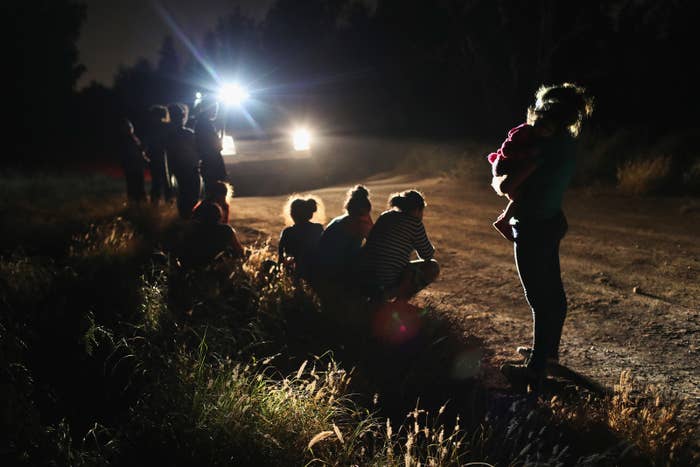 EL PASO — The two little boys squeezed next to each other on the studded leather chair at the front of Courtroom 4 in the El Paso Immigration Court on Thursday, happily hitting each other with a blow-up toy gavel given to them by the judge.
"What's your name?" asked Judge Robert Hough. An interpreter repeated the question in Spanish to the smallest one.
"Es un avion" — "It's a plane!" — the boy replied, pointing at a picture book with an illustration of a plane.
After the question was repeated, the boy told the court his name was Roger. The judge asked his age. Roger didn't answer the question, too distracted by the gavel and the book and the new surroundings.
His lawyer responded that Roger was 3 years old. The boy next to him in the chair was 5.

Roger crossed the border with his father, and they'd been separated by US Immigration and Customs Enforcement, better known as ICE. His father is detained, though Roger's lawyer does not know where. She has, however, spoken with him.
Roger is now in the custody of the vast and grinding American bureaucracy. His primary care comes not from his parents but the United States Department of Health and Human Services Administration for Children and Families.
His caretaker told BuzzFeed News to call a number connected to Lutheran Social Services for more information. They haven't responded.
The courts, such as this one, are suddenly trying to handle the removal proceedings of some 2,324 children separated from their families under the president's "zero tolerance" policy, which might change. The system is also trying to connect them with parents who are locked up elsewhere in the enormous spiderweb that is immigration detention.

"There's just a buildup of these cases," Roger's attorney, Danielle Escontrias, a staff attorney at the Diocesan Migrant and Refugee Services, told the court.

Roger's lawyer said the child is withdrawing his application for admission to the United States and is voluntarily leaving to return to Honduras.

His detained father is waiting for Roger so that the pair can be sent back together. His father will be deported, but Roger's withdrawal of application, which is allowed because he is a minor, means his immigration record remains cleaner. Escontrias had also spoken with his mother, who is not in the United States.

Not that Roger understood what was happening. He wore a checkered blue shirt and practiced his colors by pointing — "azul," "gris," "blanco." He played with the Velcro on the pockets of his navy blue cargo pants and removed his brand-new brown leather loafers, telling strangers in the waiting room outside that he wore a size 10 shoe.
Smiling photos of President Donald Trump and Attorney General Jeff Sessions hung in the waiting room of the immigration court. Roger and Basilio, the 5-year-old boy attending his own hearing, struggled, like all little kids, to sit patiently.

Basilio pretended to eat one of the invisible "pasteles," or cakes, that Roger offered him. He wore a bright orange T-shirt, blue jeans, and black leather shoes with Velcro straps. Basilio sat quietly next to Roger at first, the older boy seemingly more nervous than the 3-year-old.

Roger told the people waiting — mainly anxious teenagers, who crossed the border as unaccompanied minors and were wearing freshly pressed outfits, had their hair nicely styled, and were accompanied by employees of government contractor Southwest Key — about how he'd showered and cleaned his teeth before coming today.
He then declared loudly that he'd farted.

A volunteer gave them two books to read. Roger opened his book to a picture of a soccer field "parque, parque, mira un gol" — "park, park, look a goal!" They made "pew pew" noises and aimed finger guns at each other.

His caretaker kept some files in a folder with a graphic design of feathers on it. "Plumas como gallina! Tienen huevos!" — "Feathers like a hen! They have eggs!" — declared Roger.
When it came time for the boys' hearings, the judge allowed them to sit at the front of the court together, squished in the single leather chair. The immigration court is just a few rooms on the seventh floor of a federal building. The courtroom was small, just three rows of wooden benches.
"Ah, they're good friends?" asked Judge Hough.
"I guess right now they've been together for a while," replied the boys' caretaker.
Quiet Basilio has been speaking regularly by phone with his mother in Guatemala, but hasn't been in contact his father, whom he crossed the border with.
"That's definitely the biggest issue is we have dealt with, the lack of knowledge about where the other party is," Melissa Lopez, the executive director of Diocesan Migrant and Refugee Services, told BuzzFeed News. "They aren't told where their parents are. And the parents aren't told where their children are."

The Alien Registration Number, or A-number, given to Basilio's lawyer for Basilio's father does not match any records in the court system.
"Why that is I'm not sure," said Judge Hough, noting that an expedited deportation may have taken place.
"I'm kinda at a loss right now to verify what's going on, but you understand the court's continued concern about how these cases are being handled," the judge said.

His attorney, Escontrias, confirmed she'd spoken with Basilio's mother in Guatemala and she wanted her son returned.
Both Roger's and Basilio's withdrawal of applications were approved, meaning they'd soon return to their home country.
"We'll get you back to your mom as quickly as possible," the judge told Basilio.
During the hearing Basilio drew on a legal pad. At the end, the judge asked him for his drawing, done in ballpoint pen and yellow highlighter.
"What is this? The sun?" asked the judge.
"Mi papi," replied Basilio.