The father of a Parkland shooting survivor, who accused CNN of demanding his child read a scripted question about gun control, has admitted he removed words from an email exchange with CNN that he'd sent to media outlets to prove his case.
"There was nothing malicious behind it," Glenn Haab, the father of 17-year-old Colton Haab, told the Associated Press.
His claim that CNN scripted questions has become one of the biggest talking points for the pro-Trump media, which often push false conspiracy theories with little to no evidence.
Shortly after the Feb. 14 shooting at Marjory Stoneman Douglas, where 17 people were killed, CNN held a town hall with school students, parents, and politicians discussing gun control.

Colton had submitted questions, including some about teachers or school staff carrying weapons. But Glenn and his son later refused to take part, saying that CNN wanted Colton to read a scripted question.
"CNN had originally asked me to write a speech and questions, and it ended up being all scripted," Colton told Local 10 News.

CNN denied the claim, saying that it "did not provide or script questions for anyone in last night's town hall, nor have we ever."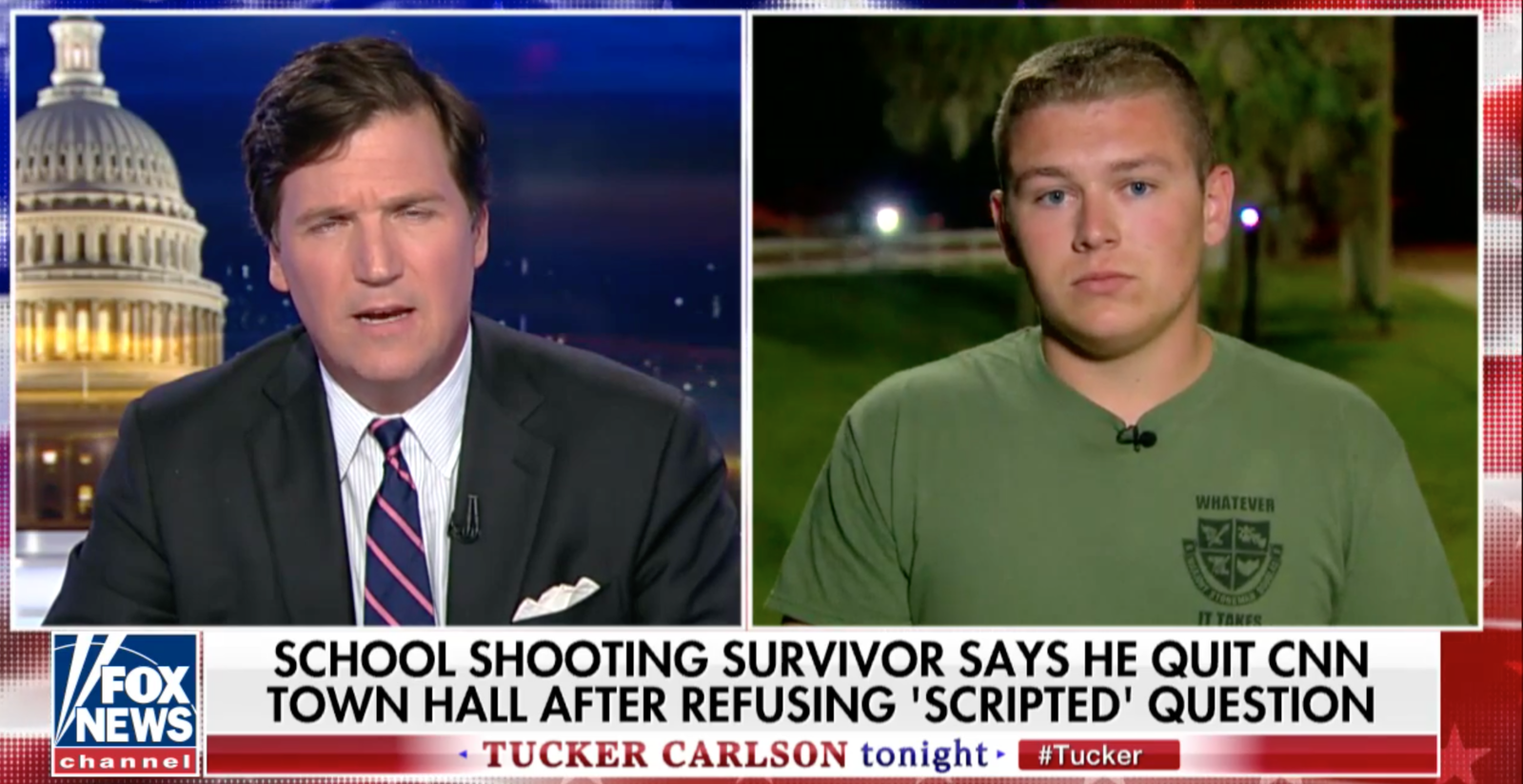 As "proof," Glenn forwarded an edited version of the email exchange between himself, Colton, and a producer to media outlets including Fox News and HuffPost, which he said showed CNN wanting scripted questions. CNN provided the doctored emails (given to them by Fox News and HuffPost when they asked for official comment on them) and original emails to BuzzFeed News.
This is the doctored email

However, Glenn removed a portion of a sentence the CNN producer originally wrote. The original said that Colton had to ask the specific question "that he submitted." Glenn deleted "that he submitted."
The original email

Glenn had also emailed the producer a 700-word speech, including three questions, that he wanted Colton to read aloud during the town hall.

But producer Carrie Stevenson said that due to time constraints Colton could only ask one question "that he submitted" about teachers being trained to carry weapons — and then included the question in the exact wording that Colton had sent her previously.
"We are not actors nor do we read from a script," replied Glenn.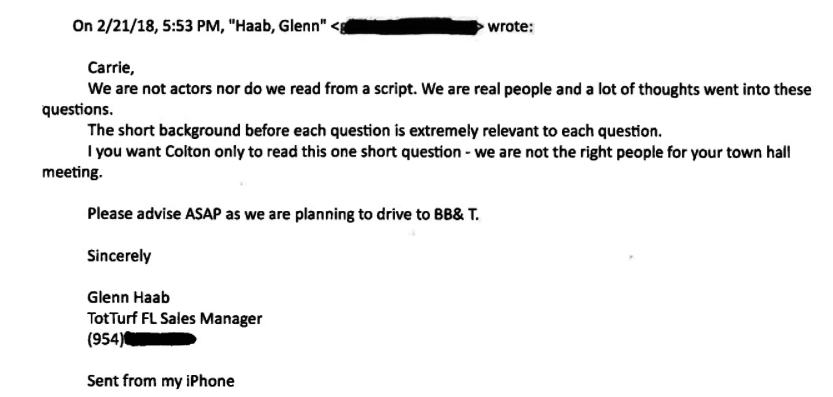 CNN provided emails to BuzzFeed showing that Colton had emailed the exact wording of the question Stevenson copied in the email (the first half of the sentence, involving if Coach Feis had his firearm, is a direct quote from an interview Colton gave to Fox News on Feb. 17) to CNN as one of his suggested questions for the CNN town hall.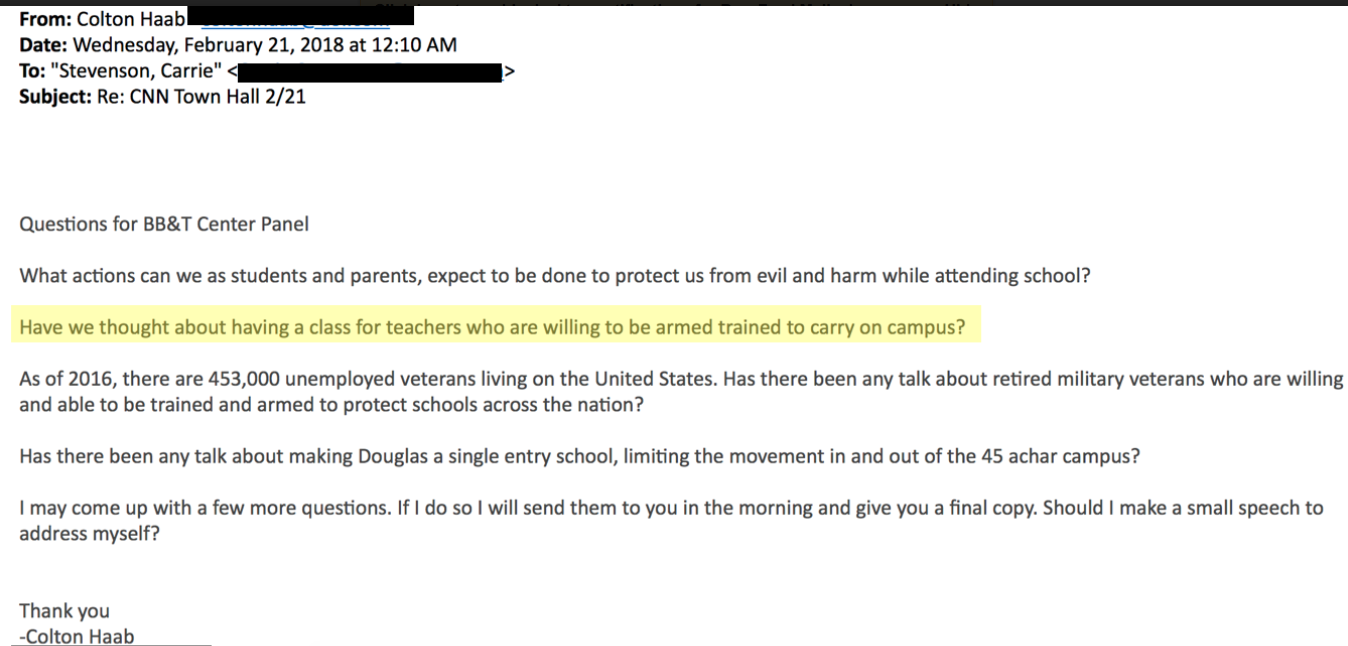 "It is unfortunate that an effort to discredit CNN and the town hall with doctored emails has taken any attention away from the purpose of the event," said a CNN spokesperson in a statement, when it released the full emails.

After pushing the conspiracy for two nights last week, Tucker Carlson admitted on his show Tuesday night that emails they'd based their story on had been doctored.
"The Haab family concedes that they did remove a line from one of their emails in a way that might make some think its meaning had changed. Colton's father said it was accidental. We don't know. We can't prove or disprove that. But for the sake of honesty and full disclosure – to which we are committed – we have to tell you there is no evidence as of right now that CNN tried to give Colton Haab a scripted question. And we wanted you to know that," said Carlson.