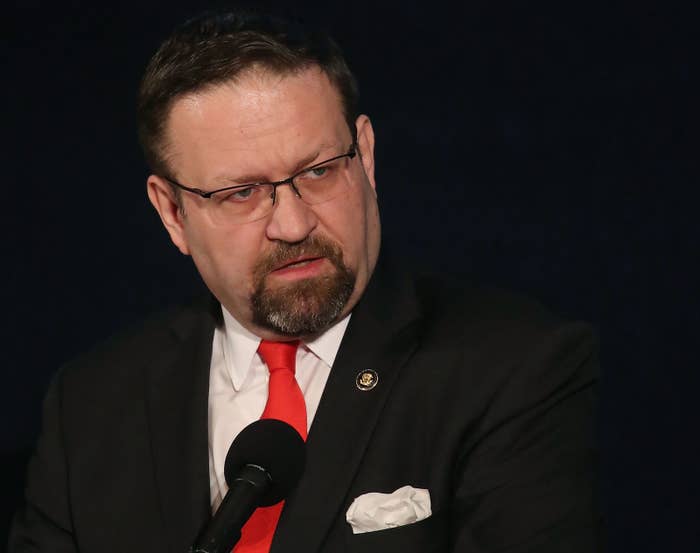 One of President Trump's top national security advisers on Thursday compared North Korea's threats against the United States to the Holocaust.
In an interview with BBC's Radio 4, Sebastian Gorka used an anecdote he says comes from a Holocaust survivor "who had his whole family wiped out in the death chambers of the concentration camps" to explain Trump's fiery words against North Korea in recent days.
"And he asked this elder gentleman, 'what is your one take home? What is your one lesson learnt from the horrors of the millions killed?' And he said, 'it's very simple. When a group of people repeatedly says they want to kill you, sooner or later you should take them seriously,'" said Gorka.
He continued:
North Korea has said they wish to annihilate the United States and use nuclear weapons. Sooner or later someone should take them seriously. The Clinton administration did not do so. The Obama administration did not do so. That stopped on January the 20th. We are not giving in to nuclear blackmail any longer.
Gorka — who in the quote above skipped over the George W. Bush administration — went on to say North Korea should expect the US to be strong in its reaction.

"If you threaten a nation, then what should you expect? A stiffly worded letter to be sent by courier?" he asked.
During the radio interview, Gorka also pushed back on more levelheaded comments by Secretary of State Rex Tillerson that Americans should "sleep well at night" and "have no concerns" over the the threat of attacks from North Korea. Tillerson isn't in charge of defense strategy, he said.
"The idea that Secretary Tillerson is going to discuss military matters is simply nonsensical," Gorka told the BBC.
"It is the job of Secretary Mattis, the Secretary of Defense, to talk about the military options. And he has done so unequivocally," said Gorka.
Mattis warned on Wednesday that North Korea needed to "cease any consideration of actions that would lead to the end of its regime and the destruction of its people."
When his comments on BBC were brought up during an interview on Fox News later in the day, Gorka called it "fake news 101."
"I never said that," Gorka said.
"That's fake news 101," he said before adding that he was defining the roles of secretary of defense and secretary of state because a reporter used "force" to get information from Tillerson.
"No, I never said that," Gorka said in response to the anchor saying there was audio of his BBC interview. "I said for reporters to force our chief diplomat, the amazing Rex Tillerson, to give details of military options is nonsensical. He is the secretary of state. That means you don't understand what the words secretaries of state means. It's fake news. Classic example."
Steven Goldstein, executive director of the Anne Frank Center for Mutual Respect, a New York–based not-for-profit, said in a statement that Gorka's comparision of North Korea trouble to the Holocaust is "awful."
"Gorka's argument is a cynical one from an administration that excluded Jews in its statement on International Holocaust Remembrance Day in January, and said in April that Hitler did not use chemical weapons on his own people," said Goldstein.
It's been a busy week for Gorka — on Tuesday, he said the president had not spoken publicly about a bomb explosion at a mosque in Minneapolis as it wasn't yet known if it was a "fake hate crime."
"We've had a series of crimes committed, alleged hate crimes, by right-wing individuals in the last six months that turned out to actually have been propagated by the left," said Gorka. "So let's wait and see and allow local authorities to provide their assessment. And then the White House will make its comments."

Minnesota Governor Mark Dayton called the bombing a "criminal act of terrorism" and the FBI is investigating it.
And on Wednesday, Gorka called the US a "hyperpower" when discussing North Korea.